Archived Reading Room
A visit to the library and some amazing finds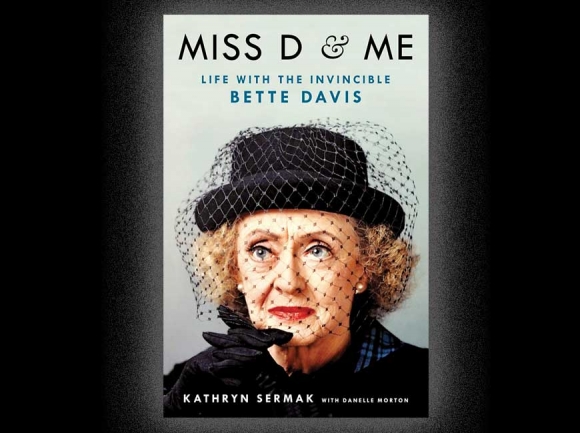 On my last visit to the public library, I picked up Kathryn Sermak's Miss D & Me: Life With The Invincible Bette Davis (Hachette Books, 2017, 278 pages). Why this book? I have no idea. I was never a fan of Bette Davis, though I will say "Whatever Happened To Baby Jane?" left me shaken at the age of 12. Though I've only seen the film twice, scenes from that tale of deception and horror remain vivid in my mind. (For my younger readers, Bette Davis was a film star from the 1930s to the 1980s and twice won the Academy Award for Best Actress.)
At any rate, that evening I found myself reading Sermak's story of her 10 years as Bette Davis's assistant. From the beginning of their relationship — Sermak evolves from Girl Friday to Best Friend — Davis, or Miss D as she wished to be addressed, takes Kath, as Miss D calls Sermak, under her wing and instructs her on a vast number of topics once associated with finishing schools: how to eat a salad, how to speak and walk, how to sit, how to wear her hair and makeup, how to dress. Miss D's lessons are harsh and unrelenting, and initially much resented by Kath, but prove invaluable to her in later life.
As the two women grow closer, Miss D shares more of her past and her concerns about the future with her young friend. She tells Kath many stories about her career, introduces her to all sorts of interesting characters — a supper with Roald Dahl, author of such classics as Charlie and The Chocolate Factory, and his wife, American actress Patricia Neal, becomes a night of torment with the drunken actress verbally attacking Kath —and takes her on exotic vacations to France, England, and New York.
Miss D could be demanding, harsh, and blunt. She occasionally explodes at Kath, makes the normal Type A personality look like a piker, and becomes estranged from her daughter and son-in-law. Almost in spite of herself, however, Kath comes to admire Miss D's passion for excellence and perfection, realizing it is these qualities that accounted for her success in Hollywood and in life.
The final chapter of Miss D & Me gives us Kath at Miss D's deathbed in the American Hospital in Neuilly, a suburb of Paris. Here, as throughout the book, Miss D impresses us with the love she displays toward Kath and the courage with which she faces her own death.
I came away from Miss D & Me with a new respect for Bette Davis and a reminder from her and from Kathryn Sermak that standards of conduct and personal responsibility matter even when those standards seem to have diminished or disappeared.
A fine book about a fine lady.
•••
From this same library visit, the glossy cover of Mural XXL (Thames and Hudson, USA, 2015, 192 pages) caught my eye. I glanced inside, checked out the book at the desk, and spent two pleasant hours the following day immersed in the world of XXL (extra-extra-large) murals that artists have painted in cities around the world.
Claudia Walde, who paints her murals under the name MadC, is the author of this stunning collection of paintings. Featuring nearly 40 artists, Walde fills Mural XXL with hundreds of pictures of their work along with excellent commentary on each artist. As she points out in her Introduction, most of these artists receive no money for their work other than for travel expenses, paint, and equipment. "Their sole reward for all their hard work and planning is the opportunity to create a lasting piece of artwork in a very public location."
Fortunately for those of us unable to travel around the world taking in these massive works, Walde has preserved these murals in her book and brought them to us.
Let's look at just a few of these adventurous painters. Dean Stockton of Britain, aka D*Face, paints murals with cartoon-like images, similar to the people who once appeared on paperback crime novels by writers like Mickey Spillane or John D. MacDonald. D*Face's largest mural is in Spain, and is over 120 feet high. His enormous portrait of a woman bent over a packing box on the side of a building in Brooklyn struck me as his most impressive featured in this collection.
Conor Harrington, born in Dublin and now living in London, typically portrays "male figures engaged in violent combat." He uses thinner to create a dripping image in the painting, which in turn produces a sense of movement and struggle. In contrast, The London Police, a team of two more Brits, create "iconic black-and-white figures, called 'LADS'," which are humorous figures with round smiling heads. (Think of gigantic Smiley Faces.)
Australian muralist RONE is particularly known for painting women's faces. The loveliness of Celestine, which he painted in Wollongong, Australia, could induce me, had I the money, to rent one of the nearby offices just so I could look daily at the woman's face. Faith 47 of South Africa travels the world painting murals, her work distinguished by "emotion, sensitivity, symbolism and sacredness as well as a dark, mysterious quality." Her most impressive piece is "Infinitud del universe" in Malaga, Spain, a study in yellow of a young woman, splashed in this photograph by shadows and sunlight.
A beautiful book.
(Jeff Minick is a writer and teacher. This email address is being protected from spambots. You need JavaScript enabled to view it.)