Archived Arts & Entertainment
All-American mutt — Jamie Kent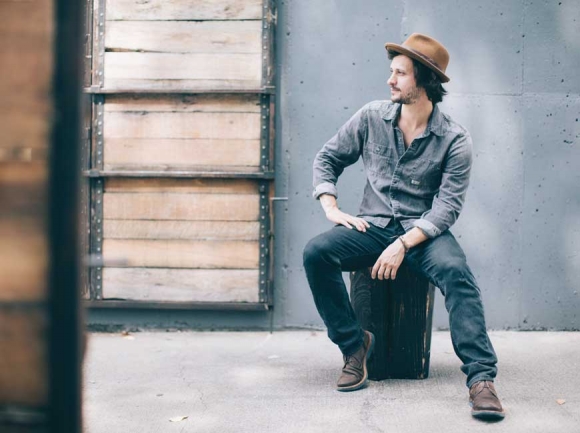 Jamie Kent.
As the music capital of the world, the bright lights of Nashville have always been a tough place to make it as a band, let alone as a songwriter. But, that mere fact is why so many talented acts from seemingly every corner of the globe descend upon the bustling Tennessee metropolis — simply, if you can make it there, you can make it anywhere.
And singer-songwriter Jamie Kent knows just that. To remain in the game, you can't sit on the sidelines, you've got to keep playing — literally. Hailing from rural Massachusetts, Kent has taken the stage and stood in front of the microphone in every sticky floor dive bar and showcase room in Nashville, guitar and a reservoir of hit songs in-hand.
He has toured with Huey Lewis & The News, Brothers Osborne, Brandy Clark, America and The Doobie Brothers, going so far as to having the likes of Aerosmith lead singer Steven Tyler perform one of Kent's originals. And yet, it's only the beginning of Kent, a musician's musician well-versed in the sentiment that luck isn't something you're born with, it's something you create with your own two hands — come hell or high water.
Smoky Mountain News: In Nashville these days, there are the pop-country megastars and talented tribute bands on the Broadway strip, but yet so many great independent groups on the verge of breaking big...
Jamie Kent: I agree, man. There's some juju in Nashville right now. I think people are going to look back on Nashville at this time and see it as like the 1960s in San Francisco or the 1970s in the East Village [of New York City]. There's something happening between this rock, Americana and indie fusion.
SMN: So, where do you fit into all of this?
JK: I think it's still to be determined. I'm going to do what I do. Honestly, it's a very strange thing for me in Nashville. There have been some things that have happened to me that have been really counterintuitive. In 2016, Rolling Stone Country named me in the "Top 25 Country Songs" [of the year]. My song was No. 24. I was only the only independent artist on the entire list. It was [people like] Luke Bryan, Miranda Lambert, and my tune. And then I won't get accepted into AmericanaFest [because of that]. So, I'm sort of caught in this in-between. To me, that is going to be my greatest barrier until it's my greatest asset. I write 150 songs a year, and have a catalog of tunes that could go in either direction (country or Americana). To me, I would never give up everything to [pop country labels], but I would always be open-minded to a partnership.
SMN: At what moment did you know a song could be whatever you wanted it to be? Is formula as important as simply going where the creative juices flow in the styling?
JK: I love the challenge of writing different kinds of songs. Some are meant for someone else to sing, others to played on radio, film or TV. And some are just for me. I personally like to approach every write with a goal and focus. Who am I writing this for? If it's for a TV show or an ad, a certain formula might give me a better chance of having it placed. If it's for a big country artist to sing, another kind of formula might work best if they're trying to get it played by radio. But, if it's for me, anything goes. And honestly, I love the challenge of trying to write something great within any of those parameters. Just because there might be a certain formula for the song structure, there's still so much room to make a song great within the melody and lyrics — that's where the challenge is for me.
SMN: Either personally or professionally, what piece of advice do you carry with you now that maybe you initially blew off?
JK: Hard work creates luck. It's easy when you first start making music to think you're just going to put it out there and the music will speak for itself to make things happen. Unfortunately, that's just not the case. If you want to support yourself by playing and writing music, you've got to work your ass off to make it happen. But, when you're doing what you love, it doesn't feel exactly like "work" anyway.
SMN: How do you compete out there?
JK: You've got to keep your head down. Keep working hard. Hard work creates an opportunity to get lucky or unlucky. And you can only get unlucky so many times in-a-row before eventually you have to get lucky by just pushing it and pushing it. And it's going to be that one right "yes" that causes that spark, you know?
Editor's Note: Jamie Kent will kickoff the annual "Week of Rock" musical extravaganza at 8 p.m. Friday, June 29, at Nantahala Brewing in Bryson City. www.jamiekent.com.
Nantahala Brewing 'Week of Rock'
The annual "Week of Rock" celebration will be held June 29-July 7 at Nantahala Brewing in Bryson City.
Performers include Jamie Kent (Americana/rock) June 29, Chalwa (roots/rock) June 30, Carly Burrus (singer-songwriter) July 1, The Orange Constant (rock/jam) July 2, Rick Rushing & The Blues Strangers (rock/blues) July 3, Courtney Lynn & Quinn (Americana) noon July 4, Danimal Planet (rock/electronic) 3 p.m. July 4, Bauner Chafin (rock) 6 p.m. July 4, Dr. Bacon (rock/jam) 9 p.m. July 4, Andalyn (rock) July 5, Psylo Joe (rock/jam) July 6 and Mac & Juice (rock/soul) July 7.
All shows are free and at 8 p.m. unless otherwise noted. Frank & Allie (Americana/folk) will also perform at 6 p.m. July 7 in The Warehouse restaurant/taproom just down the road from the brewery.
For more information, visit www.nantahalabrewing.com.