Archived Arts & Entertainment
This must be the place: The heart has its seasons, its evenings and songs of its own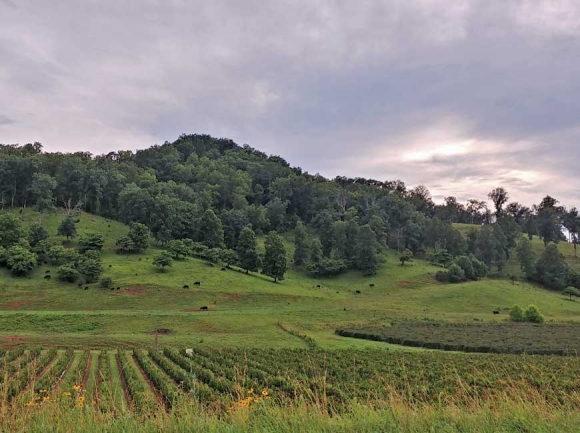 Macon County.
"If you see all the people playing corn hole in the driveway you're at the right place," the familiar voice said over the phone last Saturday evening.
Once the multitude of folks — known and unknown — tossing bean bags and popping beer cans entered my field-of-vision, I pulled the old pickup truck onto the side lawn. As the crow flies, the backwoods property was a good five miles or so east of downtown Franklin. It had been awhile since I wandered into Macon County, a lot longer since I had seen the familiar voice over the phone.
It was her going away party. She and her husband are packing up and leaving Western North Carolina. Next stop: Ohio. It was time for the couple to start a new and bountiful chapter — for him to leave his native region, for her to return to her homeland after five years in Southern Appalachia.
And there I was, sitting in my Waynesville apartment, staring out the window and wondering what to do with my Saturday. I forgot that I had marked "Going" on the Facebook invite for the farewell party, that was until she posted in the forum and the notification dinged on my smart phone. Heck, why not, eh? It would do me some good to see an old face that I first met within my first year living here, now a lifelong friend.
I've lived in Western North Carolina going on six years come this August. And within that first year here, I'd met a lot of people, either through being a journalist or simply through my endless wanderings around the area. At that time, I only really had one real deal true friend, who now has added the word "best" to our friendship. He had yet to meet the woman who would become his wife, had yet to move to back to his beloved Knoxville, Tennessee, and had yet to land his dream job. In 2013, this was all in the unknown, yet not-too-distant future.
Back then, he and I would wander the local bars and music venues together, either to meet up with people, see some up-and-coming band or simply talk up a cute girl that may have caught our eye. One evening, while running around Sylva, I crossed paths with the familiar voice on the phone. She was new to town, a graduate student at Western Carolina University. Just rolled in from Ohio and didn't know a single soul here.
We became fast friends, going to live shows, throwing down some beers and so on. One time, while on assignment, I convinced her to come with me to the infamous Outhouse Races at the Sapphire Valley Ski Resort (just outside of the Cashiers Crossroads). She didn't believe me how wild and surreal the experience would be until she witnessed first-hand people climbing into homemade outhouses on skis, soon to rocket down the ski slope in pursuit of victory.
Not long after that, her and I lost touch. We would say hey on Facebook, but she was creating her own existence here and making new friends, and I found myself on the road more, our paths beginning to shift in different directions. Eventually, she met this great guy, Jackson County local, who now is headlong into a successful career in education. Over the next few years, we'd run into each other, where he and I are now friends. Skip ahead to last weekend, and it was first time I actually had sat down and spent time with them since they had gotten married almost two years ago.
The going away party was an evening of memories and laughter shared in honor of our friends and their upcoming journey. I was introduced to a roomful of Macon County folks, many of which I now call friends after several competitive games of corn hole and hearty, rollicking conversation about nothing and everything (which are the best conversations).
The midnight hour came and went, with most everybody either asleep or long gone. I decided to crash out on the reading bed out on the screened-in back porch. Through the thick tree line, I could see the moon. It was bright and slowly moved through the branches above me as I would reawaken a few times throughout the night.
Come morning, I awoke to a cool breeze pushing through the mountains. Everyone was still in their respective slumbers inside the house. The sun was barely breaking open a new day. I laid there and looked out over the property. I kept thinking to myself how fast time flies by, especially when you're in the business I'm in. As a journalist, we have no sense of time outside of deadlines for articles. We make our own schedule, and often lose track of the days, weeks, months and years that disappear from the calendar on the wall.
I thought of the familiar voice on the phone, and all the wondrous adventures that lay ahead for her and her husband once the moving truck gets loaded up and they head north by this time next week. I thought of my own life, and how I get so wrapped up in the chaos of work that I've not noticed how everybody else is pushing ahead in their own endeavors, where I was shaken out of my normal fast-paced rhythm of thought and action when the familiar voice said, "We're married and moving on with our lives, that's what people do when they grow up, Garret," saluting each other with drinks held high at the culmination of another great night in the mountains of Appalachia.
Life is beautiful, grasp for it, y'all.
Hot picks
1 The Eastern Band of Cherokee Indians' 43th annual POW WOW will be held June 29-July 1 at the Acquoni Expo Center.
2 "An Appalachian Evening" will continue with bluegrass act Fireside Collective at 7:30 p.m. Saturday, June 30, at the Stecoah Valley Center in Robbinsville.
3 There will be an evening of country blues with singer-songwriter Heidi Holton at 7 p.m. Thursday, June 28, at the Marianna Black Library in Bryson City.
4 Singer-songwriter Angela Easterling & The Beguilers will perform at 3 p.m. Saturday, June 30, at the Waynesville Library Auditorium.
5 The annual "Singing in the Smokies" 4th of July festival will be held June 30-July 4 at Inspiration Park in Bryson City.