Archived Opinion
There's not much room left in the gutter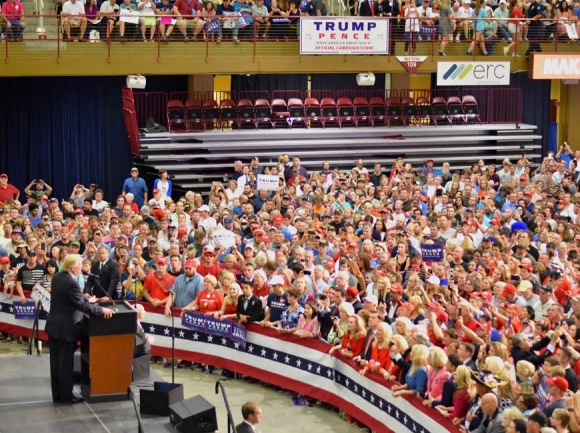 White House Press Secretary Sarah Huckabee Sanders got asked to leave a restaurant because the owner can't stand her boss' politics. Homeland Security Secretary Kirstjen Neilsen was heckled at a Mexican restaurant over the administrations policy of illegal immigrant children from their parents. A Democratic lawmaker encourages those opposed to Trump policies to continue to publicly calling out Trump advisers and supporters.
And so the debate on civility in politics is ramped up once again. It's easy to argue that some of this is the result of Trump's own lack of manners and decorum. Many of his supporters love this about their guy, that he isn't bound by the long-held polite formalities of the Oval Office, that he gleefully shatters traditions, that he hurls personal insults during speeches, debates and tweets. Many supporters think his degraded discourse is cool rather than offensive.
But you reap what you sow. The average person can be offensive and people just ignore them. But when the man holding the most powerful office in the world offers up support for white supremacists and hurls insults at everyone from war heroes (Vietnam POW Sen. John McCain) to disabled reporters to world leaders and anyone else he disagrees with, what was once normal gets upended. Others eventually join in the rush to insult and the gutter gets crowded.
From the beginning, Trump's campaign included discourse that most Americans would never use in public. I've never felt as uneasy as a reporter as I did at the Trump rally in Asheville in September 2016. As he railed against the media, I stood there with notebook in hand and a press pass around my neck, his supporters turning to stare at me and jeering support for his words.
Don't get me wrong. I'm not a victim and don't want anyone to see it that way. I've spent 20 years writing dozens of columns in this newspaper promoting intelligent and civil public discourse because I think it is the best way to solve problems and move our country, states and counties forward as we face difficult challenges. I've witnessed people going over the top at town and school board meetings and at political rallies. Disagreeing — and doing it with emotion — is expected when you feel strongly about the subject at hand.
Still, I never thought I'd hear from a U.S. president what I've been hearing almost every day since Trump entered the campaign and then won the job. We all thought that once Trump became the most powerful man in the world, he would stay above the fray. Instead, his words now reach even more people and elicit responses similar in tone and nastiness.
A short note about the Sanders incident. As it turns out, the owner asked her into a relatively private area before asking her to leave. There was no heckling, no loud showing off, no tweeting to millions about the incident or insulting anyone. The owner later told a reporter that she doesn't think the administration upholds the standards of compassion and honesty that are important to her. That seems a relatively civil way of handling her disagreement with the president and those who help push his agenda, like Sanders.
I'm still arguing for civility. Let this president and others who care to make crude, belittling personal attacks against opponents grovel in the mire and muddy themselves. Meanwhile, most Americans still yearn for leaders who will take personal responsibility for their words and actions, who will not lower themselves to the standards that somehow have become the norm.
(Scott McLeod can be reached at This email address is being protected from spambots. You need JavaScript enabled to view it.)