Archived News
Waynesville workshop reveals vision, goals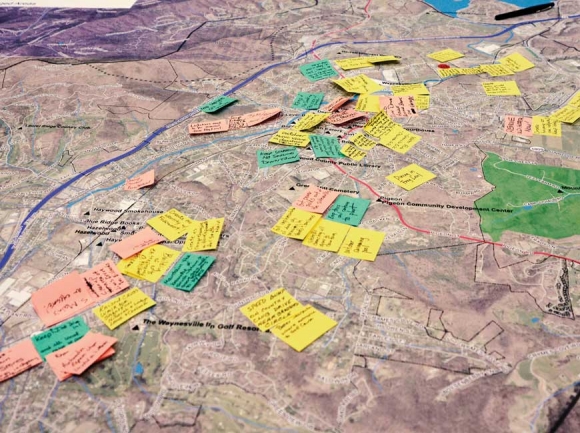 Citizens took pens to maps June 21 at a public input session for Waynesville's forthcoming comprehensive plan. Cory Vaillancourt photo
Although the philosophical basis of the Waynesville comprehensive plan is rooted in academic concepts and professional standards related to long-term planning and resource management, area citizens last week got down to some of the more concrete decision-making that reveals who we are, what we want and where we want it.
"We've had a good response so far," said Jackie Turner, associate manager of planning for Raleigh-based engineering firm Stewart, Inc.
Turner has been facilitating the process on behalf of Stewart for some time now, and led the June 21 workshop that presented an interactive environment where attendees could learn about economic, social and geographical demographics, comment on them, draw on maps and vote on some of the major questions the town will face over the next 20 years.
As of 6 p.m., there were about 30 people in attendance, but Turner said there'd been more than 70 in attendance throughout the event, which ran from 3 to 7 p.m.
What they saw and what they said paints a picture of a community haunted by the specter of poverty and struggling with providing enough affordable housing.
Development
The good news is, unemployment in Waynesville is hovering around 2.6 percent, far lower than North Carolina's 5.1 percent and the nation's 4.7 percent.
The bad news is that even with such low unemployment, 18.7 percent of people in Waynesville fall below the poverty line — far above the state's 12.4 percent and the U.S.'s 11 percent.
Accordingly, the median income of $37,612 is far below North Carolina's $48,256, which is itself well below the United States' $55,322.
Planning for growth in such an environment requires special attention to smart growth principles of limiting suburban sprawl and encouraging infill development in existing communities, according to votes tallied on a poster board.
Strong support was also seen for establishing walkable connections between the urban cores of Frog Level, downtown Waynesville and Hazelwood.
Strangely, however, the same board indicated little support for expanding these connections to nearby Clyde, and almost no support for utilizing a proposed Richland Creek Greenway to improve mobility and interconnectivity between Hazelwood and Waynesville.
On a separate board, another conflicting story — voters expressed a desire for creating a system of greenways and interconnected walking and biking trails. Currently, there are 16.8 miles of greenway trails and sidewalks that wind through the 1,814 acres of public and private recreational areas, with 3.8 miles more planned.
According to the Southern Blue Ridge Bicycle Plan, the growing economic impact of bicycle tourism is worth consideration; the average person spends $190 a day and spends two nights on such excursions. In the 23 western counties of North Carolina, more than 250,000 do so each year, supporting more than 1,700 jobs and generating more than $15 million in tax revenues.
Tourism-related industries drive local economies, but making destinations like Waynesville worth visiting also comes down to historic preservation; more than 185 structures on 99 acres both within and without the town's three historic districts — established at various times between 2003 and 2010 — contribute to the sense of place that brings people here, but keeping them here is another matter entirely.
Affordability
Maps show development suitability in a narrow corridor running from Lake Junaluska southwest through Waynesville.
Aesthetically, commercial development should occur in the context of traditional main street style retail development similar to what exists on Main Street already, according to citizen input. Support for strip mall developments or modern two-story mixed retail and professional buildings was low.
Although there are isolated pockets, the further one ventures west or east away from Main Street, the more difficult development can become, due to the topography or lack of water and sewer infrastructure. And where there is infrastructure, affordable existing housing is becoming harder and harder to find.
"We have transitioned to a seller's market, so we are struggling to meet buyer needs with our inventory right now," said Director of the Haywood Board of Realtors Amanda Hill, who was at the workshop tending to one of the activity stations.
Hill explained that anything listed below $400,000 was moving quickly, and that at price points under $200,000, bidding was extremely competitive.
At Waynesville's $37,000 median income, even a $200,000 house may be a bit of a stretch, financially, but building new housing may be even more difficult from an affordability standpoint.
"The challenge with building right now is the cost of materials and labor," Hill said. "So if you take an average estimate that a builder will give you — of course it depends on the finishes and upgrades — they'll tell you it's anywhere from $200 up to $300 a square foot, whereas if you can buy a house, competitively we're seeing prices around $100 a square foot up to $200. So you can still buy more house than you can build."
Per citizen input, there weren't many votes for affordable housing. However, the desire for traditional single-family housing was glaring, meaning that the multi-unit condo-style apartment complexes favored by developers looking to minimize cost and maximize profits aren't favored.
Waynesville's aging water system can still serve up to 8 million gallons of water a day, and treat 6 million gallons of sewage per day, although it averages far less; that capacity won't be needed as quickly without larger developments of the type disfavored by residents.
Work on the comprehensive plan is ongoing and will feature more public presentations, meetings and debate until a final version is presented to the public and town officials, likely in November.
Comprehensive plan: next steps
Just because the comprehensive plan workshop is over doesn't mean the project is — in fact, there's still plenty of time to make your voice heard.
• Follow the plan — To follow the development of the plan, visit www.waynesvillenc.gov/comprehensive-plan-updatecomprehensive-plan-update.
• Take the survey — To take a brief survey on your vision of and goals for the town, visit www.bit.ly/TOWcomp.