Archived News
Macon passes $51 million budget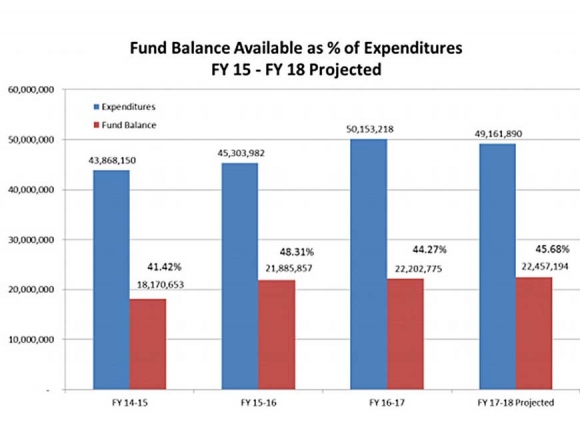 Following plenty of public input, Macon County commissioners approved a final budget for the 2018-19 fiscal year that includes more than $1 million in additional funding for public education.
Making the Macon County Schools budget whole was just one of the challenges the commissioners faced this budget season — rising health care insurance costs had the county struggling to cover those costs without passing too much of the burden onto its more than 300 employees.
While the board decided to cover some of the extra costs from its fund balance, commissioners feel they did what needed to be done to ensure some of it's most valuable assets — Macon students and employees — are provided for.
When the county began the budget process in May, Commission Chairman Jim Tate said he was concerned about adequate funding for the school system and the preliminary budget not including a cost of living raise for county employees. At the public hearing June 19, Tate was pleased that the board found a way to increase funding for the school system and give employees a raise.
"It don't think it answers every problem, but I feel good about it — I feel a lot better about it — let's put it that way," Tate said.
Commissioner Karl Gillespie pointed out that he did not vote in favor of the 2017-18 budget this time last year because he didn't feel like it met the expectations he had promised the constituents that elected him. However, after working more closely on some of those priorities with County Manager Derek Roland this year, Gillespie said he could in good conscience vote in favor of this year's budget.
"While I'm not 100 percent happy, I can say the budget pushes those goals forward," he said.
The 2018-19 budget, which maintains a 34.9 cent property tax rate, was unanimously approved by commissioners.
Education
After School Superintendent Dr. Chris Baldwin laid out some deep-cut scenarios to make up for an anticipated $478,000 budget shortfall, commissioners decided to look at the possibility of dipping into fund balance to close the gap in the schools' $8.8 million expenditures.
The additional funding for the school system will prevent the school board from cutting three locally funded teacher positions and reducing funds for digital textbooks, instructional supplies, athletics, teacher assistants and more.
Commissioners also heard impassioned pleas from Macon County teachers about the importance of investing in public education instead of simply funding the bare minimum needed for the school system to get by.
Jennifer Love, STEM coordinator for Macon County Schools, said she'd like to see smaller class sizes like at Rabun Gap-Nacoochee School just down the road in Georgia, more integrated learning like she's seen in Cherokee, and more funding for new technology like Rabun County Schools.
"There are partnerships and grants available for forward thinking ideas in education," she said. "I hope you will fully fund Macon County Schools for the coming year."
Commissioners Gary Shields and Ronnie Beale — both liaisons to the school board — recommended funding an additional $500,000 to the schools' operating expenses and another $250,000 toward capital improvements specifically earmarked for projects to improve school safety.
Commissioner Gillespie took it one step farther, suggesting funding another $300,000 toward technology improvements in the schools. As owner of the technology company National Communications Inc., he said his view on the importance of technology might be different from other commissioners.
Just like the county is on a five-year rotation with its technology, Gillespie said the school system should be as well.
"It's certainly a significant increase, but I think we're still short of where we need to be — I'd like to see us address that in this budget," he said. "We're not catching everything up by giving $300,000 this year but we can begin the five-year rotation, which is the industry standard."
Roland said the additional funds for capital and operating expenses for the schools would be pulled from the county's fund balance, which is currently over $22 million. The $300,000 for technology improvements, he said, would be best to come out of a different pot of money.
"We have a school system capital project fund that has money specifically set aside for capital expenditures," Roland said. "We can appropriate from that fund into the education budget."
He also talked about the future sustainability of meeting the school system's needs by using money from the fund balance. While it's acceptable to use fund balance for one-time expenses, using it for operating costs isn't a long-term solution to the problem.
"Taking operation funds from fund balance is not something you can continue to do," Roland said.
He said this next year would be used to closely examine local and state funding for the school system and perhaps budget more realistic sales tax revenue and put some of that toward education expenses. Roland tends to budget conservatively on sales tax revenue — only a 2 percent increase was budgeted for the current year though the actual increase was 6 percent.
Beale also reminded everyone that 2019 will be the next revaluation year. He foresees an increase in property tax revenue to the county as property values increase over the last revaluation done in 2015.
Macon County educator John deVille thanked the commissioners for providing the funding and said he agreed with Beale's stance that this is going to be the "new normal" in school funding if the state continues down the path its on.
"Thank you for listening to us. I know it's been a difficult budget year. I've read stories across the state and it's the same story, same discussions about the gap in school funding and health care costs," he said. "I suggest commissioners serve as champions for the county — speak from this platform to the General Assembly. If this body speaks with one voice I do think the state will hear us and adjust funding formulas."
Health insurance
A $504,148 increase in health care costs had the biggest impact on this year's budget. While the county transferred more than $280,000 from its health insurance reserve to the general fund, the remaining cost had to be passed on to county employees with dependent health care coverage.
Even though the county will continue to pay 100 percent of its employees' health insurance premiums, those with dependent coverage will see a 33 to 44 percent increase in their costs depending on their plan.
Roland said the county shopped its health care plan out and got seven proposals and the best offer was still a 24 percent increase over last year due to the county having high claim years.
"We've had two of the worst claim years in our history," Roland said. "But when you compare these rates we're at now — even with these changes — Macon County still retains among the highest quality of affordable health insurance plans you can have out there."
With the insurance hit, Roland didn't recommend any cost of living raise for employees in the proposed budget. However, commissioners said in May they didn't like the tough spot that would leave employees in — a sudden hike in their insurance costs and no pay adjustment to lessen the burden.
When Roland came back with changes to the budget June 19, he said he was about to make some adjustments in the budget to include a 2 percent COLA for employees, which will cost more than $400,000. He said finding the savings was a joint effort among departments — Sheriff Robbie Holland agreed to eliminate $40,000 in his budget request for equipment and Warren Cabe with Emergency Services suggested generating an additional $42,000 in revenue by adjusting ambulance service rates to put them more in line with other counties.
Roland also removed a $100,000 line item for broadband services because he said that funding can come out of the county's economic development reserve fund instead and reduced the county's contribution into the health care reserve fund from $285,000 to $78,000 for this year.
"Thank you to the department heads for helping us come up with these savings," Roland said.