Archived News
County could take over Canton sports complex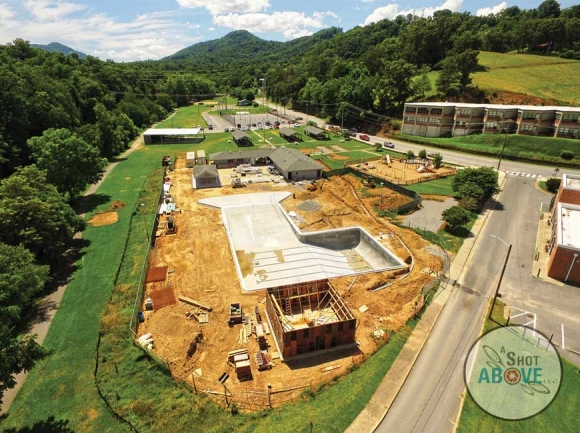 The Champion Credit Union Aquatic Center in Canton recently reopened after a $2 million renovation. A Shot Above photo
Taxpayers in the Town of Canton are about to again test political will, as the town has of late entered discussions with Haywood County about the possibility of having the county somehow begin to take responsibility for the IP Sports Complex.
"The reasons for the conversations are that Canton and the county have a very good working relationship, and this is an opportunity for win-win in that the county has resources to fully utilize the IP Sports Complex for recreation for individuals within the county," said Canton Alderman Dr. Ralph Hamlett.
The Haywood County Recreation and Parks Department doesn't post meeting agendas from the Recreation Advisory Board online, and as of June 25 minutes from a June 5 meeting still had not been typed up, but Director Claire Carleton said that on that day the board voted to recommend that Haywood County administration and commissioners "explore" the possibility after a presentation from Canton Mayor Zeb Smathers, who sits on the board.
"I think with IP and taking that facility to the level it needs to be, Haywood County has more resources, they have a recreation department, full-time employees, a lot more resources," Smathers said. "Our citizens, most importantly, won't lose, they will only gain opportunities. We have struggled year in year out, ever since I was an alderman, saying we need to do more [improvements at IP]. We have not been able to do that because of how tight our budget is."
Smathers said there seems to be support for the idea within the county, as well as within the town; Commissioner Brandon Rogers also sits on the Recreation Advisory Board with Smathers.
"I support having the county take over operations of International Paper Sports Complex," said Alderwoman Kristina Smith. "They have the staff, resources, and understanding on how to maximize that recreational facility and have the same goal for county citizens that we have for ours, to ensure we have quality and diverse recreational opportunities. The fact of the matter is that the Town of Canton doesn't have the resources to maximize the IP Sports Complex. I believe the county has those resources and experience that could add to Haywood County's attractiveness for economic development and growth."
The issue is expected to be discussed at the next meeting of the Haywood Board of County Commissioners slated for July 16.