Archived Travel Guide
Sharing the craft: Jo Ridge Kelley Fine Art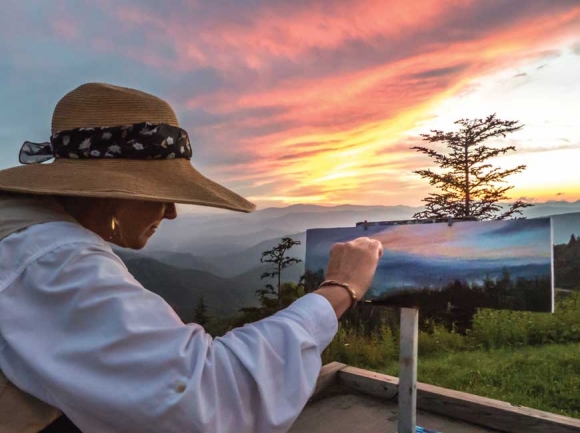 With the traffic and noise of a busy Main Street in downtown Waynesville zooming by outside her window, Jo Ridge Kelley creates works of tranquility and natural wonders inside her cozy studio.
"I love being able to pull from myself," she said. "I'm a very soulful person, and painting is a way to work with my feelings — to be living in the moment."
At 60, Kelley has been creating most of her life. Growing up on a dairy farm in High Point, she found herself mesmerized by the vast and varied scenery of the property, where light and shadows shifted hourly.
"The landscape always inspired me, watching the light change across the farm," Kelley said. "I started drawing and painting as a young girl. I loved it, and stuck with it."
Relocating to Waynesville in 1981, Kelley has become a beloved and highly sought after artist. With vibrant colors and soothing tones, one finds themselves immediately drawn to Kelley's pieces, where the distractions of the outside world seem to melt away.
"I've been focusing more on color lately," Kelley said. "I think everybody needs a happy place to go. And if you can't find it outside or wherever, maybe you could find it in a painting."
Whether she disappears into the backwoods or simply wanders around the neighborhood of her studio, Kelley finds inspiration in whatever catches her eye.
"Whatever is happening around me, I try to leave myself vulnerable to the energy that nature is providing me," Kelley said. "Whether it's a sunrise, sunset, reflection on the water or deep shadows in the woods — it's the painting speaking back to me, more so now than ever before."
Throughout her life, Kelley taught high school art and also held private workshops. And since she moved into her new studio last year (after 22 years in downtown at the helm of Ridge Runner Naturals), she has been hosting a series of painting classes for adults and kids alike.
"Art is a way children can excel and perform," she said. "For me, growing up in a large family, art was a way for me to get a little recognition, to boost my ego and help me in other subjects like math and science, which studies show how art will excel those other subjects."
In trying to spread her love and pure enthusiasm for art and the endless depths of the creative spirit, Kelley tells folks to go with what they genuinely feel.
"Trust your instincts," she said. "It's about feeling alive and feeling that energy, being joyful and happy with your interactions with people and with nature."
Now settled in her current Main Street studio, Kelley is setting the stage for increasing her presence in the community as a creative force aiming to connect the dots of people and art.
"It's been such a wonderful journey," she said. "Art is something I'm very dedicated to growing in our area. You put your heart out there, and I couldn't see myself doing anything else but creating and teaching — it's where the magic is."
Want to create?
Acclaimed painter Jo Ridge Kelley is currently holding art workshops for adults and children at her studio on Main Street in Waynesville. For more information, visit www.joridgekelley.com. 828.226.0549 or This email address is being protected from spambots. You need JavaScript enabled to view it..