Archived Travel Guide
A closer look at WNC festivals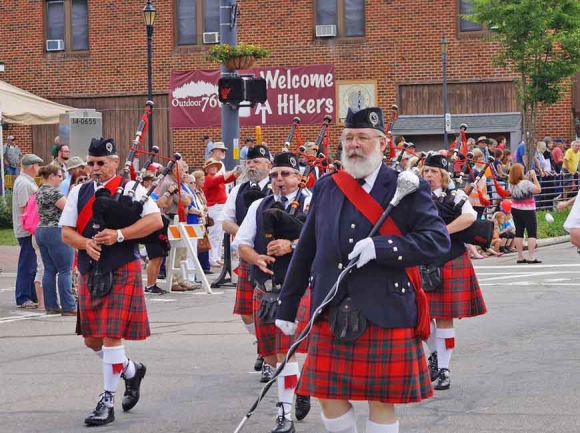 Taste of Scotland & Celtic Festival.
The proud communities that make up Western North Carolina were once mountain towns that played host to several successful blue-collar industries. These companies found a crucial, much-needed balance alongside the serene beauty and endless natural resources of our forests, rivers and wildlife.
But, with the passing of time, most of these industries either left the county, the state, and the country, or disappeared altogether. Jobs started flowing out of our mountain towns beginning in the late 1980s, with the tourism industry becoming even more important.
As part of that transition, several organizations popped up with one idea in mind — let's throw a party.
These festivals remain a shining light in their communities, a time to gather and celebrate. These mountain towns have reinvented how they do business and how they attract the next wave of residents, tourists and the curious alike — craft beer, outdoor recreation, family-friendly, connectivity to nearby metropolitan areas, millennial attentive — off of the interstate, out of their cars, and onto Main Street.
Taste of Scotland

& Celtic Festival
• When: June 13-16
• Where: Downtown Franklin
• Years active: 22
• Attendance: 2,000
• Put on by: Friends of the Scottish Tartans Museum
• Website: www.tasteofscotlandfestival.org
• Interviewee: George James, TSCF chairman
• Purpose: This festival is a celebration of the heritage brought to these mountains, that of the Scots and Scots-Irish, along with celebrating the historic relationships with the Cherokee.
• Staying relevant: Franklin is home to the Scottish Tartans Museum. The Taste of Scotland & Celtic Festival celebrates the history and heritage of our area, and encourages everyone to participate. This year, we're including a Highland Games contest to further enhance our offerings to the public. With few exceptions, our festival is free and open to the public. The Clan Dinner, on Thursday night, is the only ticketed event.
• Importance: The Taste of Scotland & Celtic Festival is important to our community because it's a celebration of our community. We're actively celebrating our cultural inheritance, and sharing that with the people who attend the festival. We work very hard to include as many events as we can to reach everyone. Personally, I'm very happy that we can continue to bring in representatives of the Cherokee Nation to our festival. The lectures and demonstrations of their culture help to remind us all that we are now, as we were then, neighbors.
Folkmoot International Dance & Music Festival
• When: July 18-28
• Where: Western North Carolina
• Years active: 36
• Attendance: 8,000 seated shows/40,000 free events
• Put on by: Folkmoot
• Website: www.folkmoot.org
• Interviewee: Angie Schwab, Folkmoot executive director
• Purpose: We give Haywood County "only-ness" in that we're the only organization in the eastern United States that has an international folk festival.
• Staying relevant: The core of the message of Folkmoot is that accepting cultural diversity makes our society stronger — no matter what our cultural heritage, we're more alike than different.
We've put the founding board's intent forward, providing local kids and families with access to world culture in Haywood County. They wanted the kids to have higher expectations of themselves by having access to the world here at home. We are doing this in a different format — more outdoor festival events and adding in food and beverage and a few contemporary acts.
• Importance: We're trying to do things a little differently, surprise people with the variety, quality and diversity of shows and hope the community will come out and enjoy what we're doing. We have a lot of fun for everyone coming up at the July festival and have some creative ideas in mind for 2019. Folkmoot has an ambitious staff — we're entrepreneurial and creative and we know how to do a lot with a little. I suspect we'll surprise you with our fresh approach.
Mountain Heritage Day
• When: Saturday, Sept. 28
• Where: Western Carolina University, Cullowhee
• Years active: 45
• Attendance: 15,000
• Put on by: WCU
• Website: www.mountainheritageday.com
• Interviewee: Geoff Cantrell, WCU Office of Communications & Public Relations
• Purpose: Having started as Founders' Day during the inauguration of Chancellor H.F. "Cotton" Robinson in 1974, the festival became known as Mountain Heritage Day the following year.
• Staying relevant: By staying true to our roots. A festival about heritage and traditions should be steadfast to its mission in presenting heritage and traditions. That's always subject to interpretation, discovery and new voices, so it's not like I'm saying there's never anything new. To the contrary, every year there are new things to see and do. We stay relevant with mixing new bands and musicians into the lineup along with old favorites, by presenting different living history demonstrations every year, adding fun competitions and children activities. In a larger sense, Mountain Heritage Day is the "handing on" of heritage through musicians and their students playing together, the gathering of shape-note singers from all over the region, master craftsmen demonstrating their handiwork, the county fair style of canned goods and recipes contests, through Cherokee people sharing their traditions and inviting festival-goers to participate in a friendship dance. Mountain Heritage Day is regional in scope. We have a lot of talent and wisdom to draw from.
• Importance: There's something unique about Mountain Heritage Day in that it's university-sponsored, community driven, held on campus and promotes Southern Appalachian history, culture and traditions. It's family oriented, so the target demographic is young and old and everyone in-between. We're established. Mountain Heritage Day has had an established date and location on the WCU campus the last Saturday in September for more than four decades now. We're the granddaddy of these type festivals and we promote all the hometowns and communities across the mountains and the good things they've got going on.
So, it's not just about listening to music, eating, and shopping, although there are some mighty fine opportunities to do those things. Mountain Heritage Day encourages active participation. You can go on a wagon ride, cheer on the Cherokee stickball games, learn to make crafts, play games in the children's tent and enter one of several competitions like timber cutting with a crosscut saw. We also take time to honor the people who are engaged in preserving our traditions with the Mountain Heritage Awards, as well as the artisans who are carrying on the region's strong arts and crafts heritage.
Apple Harvest Festival
• When: Saturday, Oct. 19
• Where: Downtown Waynesville
• Years active: 31
• Attendance: 45,000
• Put on by: Haywood County Chamber of Commerce
• Website: www.haywoodchamber.com
• Interviewee: CeCe Hipps, HCCC executive director
• Purpose: The event began as a way for the apple growers to sell their remaining harvest of apples, hence the name Apple Harvest Festival.
• Staying relevant: The Apple Harvest Festival is one of those events which fits for the community. We don't change too much with the festival from year to year because what we currently do keeps everyone happy. The craft breweries and recreational activities compliment the Apple Harvest Festival. If [the over 180] vendors and people continue to come, we're happy.
• Importance: The Apple Harvest Festival continues to be a draw with both the young and old. Families like to bring their children and enjoy the music.