Archived Reading Room
Book examines 'meanness' in Christianity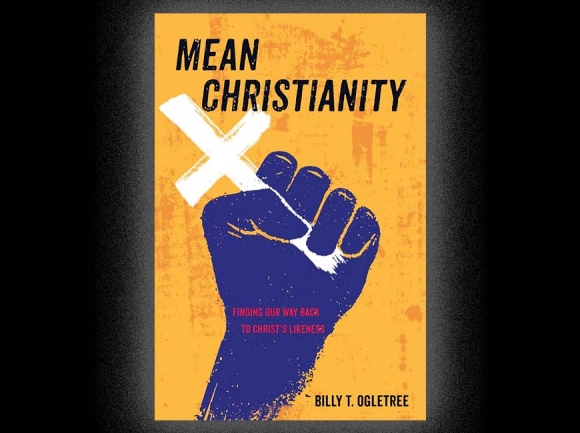 The author of this book is a speech language psychologist and university educator. Now in his sixties, Billy has extensive experience in assisting individuals with intellectual disabilities. In addition, Ogletree is a Christian writer with an extensive career which includes more than 70 professional articles, chapters and books which speak directly to his primary interest: "the challenging, but cathartic possibilities associated with following Jesus."
Ogletree's decision to write Mean Christianity is the direct result of his concern about the growth of what he terms "meanness" in many facets of modern life. This is a term which he defines as conduct that is incompatible with the life of Jesus Christ. The fact that the world is currently split by conflicting political and economic forces adds to the difficulty of recognizing the meanness which frequently masquerades as "a new truth" or even as a traditional belief that has become dangerously distorted.
Born in Mississippi, Ogletree grew up in a university town in middle-class comfort. The author readily acknowledges that he had an ideal childhood, comparing himself to "Opie" on the Andy Griffin Show. In addition, he has enjoyed the security of a Christian family life that shaped his attitudes and opinions. Although he witnessed the civil rights movement and learned much of what he perceived to be the life of a true Christian, he never experienced violence or poverty.
However, he has always had a sense of what a "Christian life" entails. True Christians are involved in the life that lies beyond the boundaries of their own home. His decision to devote his life to improving the life of the disabled has given him the opportunity to not only serve others, but to become a living example of what Christianity requires of us. In other words to emulate Christ.
Although Ogleetree does not "exort" his readers, nor does he address specific examples of meanness in the world of politics, his approach is more subtle. Instead, he advises his readers to question the wisdom of "becoming great" by seeking dominion over others as a desirable goal. In like manner, he suggests that the aspiring Christian consider the consequences of "building walls" since they limit or defeat Christ's goal (to love, aid and assist others).
The chapters of Mean Christianity have the orderly development of "a lesson plan" which enables a teacher to teach a complex subject by breaking it down into a set of simple components. Early on, it becomes evident that the author has a penchant for citing analogies and with Bill Ogletree, it is the world of sports and athletic activity. In most instances, it is baseball. Certainly, baseball analogies dominate this book.
As a result, such expressions as "playing your position" in baseball become analogous to defining your role in your Christian life. If you are performing in a manner that is in harmony with all components, then the entire system performs efficiently. If an individual player practices his skills and hones them to perfection, then when the opportunity arises to "exercise a double-play," he will function in harmony with the other members of the team.
We are all on the same team and Christ is in the dugout. He "has your back" and if you falter or make a serious mistake, He may call a "time out" and come with other team members to consult with you (the pitcher) as to the best course of action. Shall we call in a backup pitcher who has been down in the dugout practicing his best maneuvers, or should we allow you to continue? We may be in the "seventh inning." Christ may "raise the bar" and if so, you must respond by bring into play all of your skills and instincts.
So it is throughout Mean Christianity Ogletree never falters and his purpose, which is to provide an inspiring account of how to live and thrive in a world beset by doubt and confusion. Ogletree poses the questions and provides the solutions. The popular adage, "What would Jesus do?" seems apt since the author repeatedly advises that we should strive to "emulate" Christ's behavior, and notes that since Christ failed, but invariably "regrouped" and gathered his courage and "returned to the fray." Christ may "raise the bar," but he is also there to provide support.
But what about the real issues that plague us? Are we capable of Christian forgiveness? Once we have forgiven a bitter wrong, can we forget it? Exactly what is "Grace"? What about a father's cancer? Abortion? Homosexuality? Divorce? Is there a solution other than prayer?
For Ogletree, every problem is unique and contains the answer which will come from consideration of all of facets of the problem. It may be difficult to bear and painful, but the need to follow Christ 's example is no guarantee of a solution that is painless.
Ogletree would doubtless advise that you consult others and consider those who have dealt with the same problem. As always, any answer that is contrary to Christ's living example may be meanness that is hidden beneath selfishness or a misguided need to win or keep the approval of others.
It seems logical to conclude that Ogletree's extensive use of analogy reveals his heartfelt desire to communicate with the largest number of readers possible, and of course baseball is universally popular.
Although I think he is correct, this reviewer never cared for baseball and would have preferred a different analogy — perhaps a symphonic orchestra, or a country and western band. Such an analogy would provide numerous possibilities. Players could be admonished to not play too loud or out of tune, or like Lisa Simpson, "too innovative." Players could be admonished to stay in tune with their fellow musicians. But is failure to do so, a "meanness"? Just kidding.
Mean Christianity is an excellent guide through our tangled world where arrogance, misguided patriotism and racism are often presented in the guise of loyalty and tradition. Readers may find that meanness is often deceptive and is present in unlikely places.