Archived News
Central Haywood gym will come down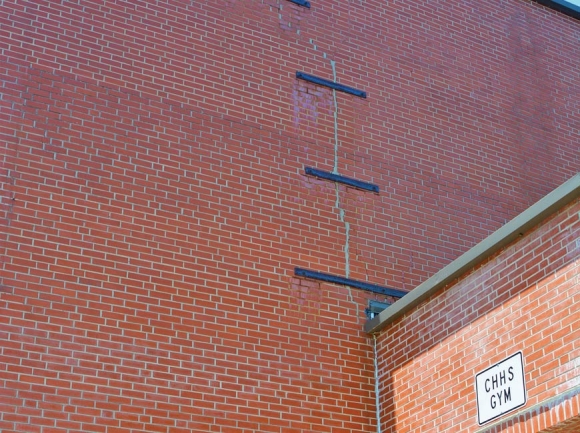 Metal straps hold cracking wall segements together at the Central Haywood High School Gym. Cory Vaillancourt photo
An engineering report issued to Haywood County Schools June 11 resulted in unanimous approval of a resolution by the board that same day declaring Central Haywood High School's gymnasium "unsound and unsafe," but complicated funding streams have left Haywood officials wondering where to find some of the money to replace it.
"That's a great question," said Chuck Francis, chairman of the HCS board. "We can build stuff, but it's hard to find money to tear stuff down."
Therein lies some gallows humor in that Haywood Schools probably wouldn't have a problem paying to build a new structure, but probably would have a problem finding money to tear down a deteriorating structure that's falling apart on its own.
"I'm not sure exactly if we can use lottery money for this or not," Francis said, referring to the state's education lottery proceeds. "There's a lot of strings attached to that money."
Lottery funds can be used for classroom construction or instructional buildings, including gymnasiums, but not necessarily for things that aren't directly related to student instruction, like central office operations, land purchases, or school bus garages. Demolition may not qualify, either.
Repairs had been made to the 65-year-old gymnasium at several points in the past, but large cracks high in the concrete masonry walls are no longer able to be patched, according to the report.
"I believe there are too many deficiencies and too much damage to feasibly repair or reinforce the building," reads the report from Asheville-based Dunn Structural Engineering. "Each of the structural systems (roof framing, roof diaphragm, walls, columns and foundations) are weakened or fundamentally unsound. Further, the walls, which provide the lateral resistance to wind and seismic loads, do not meet the current building code or design standards. The building is also located in the floodway, leaving the foundations and walls subject to further compromise and potential loss of stability. It is my opinion that the building is beyond repair and should be raised [sic]."
That's disappointing news for Francis.
"The sad part is, [hurricanes] Frances and Ivan did a lot of damage to the building and the board made best decision they could at the time, so we got another 14 years out of it," he said.
The 2004 back-to-back storms devastated much of Western North Carolina, especially Canton and Clyde; Francis said the gymnasium took on "three or four feet" of stormwater.
According to a press release issued by HCS, Director of Maintenance Joe Buchanan has been directed to solicit bids for demolition, a process he says is underway and as yet has no definite timeline.
"We've got the funds that we set aside for the renovation of that gym, so hopefully we'll be able to continue to use that for the demolition, but it'll depend on what that number comes back to," said Buchanan.
Accommodations were immediately made for students who used the gym.
"Right now we've temporarily got the physical education kids in the auditorium," Buchanan said last week, before school let out for the summer. "We have an electrical class that uses that gymnasium and a foods class, and we are already looking at spaces in Central Haywood to accommodate those."
But Buchanan is eager to see the building go.
"As soon as possible," he said. "So we don't have to worry about the safety of our staff or students or the community."
It's unclear whether or not there will be a new building up by next fall, but both Francis and Buchanan said it seems to be the will of the board to replace the gym at the school, which serves about 100 students.
"Right now, that is the consensus of the board," Buchanan said. "They want some type of facility back there for the children of Central Haywood High School."
Francis said the building also serves as an important gathering place in Clyde, and has hosted basketball games and served as a locker room for local youth football teams as well as a meeting space for the community as a whole.