Archived News
Penalty for trespassing on Cherokee land to increase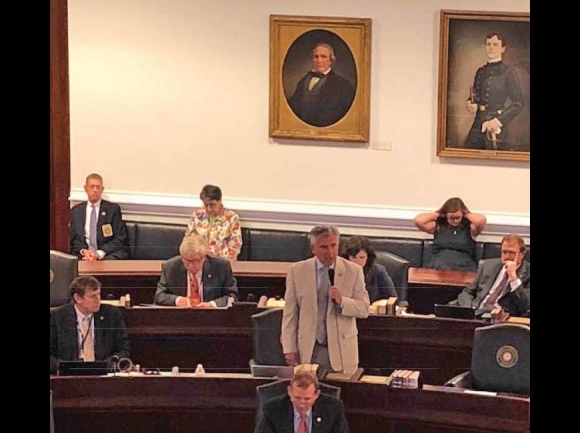 Sen. Jim Davis, R-Franklin, speaks in support of the trespassing bill on the Senate floor. Donated photo
Enforcing banishments could become easier for the Eastern Band of Cherokee Indians depending on the fate of a bill that would heighten the penalty for trespassing on Cherokee land.
"When the tribe created the ability through ordinance for Tribal Council to exempt or banish non-enrolled lawbreakers from tribal land, it sounded like a great idea in theory," said Principal Chief Richard Sneed. "But at the time we would banish people who were drug dealers or criminals breaking the law repeatedly on tribal land and would exclude them, but there was nothing in the law that had any deterrent to it to keep them from coming back on tribal land."
As it stands now, returning to the Qualla Boundary after being banished is a Class 3 Misdemeanor, the least serious type of misdemeanor. Even a person with five prior convictions would get a maximum penalty of a $200 fine and 20 days in prison for the offense, with a minimum penalty of one day of community service — if the crime was even prosecuted. State prosecutors are busy, and they wouldn't always pursue a crime occupying the same class as removing a shopping cart from a grocery store parking lot or making frivolous 911 calls.
As outlined in the bill, the first instance of entering Cherokee land after banishment would merit a Class 2 Misdemeanor, and any subsequent offense would be a Class I Felony. A Class I Felony, the lowest felony level under state law, comes with a prison sentence of three to 12 months and is the same level of offense as crimes such as making terroristic threats or stealing a dog. Reclassifying the trespassing crime would give banishments more "teeth," Sneed said.
"We don't banish a lot of people in the first place, but when we do they're usually serious offenders, and we don't want them on tribal land," said Sneed.
According to a list of banished people published by The Cherokee One Feather, 92 people are currently banned from Cherokee land through banishment resolutions, the oldest of which was passed in 2000. None of those people are enrolled members — the EBCI has rarely if ever banished an enrolled member from tribal land in recent history. Banishment resolutions typically list various criminal convictions as the basis for excluding a person from the Qualla Boundary.
While Cherokee has its own justice system, it generally can't prosecute people who aren't tribal members. The sole exception to that rule is in the Violence Against Women Act, which permits Native American tribes to prosecute perpetrators of domestic violence whether or not they're members of the tribe.
"The state would have to take it up, and they've got bigger issues to deal with than a Class 3 Misdemeanor because somebody's on tribal land," said Sneed.
The bill to institute stronger penalties for trespassers was originally introduced to the House of Representatives April 11 as a bill dealing with how state employees should be paid when on leave due to a temporary incapacity to perform the work. However, in the third version of the bill filed April 13, it was rewritten to address trespassing penalties on the Qualla Boundary. It passed the House by unanimous vote April 26 and then traveled to the Senate, where it also passed unanimously after coming to a vote June 12. The House then concurred with the Senate version of the bill the next day, in yet another unanimous vote. It was presented to Gov. Roy Cooper on Friday, June 15, and was still awaiting his signature as of press time.
"I think it was an appropriate response to dealing with individuals with nefarious intent that come on tribal lands," said Sen. Jim Davis, R-Franklin. "It sets up a mechanism to banish them from the tribal lands. If they violate that banishment, there is an appropriate response."
Davis was a champion of the bill on the floor of the General Assembly, said Sneed, speaking in favor of it before the Senate took its vote. Sneed also thanked Governmental Liaison Bill Taylor, Vice Chief Alan "B" Ensley and Tribal Council for their work in support of the measure.
"It demonstrates how important it is to be a presence and to build those relationships with the members of the House and the Senate so they know what our issues are and why it's important to us," he said.
A June 7 action from the Cherokee Tribal Council may have helped to push the issue forward. During a meeting on that day, the body voted unanimously to approve a resolution Taylor submitted in support of state legislation to "make it a violation of state law for a person to enter onto tribal lands if that person is subject to an exclusion resolution duly enacted by Tribal Council and approved pursuant to tribal law."
If enacted, the new penalties would apply to offenses committed on or after Dec. 1.
Leave a comment
1

comment
I wonder how they are able to enforce the tribal bans? People could come back on the lands without anyone knowing, almost like a ban from Walmart.

Thursday, 12/02/2021