Archived Arts & Entertainment
Everywhere I go is a long way from home: A conversation with Trey Hensley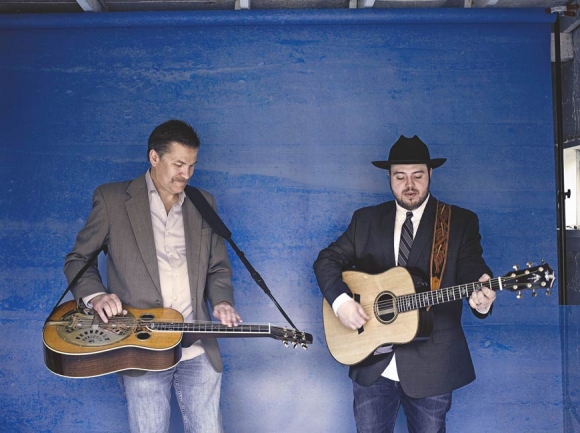 Rob Ickes & Trey Hensley.
Over the last few years, guitarist Trey Hensley and dobroist Rob Ickes have crisscrossed the country with their unique brand of bluegrass, where the lines tend to blur slightly into the realms of Americana and classic country music.
Fifteen-time "Dobro Player of the Year" by the International Bluegrass Music Association (IBMA), Ickes was a founding member of Blue Highway, a pillar of the the genre over the last quarter-century. And with Hensley, you have someone who performed on the Grand Ole Opry alongside Marty Stuart and Earl Scruggs at the age of 11, only to release his debut album and also find himself pickin'-n-grinnin' with the late Johnny & June Carter Cash just a year later.
Their second release, "Before the Sun Goes Down, earned them a 2016 Grammy nomination for "Best Bluegrass Album." An explosion of acoustic fluttering, their fingers bolt up and down the fretboards like a pair of hummingbirds. They are living, breathing musical history — a melodic bridge to the past, with one foot firmed planted forward into the future.
Smoky Mountain News: With being an acoustic guitar instrumentalist, what about the notes and improvisational aspects of your sound provides you with a platform to say something you might not otherwise be able to say with your voice?
Trey Hensley: I really portray my feelings more through my guitar playing than my singing. I love the guitar and it feels like it's a part of me when I'm playing — it feels like breathing. Playing with Rob has really opened up my improvisation, and my playing in general. I always improvised and tried new things before, but Rob is such an incredible musician, and it makes me want to play better.
I've been really into jazz the past few years and that has inspired me to take a long hard look at the way I play. Hearing jazz makes me want to say something with my guitar instead of just playing notes. Mentally, it feels like a totally new thing for me. I think hearing Miles Davis play and reading some of his famous quotes about playing really opened up my playing. I want my playing to touch people the way that Tony Rice, Doc Watson and Miles Davis have affected me.
SMN: Though you have always been around bluegrass in some form or another, what is it about that "high, lonesome sound" that really appeals to you?
TH: I think the spirit of it really draws me in. I've always loved older music, while loving newer sounds as well. Bluegrass embodies that. I feel like my sound has always been equal parts country and bluegrass, with lots of other influences as well. I try to be as open-minded musically as I can. I listen to anything and everything. There's definitely something about bluegrass and traditional country music for me though. Perhaps it's because I have heard it all my life. I'm not sure. I'm just in my happy place when I hear Merle Haggard or Tony Rice.
I think the freedom and improvisation aspects of bluegrass are really appealing, too. There are no rules. There are audience preferences, but I think a lot of people who come to our shows know some of what they are going to get. We bare our influences pretty directly on our sleeves with our albums. There are blues songs, Texas swing tunes, lots of bluegrass, lots of country, and it still falls under the bluegrass/Americana bracket after we put our spin on it. There are purists in every genre who only like particular stuff — I'm partially a purist in some ways, especially for country music — but most bluegrass fans are open-minded. You can really hear that in the diversity of bands that are out now, and even the classic bands from yesteryear — it's a diverse art form for sure.
SMN: What have these years on the road and onstage shown you, and maybe even surprised you — creatively, personally and professionally?
TH: Our first year on the road, we played well over 100 shows, and we continue to play around 80 to 100 shows per year. I think the biggest thing about being on the road is the ability to sharpen your blade musically. It's basically a tool to get better and audience participation is a big factor in that. It still makes me feel like an excited 11-year-old kid whenever the crowd claps after a guitar break that I take. I guess that's surprising to me, that I've been in music since I was 10. And playing music is never not fun. I always have a blast and playing guitar always touches my soul — it doesn't get old.
SMN: As you've continued to dive deep into the genres of bluegrass, Americana and folk music, what are you seeing, hearing and discovering these days with those styles of music?
TH: I'm just hearing a lot more love for the music. It seems like so many folks are having great careers in the Americana world. There are so many great songwriters and it's great to discover new music all the time that's in the same genre that Rob and I are in. I think people are digging harder these days to find the good stuff. I don't know that there will ever be a full change in the modern country music world, but Americana has taken the reigns for a lot of us who may not have had a full-time home in other genres.
It's also inspiring to hear all the great songwriters in the genre. Folks have a lot to write about these days, so I'm inspired to hear folks who can put their feelings and thoughts down in a song. I guess I say all that because I feel like inspiration is everywhere in the bluegrass and Americana world, and I'm just glad to be a tiny part of it.
Want to go?
Bluegrass act Rob Ickes & Trey Hensley will perform at 8 p.m. Sunday, July 1, at the Cataloochee Ranch in Maggie Valley.
Tickets for the intimate performance are $45. A gourmet mountain dinner will be available for purchase before the show. Reservations are highly suggested. This show will sell out. To RSVP, call 828.926.1401 or visit www.cataloocheeranch.com.