Archived News
Tibetan tour connects women across cultures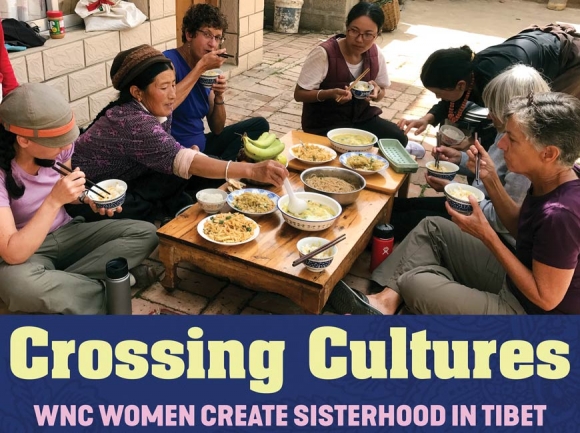 Women from Western North Carolina share a meal with women in Tibet during the Eastern Tibet Women's Pilgrimage Tour in 2017. Donated photo
Standing on a mountaintop ascending above 10,000 feet — an ancient farming village in the valley below and a Buddhist nunnery behind her — Julie Thorner of Bryson City couldn't be farther away from the life she's known in the U.S. Yet each time she returns to Tibet, it starts to feel more and more like where she's meant to be.
For the last two years Thorner has led a small group of women from Western North Carolina through Eastern Tibet with the simple mission of connecting with women on the other side of the world and learning a different way of life.
"We wanted to do a women's tour because when it's only women traveling together, you get to share at a much more intimate level with other women in the room," she said. "We can talk openly about marriage and husbands, families and the nunneries."
It's nearly impossible not to be a changed person when returning home from the 12-day journey. Almost a year has passed since Jean Jordan of Franklin decided to take the trip in 2017, but the impact remains as she tries to weave the Buddhists way of life into her own.
"I think about trying to live life in a more accepting way, to be less inpatient and more accepting and more compassionate," she said. "I'm not sure all of those feelings have lasted in reality, but it's always good to move in that direction."
Thorner will lead the third Eastern Tibet Pilgrimage Tour for Women this September and is still looking for two more women to join the adventure.
How it started
Thorner's interest in East Asia dates back to her college days. Originally majoring in pre-med at Duke University, she had a change of heart after her freshman year.
"I thought I wanted to go into medicine to help people, but after my freshman year I was so over college. Chemistry and calculus were hard and so I decided I should study something I'm interested in," she said. "East Asian Studies is a leading program at Duke."
Julie Thorner of Bryson City, helped put the Tibet tour together to begin a cultural exchange for women. Donated photo
That change in focus led Thorner to learn Chinese and live in Beijing for six months for a study abroad program. Fast forward to 2015, she was living part-time in Bozeman, Montana, while her sons were in school there and learned about a Tibetan exchange program through Columbia University in which 12 Tibetan business entrepreneurs travel to the U.S. to learn how to better market and brand their tourism-related businesses.
Since Thorner owns her own eco-tourism marketing firm, she was an ideal candidate to offer the visiting group a business plan presentation while they were visiting Bozeman.
"Tibetans speak different dialects that aren't understood by others from different areas so they ended up speaking Chinese to each other instead," she said. "And I discovered I recalled a ton of Chinese and I was able to do half of the presentation in broken rusty Chinese."
Thorner was later presented with the opportunity to travel to Tibet with a group of Americans to offer business and marketing consulting to Tibetan entrepreneurs through the same exchange program. The two-week trip helped her regain the rest of her Chinese language skills and allowed her to help many businessmen with their tourism marketing efforts. The group was enjoying a goodbye dinner on their last night with all the tour guides and business owners when Thorner noticed something was missing.
"Being a strong-minded feminist and being raised by a strong feminist woman, I couldn't help but think to myself, 'Where are all the women?'" she said. "I'm always interested in what women think so I thought wouldn't it be cool to create a women's tour to meet Tibetan nuns and other women to have an immersive experience and find out what their lives are like here."
Women from Western North Carolina and their tour guide Tsering Tso (second from right) take a 12-day tour of Eastern Tibet in 2017. Donated photo
Thorner, with the help of a few tour guides in Tibet, designed a tour that included home stays with village women and nuns as well as plenty of hiking and exploring the culturally rich region of Tibet. She led the first group of seven women on the tour in 2016 and is planning to return for a third tour this September.
"I didn't know if it would work, but it was a huge success," she said.
By staying with nuns and families in the village instead of hotels in the cities, Jordan said the group truly got a sense of the culture and every day joys and struggles of these women.
"By far the most unique part was the home stays — sleeping and cooking with the women in that village," she said. "The people are just so sincerely gracious and kind and compassionate."
Village life
Tibet is an autonomous region in western China encompassing the highest plateaus and mountains of Central Asia, including Mount Everest.
A vast majority of Tibetans — some six million — practice Buddhism, and many men and women choose to dedicate their lives to the religion by become monks or nuns living in monasteries and nunneries throughout the region.
"Woman often turn to the nunneries when they're 18 — many might not be educated, some might be illiterate," Thorner said. "It's their culture, but I always look at when is it their culture and when is it actual oppression. It might be their culture, but it might also be oppressive — so that's why we're asking questions."
The Eastern Tibet Buddhist Pilgrimage tour for Women includes several beautiful hikes across the mountainside. Donated photo
Thorner likes to ask mothers about their lives and their hopes and dreams for their children. The answers she receives probably aren't much different than what you'd hear in the U.S. — they want their kids' lives to be easier; they want them to have more opportunities than they did growing up in Tibet.
Tibetans living in the villages have few possessions and have to be self-sustaining by gardening, farming and living a simple existence. One of the mountainside villages Thorner and her group stayed in — Maigang — is over 1,400 years old. The homes are rustic and minimalistic. They have bare bulb electricity and solar hot water heaters, but otherwise Thorner said their way of life hasn't changed much in the last 1,000 years.
"They milk the yaks, they have a wood stove for cooking and heat and they boil their milk," she said. "They don't have much of a kitchen — just a 3-by-3 cutting board on the floor — no chairs and no tables. They use their hands to mix things because they've never used utensils."
The Tibetan diet is also simple with barley as a main staple. They also use yak's milk and butter, potatoes, wild mushrooms, and whatever else they're able to grow in their smaller garden plots. Though the diet is utilitarian, Thorner said it's a healthy one as long as families have enough of it.
"The diet is very simple and they eat the same thing all the time, but it's really good for you," she said. "There's absolutely no sugar in anything they eat. They don't go to a dentist yet they have the most beautiful sparkling white teeth you've ever seen."
Many young women want to join a nunnery because it's an easier life than working the fields and the other hard labor associated with living in a village. Nunneries are also becoming an option for young women to gain a higher level of education. However, Thorner said it isn't common for a family to send their daughters away — they are expected to stay with the family and take care of the home or married off into another family.
"We went to stay with nuns in their homes and we talked to them about everything. Many confirmed they're there because they were fleeing life in the village or because of a bad husband," she said. "One nun had a family tragedy where her brother was killed in a middle school fight and she came to the nunnery as a way to reduce the bad karma of that life event."
Nunnery life
The Tibetan nunneries are much different than the Catholic nunneries most westerners have come to know. Nuns don't all live together in dorms inside a church — Tibetan nunneries are more of a community with a temple and the nuns tend to have their own dwellings within the community.
Last year Thorner's group visited Damo Nunnery, which is located on a ridge top and is home to 120 nuns. Though they have little, several of the nuns welcomed the small group of Americans into their homes each year for food, shelter and conversation.
The plan last year was to spend two nights at the Damo Nunnery, but the Lama — the Buddhist leader of the nunnery — was having a special religious teaching that prohibited outside visitors at the time. Thorner said one of the tour guides who was related to the Lama pleaded with him to grant the group special permission to be there to study Buddhism and to their surprise, he agreed to allow them to stay for one night.
Part of the tour includes visiting a Buddhist Tibetan nunnery to learn from the lamas and nuns that live there. One of the last nights of the trip is spent at a nomadic camp sleeping in tents. Donated photos
Later that day the group ran into the Lama's master student who asked them what they were doing there. When a nun explained the Lama had granted special permission, the master student responded by saying what amazing karma they had. The group was even more surprised later that evening when the master student knocked on the door of the nun's house where they were all sitting by candlelight because the power was out. Because of their good karma, the master student had come to give them a special two-hour Buddhist dharma lesson. It is surreal moments like that, Thorner said, that makes these trips worthwhile.
"We're sitting there at 10,000 feet with a Buddhist monk giving us a dharma lesson by candlelight," she said. "It was mind blowing and surreal. You can't plan that kind of thing. It was the most special thing in the world."
They also learned the master student's backstory. He was not born in Tibet or raised as a Buddhist. He was a successful businessman in the Republic of China with a wife and son when he began to look for something more in his life. He found Tibetan Buddhism and decided that was the path he needed to take. Though he had to split up his family to walk that path, the wife and son decided to follow the same path by moving to Tibet and joining monasteries and nunneries.
It's a trend Thorner says is happening more and more — young Chinese men and women moving away from the hustle and bustle of the cities to discover a simpler and more spiritual life among the Tibetan Buddhists. With them is coming financial support for monasteries and nunneries. Damu Nunnery was in the midst of building a new temple when the group was visiting.
"Spirituality is getting bigger in Chinese culture and they are discovering how rich it (Buddhism) is and what a wonderful philosophy it is so they're coming in droves and helping fund these projects," Thorner said. "Tibet is seeing this as a positive thing. If Chinese people at a grassroots level are interested in the religion, hopefully it can create a cultural and friendship exchange."
Educating women
Many of the mothers Thorner's group visited with see education as a way of upward mobility and a way to give their daughters the opportunities they never had. Even if a family has enough money to send a child to college, a son often gets first priority. If there are multiple daughters, the eldest may be able to attend college while the others are expected to stay home.
"They're working hard for their kids to have an education because education gives you choices," she said.
By western standards, a college education in Tibet is affordable. Thorner said she learned it cost about $1,000 a year to send a young woman to college, which inspired her to start a nonprofit foundation — Liquid Spark Foundation — to find Americans willing to sponsor a Tibetan student throughout college. A $1,000 commitment for four years can have a life-changing impact on women in Tibet and for their families.
Thorner's sponsor is currently studying law in college.
After coming back from the trip last year, Jordan is also in the process of finding a student to sponsor.
"It's difficult for them to scrape together the money to go to school and they're very isolated," she said. "I knew this was something I could do to change the women's lives a lot."
The women's tour also gives back to Tibet by making an offering to the new Temple being built and $50 from each person's expenses goes to a village family in need. While it may not seem like much, a few hundred U.S. dollars goes along way for a poor Tibetan farming family.
Want to go?
Thorner still has two spots open for the 2018 Women's Pilgrimage Tour, but participants should know this is no ordinary vacation.
The tour covers a lot of area over 12 days and the accommodations are far from a three-star hotel. It's also important for the participants to be culturally sensitive to the issues affecting China and Tibet in particular. Thorner says there are things Americans shouldn't say in Tibet in fear of governmental retaliation against the Tibetan people who have opened their homes and lives to visitors.
"I feel personally responsible for the group I take so I interview people who want to come — they have to be politically sensitive to the issues facing Tibet," she said. "We don't want to put them in a compromising position."
Thorner wants to make it clear to people that the tour is not about Americans trying to impart their way of life on Tibetans — it's about listening to them, learning from their way of life and sharing their stories.
"It's a cultural immersion exchange. There's no other trip like it. The goal is to have sisters across cultures and we're developing those relationships each time we go," she said.
Life lessons
Thorner doesn't ever think she'll tire of the annual trips to Tibet. She said she's been amazed at what she has learned from her time with the people there. When her children are a bit older, she anticipates spending more time in Tibet.
"What bowled me over is these Tibetans are so kind and generous so that their karma is good and they can have a good next life," she said. "Every person I saw — no matter how poor — every time they saw someone worse off they pulled out a dollar bill (equivalent to a few U.S. cents) and gave it to that person. I was so moved by that I wondered what can I do in my life to be more kind and generous and learn about compassion."
The Tibetans' religious beliefs have also been an inspiration in Thorner's life. The way they view parenthood and even death are so much different than in American culture. Because they believe in reincarnation, it's much easier for them to let go when raising a child or when losing someone.
"They believe we show up as an independent being. Our parents cloth and feed us until a certain age but that the child is their own independent being with their own past lives and they get out of the way. It's not my journey — it's their journey," she said. "It's an incredible way to show up in the world."
Want to go?
Eastern Tibet Buddhist Pilgrimage Tour for Women by Kham Voyage, Sept. 8-20.
• 12-day trip includes 12 dinners, 11 lunches, 12 breakfasts and 12 night lodging
• Price is $2,850 for a group of 6-7 women
• Price includes transportation and fees, in-country flights, English-speaking guide, entrance tickets and donation to a local family.
• Price doesn't include international flight to Chengdu, China
Tentative itinerary
• Day 0 — Arrive in Chengdu late afternoon, welcome dinner, stay at hotel with showers and private bathrooms
• Day 1 — Explore Chengdu, Panda Reserve, Tibetan Quarter Shopping District, Wenshu Monastery
• Day 2 — Fly to Xiahe in Amdo region of Eastern Tibet, stay in local hotel.
• Day 3 — Day trip to Zhagana Tibetan Village from Deibu, stay in local hotel
• Day 4 — Travel to Maigang Village for homestay with tour guide Tsering Tso's family. Sleep on thick Tibetan sleeping mats in one big room.
• Day 5 — Homestay continued at Maigang Village, up early to milk the yaks, hike above the village.
• Day 6 — Travel to Damo Nunnery, lunch and homestay with a nun. No showers, outhouse toilets.
• Day 7 — Join nuns for meditation and chanting, tour of the nunnery.
• Day 8 — Travel to Langmu monastery from Damo.
• Day 9 — Travel back to Xiahe, hike to Langmusi canyon. Stay at Norden Camp — Tibtan "glamping" tents.
• Day 10 — Tour Labrang Monastery. Stay in local hotel.
• Day 11 — Fly back to Chengdu from Xiahe. Stay in hotel.
• Day 12 — Fly back to U.S.
Contact Julie Thorner at 828.736.1695, email This email address is being protected from spambots. You need JavaScript enabled to view it. or visit www.liquidsparkfoundation.org.