Archived News
Chief Pontiac statue will leave Asheville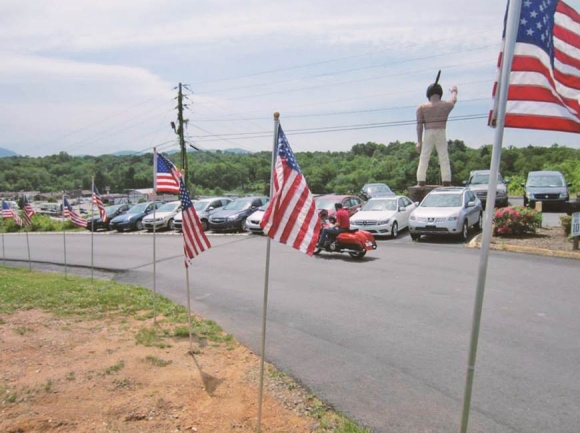 The Chief Pontiac statue at Harry's on the Hill in Asheville will come down after 51 years. Facebook photo
After 51 years standing high on a hill along Patton Avenue in Asheville, a 23-foot-tall statue of Chief Pontiac is coming down.
"He's just part of a different era," said Pat Grimes, co-owner of the family car dealership Harry's on the Hill, where the statue is located.
The fiberglass statue was originally installed back when Harry's sold the now-defunct Pontiac brand, and these days a growing awareness of just how caricatured mascots depicting Native people can came across to Native Americans adds another dimension to the decision — especially in light of a Cherokee woman's recent experience at Harry's.
According to a letter to the editor she submitted to The Cherokee One Feather May 31, tribal member Sabrina Arch experienced discrimination and racially based ridicule when she went car shopping this spring. Arch wrote that the salesman she worked with refused to negotiate with her or go down on his prices, which the bank later told her had been quite high. Arch said she wound up driving two hours away to a dealership where she was "treated as a customer with respect," this time leaving with a new car.
When she took a picture of the car and sent it to the salesman, he responded with a series of insulting and racially charged messages.
"We do not have to be mistreated," Arch wrote. "As a Cherokee Nation, we can stand up for ourselves and others. Making others aware of instances like this can prevent them from happening again."
Harry's responded swiftly when it learned of Arch's experience, writing a Facebook post the day after The One Feather published the letter, announcing that it had fired the employee in question and planned to return the Chief Pontiac statue to its sculptor in Arizona.
"I was horrified and upset," Grimes said of the incident. "This has been basically a family business for almost 100 years. We've been part of this community for longer than that, and it's really important to our family that we better this community. I hope Mrs. Arch accepted my apology."
In a follow-up letter published June 1, Arch said a robust "thank you" to the Cherokee community that has offered its support and encouragement and relayed Harry's decision to remove the statue and terminate the employee.
"She (Grimes) asked if there was anything I could think of that they can do to right this wrong," Arch wrote. "I did not know how to answer this question. I am puzzled, I do not know how to fix this but going forward because we are always doing things for our community. I told her that we have a lot of events where we give back to the community, our kids, and the elders where donations are welcome."
Harry's post announcing its decision went quasi-viral, drawing 421 comments, 220 shares and 459 reactions as of press time. The comments contained plenty of sympathy and horror at the treatment Arch endured, but many commenters said they didn't believe the statue should go, some saying it's a sentimental piece of Asheville history and others saying that removing it is equivalent to caving to Asheville's liberal contingent. A poll WLOS conducted on the topic drew 11,300 votes, with 94 percent of voters saying the statue should stay.
The Chief Pontiac statue is one of the so-called "Muffler Men," which were giant fiberglass statues produced by International Fiberglass between 1963 and 1972. The statues have become roadside icons across America, depicting not just Native Americans but also cowboys, Paul Bunyans and even Sinclair dinosaurs.
"They're sort of part of old Americana," said Grimes.
Older still, however, is the legacy of Chief Pontiac, who was not interested in selling cars but rather in defending his people's rights to their homeland. He was a renowned leader of the Ottawa people, located in Great Lakes area.
During the French-Indian War, Chief Pontiac's tribe fought for the French, and when the French lost the war, the British moved in on Ottawa territory. This prompted Chief Pontiac to lead the uprising that would be dubbed Pontiac's Rebellion, enlisting support from other Indian tribes to attack British forts. The rebellion lasted from 1763 until July 1766, when a treaty was signed. Chief Pontiac was assassinated in 1766.