Archived News
Swain sheriff suspends mutual aid to town; Opponent claims the move is purely political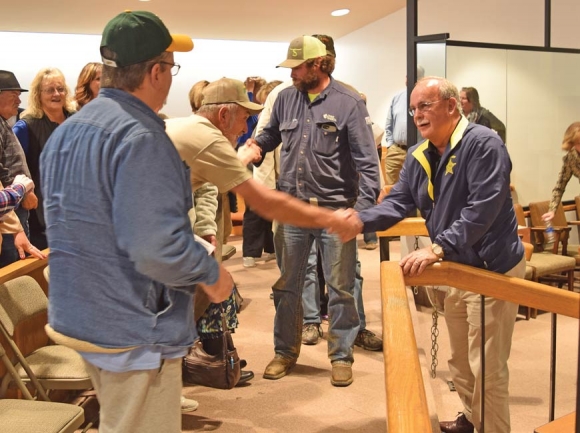 Swain County Sheriff Curtis Cochran shakes hands with his supporters after a candidate challenge against him was dismissed by the local board of elections in April. File photo
Swain County Sheriff Curtis Cochran has suspended a longstanding mutual aid agreement with the Bryson City Police Department, though the reasoning behind the decision isn't all that clear.
"At the time and still now, I think it is best for the sheriff's office," Cochran said when asked about his decision to suspend the agreement, which was made in October 2017.
Rocky Sampson, a Bryson City police officer and Cochran's Democratic challenger in the 2018 election for sheriff, said he believes Cochran's decision to suspend the agreement with the town is directed specifically at him.
"Personally, I think it's all politically motivated. He found out I was going to run for sheriff and asked the police chief to fire me and he wouldn't do it," Sampson said. "A couple weeks later that letter came out suspending the mutual aid agreement."
Dispelling rumors
Bryson City Police Chief Greg Jones has been trying to get to the bottom of the issue since hiring Sampson last July. Not long after Sampson joined the police department, Cochran approached Jones with information regarding Sampson allegedly being investigated for misconduct and/or sexual harassment when working for Clay County Sheriff's Office.
After Cochran made those allegations, Jones said he took it upon himself to investigate the matter by paying a visit to Clay County Sheriff Vic Davis.
"I always do background checks, but seldom do I go talk to a sheriff or police chief. I run the background check and if something has happened that's where it will be," Jones said. "But I asked the (Clay County) sheriff straight out if there had been any type of investigation and his answer was no. I asked him if anything had happened out of the ordinary and he said, 'No, Rocky has been a valuable deputy and resigned on own free will and terms."
Jones detailed his findings in a report, which was sent to Cochran, but Jones said he hasn't received any further correspondence from the sheriff's office in reference to the mutual aid agreement.
When asked where he heard about Sampson's alleged misconduct, Cochran said he heard it from Sheriff Davis. However, he said he was unable to share details or offer proof of an investigation.
"I'm not going to talk about that," Cochran said when asked to elaborate about the accusations against Sampson. "I'm not going to get into whatever investigation that may be going on."
Jones and Sampson said no such investigation is occurring in Clay County. Sampson added that he is still in good standing with the Clay County Sheriff's Office after resigning in November 2015. According to Sampson's resignation letter, he needed to resign because of a family medical matter that required he and his wife to be closer to their children in Bryson City. He said Clay County has kept his certification on file, which means he's still technically a sworn deputy with the office even though he isn't employed there.
"I want to express to you my sincere thanks for seeking me out and placing me in the position of Captain for the Agency. I sincerely hope I fulfilled the expectations you had for me during the time I have been employed with you," Sampson wrote to Clay County Sheriff Vic Davis. "I want to thank you for the friendship you have shown me and the respect you've given me by allowing me to work with you."
Mutual aid suspended
After discussing the issue and clearing the air with Sheriff Davis in Clay County, Chief Jones felt confident that the allegations against Sampson were untrue and he decided to keep him on the force.
It wasn't long before Jones received the letter from Cochran in October suspending the mutual aid agreement.
"After careful consideration concerning a Bryson City Police Officer's possible actions of an incident that may have happened in a neighboring county, Clay County to be specific, I have made the hard decision to suspend the mutual aid agreement between the Swain County Sheriff's Office and the Bryson City Police Department," Cochran wrote. "I regret that this decision has to be made, but for the protection of the citizens of Swain County, the deputies and my office, I feel that this is the right decision at this time."
Jones said the longstanding mutual aid agreement between the police department and the sheriff is critical for legal reasons but also to show mutual support for one another. The agencies have always worked closely — several sheriff deputies currently even work part time for the police department.
Mutual aid agreements spell out protocols and ensure an effective response to a number of different types of emergency situations. It also protects law enforcement officers acting outside their jurisdiction.
"While working with the requesting agency, an officer shall have the same jurisdiction, powers, rights and privileges as an officer of the requesting agency, in addition to those the officer normally possesses," according to state law governing mutual aid agreements.
Jones said it is within Cochran's power to cancel or suspend the agreement.
"He can cancel that agreement at any time for any reason and that's his authority. The sheriff is in sole control of his agency," Jones said. "But my officers have an obligation to respond if someone needs us and we'll deal with the legalities later."
Swain County Manager Kevin King said mutual aid agreements typically do have to come before the board of commissioners when it involves EMS or the fire departments. However, the board doesn't approve agreements for the sheriff's department since it's led by an elected official.
Even without the mutual aid agreement, the sheriff has jurisdiction over the entire county — including inside the town limits — but a city police department doesn't have jurisdiction outside the town limits or other town-owned properties in the county. Having a mutual aid agreement in place allows the police department to respond as back up for the sheriff's office without fear of legal repercussions.
"Let's say one of my officers goes out and tries to assist in an arrest outside of our jurisdiction — that person could claim a false arrest because he's not supposed to be there," Jones explained. "But like I told the sheriff and the district attorney, I don't care about the status of the mutual aid agreement — if the sheriff or anyone else with a badge is in trouble, we're going to respond and deal with legalities later."
Cochran pointed out that his letter to the police chief did indicate that his deputies would still assist the police department when called upon even if the agreement isn't in place.
That assistance is important for Jones' department considering Bryson City only has one or two officers on patrol at any given time. If the one overnight officer on patrol gets caught up with a DWI stop — which can take hours to process — and a call comes in for a drug or domestic violence incident, sheriff's deputies would need to be called in for assistance.
Jones said the sheriff's office also needs the police department since the sheriff doesn't have a K-9 unit and Bryson City does.
"We can call Bryson City if we need them — we do that a lot — or we call Cherokee's K-9, whichever is closest," Cochran said. He added that he didn't think there would be any legal repercussions for the police department acting outside of its jurisdiction as long as they were called to assist by his department.
Chris Dudley, the K-9 officer for Bryson City Police Department, wrote a letter to Cochran following the suspension of the mutual aid agreement expressing his disappointment and tendering his resignation as an auxiliary deputy for Swain County. Dudley said he was disappointed in the sheriff for his decision after so many years of working his K-9 for the sheriff's office.
"That's why it gives me great pain and regret to inform you that if I as an auxiliary deputy with your office can't serve you and the people of Swain County by using my K-9 when needed, then I regret to inform you that I am tendering this letter as my resignation as a K9 handler and auxiliary deputy with your office," Dudley wrote.
Political plays
Even though Sampson was hired with the police department in July 2017, he had to be placed on unpaid administrative leave this spring when he decided to run for sheriff.
The town of Bryson City has a personnel policy in place stating that any town employee that chooses to be a candidate in a partisan election has to take a leave of absence until the outcome of the general election. While he's on leave, Sampson has taken on a part-time property maintenance job with the Great Smoky Mountain Railroad.
"When we hired him he hadn't decided whether he was going to run again or not, but I encourage anyone to run if they want to — that's their decision," Jones said. "Before he went on leave he did a great job for us. He was always at work and did his reports on time. I have nothing bad to say about his job performance."
Jones said the entire situation was putting him in a tough position. At one time he worked full-time for the sheriff's office as an investigator and worked full-time for the Bryson City Police Department as a night patrolman. He's been a longtime supporter of Sheriff Cochran and has known Sampson as a well-respected law enforcement officer since he was a child.
From his standpoint, it's what happens when misinformation is perpetuated in the community.
Rocky Sampson.
"It's human nature — people get a little bit of information and that's the end all be all whether it ends up being true or not — perhaps that's what's happened here," he said.
Sampson said Cochran hoped to get him fired from the police department when he wrote the letter to Jones suspending mutual aid.
"I wouldn't have ever thought he'd do something like this," Sampson said. "He's trying to discredit me — all a man has is his reputation and his credibility."
In an effort to prove his innocence, Sampson has been collecting reference letters and endorsements from other credible members of the community, including Heather Phillips, a former a sexual assault/court advocate for REACH of Cherokee County.
Phillips stated that she supervised Sampson from 2008 to 2015 when he served as a Guardian ad Litem volunteer in the courtroom for children. She said she always appreciated Sampson's professionalism, knowledge and guidance.
"During that time, Rocky trained many volunteers that are still active with the program today," Phillips said. "Rocky was an asset to the program showing compassion for the children, knowledge of the system, and always being there when I needed him."
There's a good bit of irony in Cochran's accusations against his political opponent.
A Swain County resident recently challenged Cochran's candidacy for sheriff, claiming Cochran was dishonorably discharged from the U.S. Marines in 1975 after going AWOL. While the allegations were solely based on hearsay in the community, Cochran had to hire a lawyer to defend himself before a Swain County Board of Elections hearing. The candidate challenge was dismissed locally, but resident Jerry Lowery appealed the challenge to the state. The sheriff and his attorney had to travel to Raleigh to prove he was not dishonorably discharged or guilty of a felony that would make him ineligible to run for office. Again, the challenge was dismissed.
Cochran is seeking his fourth term in office and this is the second time Sampson has challenged him. He ran against Cochran in 2014 but didn't make it past the primary election.
What is mutual aid?
A mutual aid agreement is a written agreement between agencies, organizations, or jurisdictions to lend assistance across jurisdictional boundaries. It agrees to assist by furnishing personnel, equipment, and expertise in a specified manner at requisite time.