Archived News
Macon schools faces drastic cuts without more funding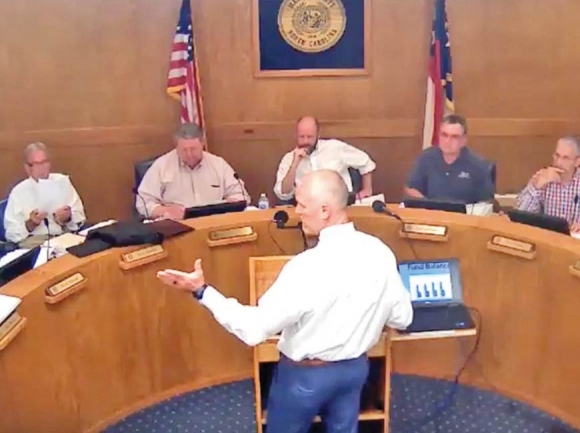 Macon County Schools Superintendent Chris Baldwin explains a $478,000 funding shortfall to the county commissioners during a recent work session.
Macon County commissioners are considering contributing another $750,000 toward public education to prevent further drastic cuts to Macon County Schools' 2018-19 budget.
In a recent budget workshop, Schools Superintendent Chris Baldwin laid the facts out to the county commissioners before a roomful of supporters. The bottom line is that the school system's expected revenues total about $8.3 million and expected expenditures exceed $8.8 million, leaving a $478,000 deficit.
On the chopping block
While the board of education hasn't yet approved any further cuts to balance the budget, Baldwin said cuts would include a reduction in work force, supplies, maintenance and probably instituting new fees for transportation.
In order to cut $478,000, Baldwin said he would recommend eliminating three locally funded teaching positions, which would save about $150,000. Ideally, those positions would be cut through attrition but if not, the teachers would have to be laid off.
Secondly, the school system can save $32,000 by reducing two locally funded full-time teacher assistant positions to part-time positions and cutting $45,000 in the budget for digital textbooks.
Next, Baldwin said overall instruction supplies divvied up between classrooms could be reduced by $50,000, the general maintenance budget would be cut $50,000 and transportation costs could be reduced by another $50,000 if the school system instituted a new fee for activity bus mileage.
He said the schools could charge 55 cents per mile and that fee would either have to be paid by a new student fee, classroom fundraising efforts for field trips or by the athletics department when traveling to games.
Athletics would also take a $43,000 hit by eliminating funds used to pay officials to referee games. Currently, Baldwin says the school system pays half the cost of referees while the remainder is paid by gate proceeds from games and the athletic department. Another $43,000 used for pool rental and field maintenance costs would be eliminated as well.
Lastly, Baldwin said he would cut his $3,700 stipend for his work cell phone and travel as well as $9,700 in travel reimbursements for his principals.
Commissioner comments
Commissioners Ronnie Beale and Gary Shields, who both serve as liaisons to the school system, recently met with Baldwin and County Manager Derek Roland to discuss the shortfall and try to come up with a solution.
Even though Roland presented a preliminary county budget that included another $200,000 for school capital outlay, Beale said it still wouldn't cover the school's almost $500,000 shortfall.
"In reading the budget from the legislature, I see nothing in the budget that will benefit the shortfalls listed on this sheet," he added.
"That's correct," Baldwin said.
"And we're not expanding — we're just trying to survive," Shields added.
Baldwin said the board of education had to dip into its fund balance again last year to balance the budget. The school system has about $900,000 sitting in its fund balance but only about $600,000 of it is unrestricted and can be used.
Beale reminded commissioners that fund balance was only 1.5 percent of the school system's total annual budget compared to Macon County's fund balance of over $20 million — or about 45 percent of the county's annual budget.
"We can all agree Macon County Schools needs a fund balance and that's not a whole lot," he said. "At the end of the day, we've invested $50 million to give our students a good school system. This is the new norm in school funding. The state isn't going to do it — this is just where we're at."
Commission Chairman Jim Tate agreed that the school system needed to keep a healthy fund balance, especially since sometimes it has to make payroll before state funding comes through. He asked Baldwin how the school system can build up that fund and how much he'd like to see in the account.
"Anything we accumulate is locally funded — we can't do it off state dollars. It's either by reducing positions or you have to give us more than our expenditures," Baldwin said. "In 2019-10, we had $3 million in fund balance. Had we not had it I don't know how we would have made it through the recession."
According to auditors and other school systems he's talked to, Baldwin said he'd like to at least have $1 million in reserve.
"Former superintendent Crawford said he tried to keep $500,000 in appropriated and $500,000 in unappropriated and that was 18 years ago when it was half of what the budget is now," he said.
Shields said his greatest concern is that the school system hasn't passed its budget yet and doesn't know how many teachers it needs to hire.
"It's so hard for a principal to hire qualified and quality people waiting this late. Western Carolina University grads are crossing over Balsam for jobs, not Cowee," the former school principal said.
After much consideration, Beale said the public education committee's recommendation was to contribute about $500,000 for school expenses to make the schools' budget whole and prevent any further cuts to positions. The committee also recommended giving the school system another $250,000 in the capital outlay budget specifically earmarked for safety and security improvements. This funding would be in addition to the $7.2 million the county already budgeted for operating expenses and $600,000 for capital outlay.
Beale said safety and security are on everyone's mind lately with the recent history of mass shootings and a recent intruder incident at Union Academy.
"Union Academy is one of the most secure schools in Macon County but this intruder allowed us to see our weaknesses and strengths," Shields said. "We need to stop talking and do something."
"We know it's two big recommendations, but we also realize that safety and security is a big issue — almost a must in some of these cases," Beale added. "We've always hoped the state will do this or that well … it ain't happened. This is where we're at."
Commissioner Karl Gillespie said he hoped the school system didn't have to make the cuts Baldwin just proposed, which he said could be detrimental to public education in Macon County.
"I didn't view those cuts as trimming fat — those are desperate moves," he said. "We're not funding our kids to be prepared to come back into the Macon County workforce."
Tate told the packed room of education supporters they would have a chance to speak at 6 p.m. June 19 when commissioners hold a public hearing for the proposed budget. He said he felt confident the board would approve the additional $750,000 for the schools but needed further discussion on where the money will come from.
"All this would have to come out of fund balance. The problem I'm seeing is yes, we can afford to pay it but that's not sustainable for long. It's a discussion we'll need to have," he said.
Responding to criticism
Commissioner Paul Higdon said the commissioners had received calls and emails from constituents concerned about the county level of funding for the school system.
"The tone of the emails I'm receiving act like this board doesn't support public education," he said.
While Macon County's proposed budget states that public safety expenses account for 28 percent of the budget while public education only accounts for 18 percent, Higdon said that didn't paint an accurate picture. Those annual figures don't take into account school-related funds included in other departments' budgets or the debt the county has taken on for school construction.
"Taxpayers of Macon County are in debt about $30 million and a majority of that is for school buildings. During the last 10 years, $50 to $60 million has been put into school buildings," he said.
Higdon added that the funding to place school resource officers in every school building was included in the sheriff's budget while funding for school nurses was included in the health department budget.
"There's no doubt prior boards have made serious commitments to school infrastructure and I think our schools show that," Gillespie said.