Archived Arts & Entertainment
Brighter days, where did they go?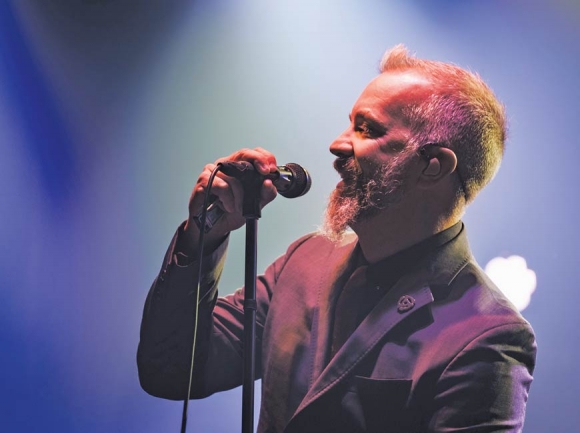 JJ Grey. Jay Simon photo
When you find yourself in conversation with JJ Grey, you walk away from the interaction with a kick in your step. This isn't someone who is blowing smoke. Rather, the beloved singer (of JJ Grey & Mofro) casts a real, honest sense of truth about our world. For someone who grew up in the rough-n-tumble backwoods and urban areas of North Florida, Grey doesn't carry himself with the darkness and self-doubt one might think he'd feed into.
No, Grey took the high road, a path that aims to create good among fellow man, instead of waiting for it to occur. For him, it's seeing the light at the end of the tunnel, regardless of where you may currently stand. He sees humor in daily life — a vital tool in surviving this world — and also understands that the biggest enemy of your fate and purpose usually is the face you see in the mirror. And to not believe everything you see and hear in our whirlwind digital age, to trust your gut instincts, and realize that the golden rule is the one and only rule of a life well-lived — treat others the way you'd want to be treated.
Onstage, Grey slides into this prism of radiating light and positivity. He uses his platform as a way to connect the innumerable dots of humanity standing on the other side of his microphone — a full circle ebb and flow of uplifting energy and unlimited possibility only found in the presence of live music.
Smoky Mountain News: When was the moment that you decided to subscribe to the idea of the power of positivity?
JJ Grey: I don't know if it was a moment. I guess I decided to subscribe to not being negative all the time. [Laughs]. At first, it seems like when you're so addicted to negative thinking, anything positive almost seems ridiculous. You don't realize that how it's just as ridiculous to think negative all the time, to always see the bad side of everything. It started with the little things, I'm not going to see confrontation in everything — I was always waiting for the hammer to fall by virtue of the way I grew up, where I grew up. Now, in retrospect, I have no idea how often was the hammer really going to fall versus just how much I believed it was going to fall? You don't really even realize things go well 90 percent of the time.
SMN: When I watch you live and onstage, it's almost like a revival kind of thing. I've always looked at live music as "going to church," for me at least. Is that stage presence of yours — of such intensity, emotion and positive preaching — subconscious or conscious?
JG: I think it's subconscious. The only conscious effort I try to make is get there on-time and walk on that stage, and make sure I don't make a fool out of myself. And the best way for me to not make a fool out of myself, is don't try to handle it too much. The whole thing, it's like butterfly wings, the more you handle it, the more the butterfly can't fly anymore. Let it be what it is. And look around and realize why we're all really here. People have a myriad of reasons why they think they're there, including me, and I can count them off on a list. But, at the end of the day, some part of me knows we're all here to share an honest moment.
SMN: Where are we as a people today?
JG: I remain positive, because I still believe that 90 percent of the people out there are sane, maybe even more than that. We need people from all different kinds of points of view for this thing to work at the level that we're trying to make it work, at a societal level. Usually when things get split off into groups it's bad. People connect who they are to the narrative they're creating in their heads. And the narrative is, "I'm this and he's that or she's this," and none of these things are even close to reality. Very few people fit in the molds we build for everybody, very few, and even then, they'll turn around and surprise you because they'll break out of that mold and say something you never expected in a million years — everybody's different, man.
SMN: And everybody can change, too, and for good...
JG: For sure. I really don't think that people are bad out there. If I had any observation, I would think, at least on television, our world is portrayed as nothing but candy asses everywhere, scared of everything, crying about everything. And reality is, only a handful of people are crying and bitching and complaining about everything. Most people, whether they agree or disagree, do so respectfully and with a modicum of sanity. The rest of us, the old squeaky wheel gets the greasing, whatever so-called "side" they're on, that's who everybody hears, they don't pay attention to the sanity. Negativity comes in a giant neon-lit firework display package. And positivity — it whispers.
Editor's Note: To listen to the entire audio interview of this conversation, go to YouTube and search "JJ Grey Garret K. Woodward."
Want to go?
JJ Grey & Mofro will perform with Blackberry Smoke at 6:30 p.m. Friday, June 22, at the U.S. Cellular Center in downtown Asheville.The Texas Gentlemen will open the show. Tickets start at $29.50 per person. For more information and/or to purchase tickets, visit www.uscellularcenterasheville.com or call 800.745.3000.