Archived Arts & Entertainment
This must be the place: We had longer ways to go. But no matter, the road is life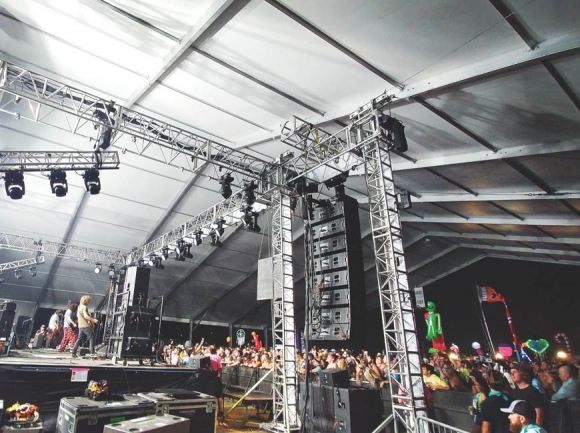 Pigeons Playing Ping Pong at Bonnaroo. Garret K. Woodward photo
Hopping out of my truck, the intense sunshine and humidity of rural central Tennessee in early June slapped me right in the face. It was last Wednesday, and there I was, pushing my way through numerous gates and security guards, hundreds of volunteers and tens of thousands of concertgoers, all part of this past weekend's installment of Bonnaroo — a music and arts festival as iconic as it is chaotic.
I hadn't been back to "The Farm" since 2005. I was 20 years old. All alone. First solo road trip. Upstate New York to Tennessee. I'd visited the South several times before (by plane), but never had meandered around the region. At that time, I had just finished my sophomore year at college in Connecticut. My plan at that time was to either be on TV as an MTV VJ (video jockey) or pursue a high school teaching degree. I didn't really know what I was going to do. Heck, who does at that age, eh?
June 10, 2005. Thursday. Day two of Bonnaroo. Early morning. Laying in my tent just before the unbearable heat hit the festival camping area, I was reading Jack Kerouac's seminal novel On The Road for the first of many, many times. I had just finished Chapter 5 when I flipped back to the end of Chapter 1 and reread the last sentence: "I was a young writer and I wanted to take off. Somewhere along the line I knew there'd be girls, visions, everything; somewhere along the line the pearl would be handed to me."
I put the book down for a moment and stared off into the distance outside my tent. It struck me. Like a bolt of lightning. A real deal epiphany. Clear as day. I said to myself, "I'm going to be writer." I didn't know the first thing about how to write or becoming a writer. By god, I didn't even know how I'd even go about trying to make living doing so. But, I knew then and there that I wanted to travel across the country and around the world, having all kinds of wild and wondrous experiences, and writing about it, sharing it with the world in hopes of sparking a fire within others that Kerouac sparked within my heart and soul.
Once the festival ended, I bolted back to my girlfriend's house in the Pocono Mountains of northeast Pennsylvania. I told her all about the epiphany, about all the incredibly life-changing performances I had witnessed (The Allman Brothers Band, The Black Crowes, Widespread Panic, Drive-By Truckers, Ratdog). I pointed to my copy of On The Road and told her how, "This is what I want to do, just like Kerouac did in the 1940s."
She was dumbfounded, "But, you don't know anything about writing and you want to switch majors going into your junior year?" Yep. That's exactly what I did come fall, while doing semester abroad in Ireland, and ultimately spending that semester getting over a terrible breakup (before I got on that plane headed across the Atlantic Ocean) with that girl I loved back in Pennsylvania.
And so, exactly 13 years later, there I was, standing in those vast fields at Bonnaroo. First time back since 2005. A whole slew of memories flooding through my head last Thursday morning on my hot, but glorious, jog around the property. I ran out to the perimeter of the festival grounds, all those steaming hot tents and young, joyous faces resembling mine back in the day, the mainstage over a mile away, with the air-conditioned RV (with Wi-Fi) I was crashing in behind that large structure that featured some of the biggest names in the music industry.
Zigzagging around Bonnaroo, I found myself in the presence of musicians — known and unknown — that were staggering, pushing the envelope of their craft and of what a stage show should and could be, and is. Acts like Durand Jones & The Indications, Ron Gallo, Spafford, and Pigeons Playing Ping Pong. Mesmerizing, to say the least, especially Durand Jones, whose timeless soul voice is seamless fronting a band of his friends from back in Indiana — horn section and percussion galore.
Originally from Louisiana, Jones took a job at Indiana University and, by chance, was asked to put down his saxophone and sing (they needed someone to sing in the soul revue). And he reluctantly did. Skip ahead to where he's now onstage at Bonnaroo in front of thousands of roaring new fans. He's on his journey of creativity and discovery, as am I, as are all of you reading this right now. The road is long, and bountiful, to those who keep their heads up, never forgetting that the sun will rise tomorrow, and will do so the day after, too.
The journey continues, my love for writing and wandering growing stronger and more curious each and every day. I don't take any of this for granted, nor will I stop digging below the surface of the people, places and things that fascinate us all, inspiring us to take on the world and provoke the chaos amid the cosmos.
Life is beautiful, grasp for it, y'all.