Archived Outdoors
The Naturalist's Corner: Lake J eagles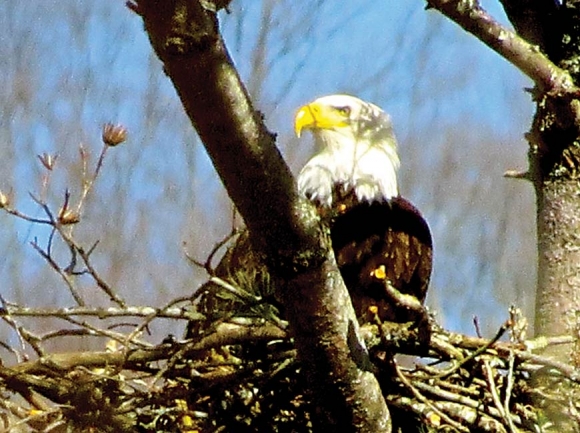 Eagle perched at nest back in March - Lake Junaluska. Don Hendershot photo
Most readers know the pair of bald eagles that nested at Lake Junaluska this spring were unsuccessful. There is no way to know the reason for nest failure. It could simply be this was a young inexperienced pair — once eagles attain adult plumage there is no visual clue to determine age. It could have been some kind of predator, but this seems unlikely because that would have created quite a ruckus and the eagles' next-door, human neighbors would have probably noticed.
Sadly human disturbance is probably the greatest cause of bald eagle nest failure. The Pennsylvania Game Commission noted nest failure at one site near I-80 was caused in 2011 and 2012 by photographers stopping to get photos and frightening the birds off the nest.
Eagles are most sensitive to disturbances during the incubation and hatching phase.
According to U.S. Fish and Wildlife, "During the incubation and hatching period, human activities may startle adults or cause them to flush from the nest. Startling can damage eggs or injure young when the adults abruptly leave the nest. Prolonged absences of adults from their nests can jeopardize eggs or young. Depending on weather conditions, eggs may overheat or cool and fail to hatch.
"We recommend seasonal restriction for many temporary activities that do not involve habitat alterations (e.g. fireworks, outdoor concerts). Potential negative impacts can be avoided by restricting these kinds of activities to the non-nesting period."
There was some tree trimming in proximity to the nest, which could have been during the sensitive incubation, hatching period. But there's no way to know if it had any impact on the nest failure. Human disturbance can be a pretty subjective thing when it comes to bald eagles. Stopping to take photos is enough to cause some eagles to flee the nest and other eagles build nests on Staten Island in New York. Of course, it is better to err on the side of caution and give nesting eagles as much room and privacy as possible.
The Lake J pair seemed to vacate the nest and the area around late March. There were no sightings for a couple of months. Then on May 24 an eagle was spotted perched near the nest. Again, since all mature eagles look much the same, there is no way of knowing for sure if this is one of the pair of nest builders or just a curious passer-by. But it is not uncommon for bald eagles, in good habitat with a stable food supply, to remain in or near their nesting territory year-round.
Hopefully this is one of the nesting pair and as seasons progress the mate will also return to the area. The eagles likely aren't seen as often at the lake this time of year because with all the coots and diving ducks gone they have to range farther to forage.
I believe the recent sighting at the nest bodes well for another nesting attempt next winter/spring. We should know by September/October as the pair would be together by then and adding to the nest.
(Don Hendershot is a naturalist and a writer who lives in Haywood County. He can be reached at This email address is being protected from spambots. You need JavaScript enabled to view it.)