Archived Reading Room
Judging a book by its cover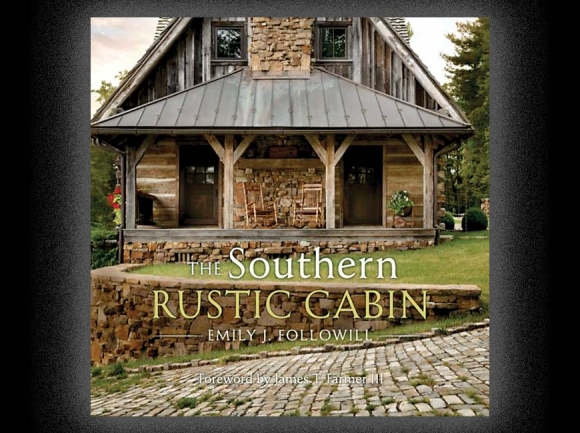 In Appalachia and the foothills and into the surrounding lands, we find log cabins — southern and rustic — constructed of hand-felled and -hewn logs from the rocky ridges.
— James T. Farmer III, "Foreword," The Southern Rustic Cabin
In stores and libraries, books grab our attention for a variety of reasons.
Sometimes it's the title of the book that jumps at us from the shelves. David Hewson's Nic Costa series, reviewed here a couple of years ago, first attracted me with The Dante Killings, the name seizing my attention because three years before I had fulfilled a 20-year-old desire to read The Divine Comedy in its entirety. Occasionally, favorite authors we've read and enjoyed lead us to a new book they've written that we somehow missed. James Lee Burke has twice surprised me in this way, popping up on my public library's shelves with his latest tale of his fictional detective, Dave Robicheaux. At other times, it's the subject that appeals. William Irvine's A Guide To The Good Life snagged me because of my interest at that time in stoicism.
More infrequently, it's the sheer beauty of a book that ensnares us. Like seeing an alluring stranger on a spring afternoon, a figment of our dreams come to life on the sidewalk, such a book makes prisoners of our eyes. We look and cannot look away.
Long ago, I reviewed in this column At Home With Books: How Book Lovers Live With and Care For Their Libraries, a feast of photographs and descriptions prepared by Estelle Ellis and Caroline Seebohm. I bought that book for myself, revisit it every couple of months, and still drool over the pictures of some of the finest private libraries in existence today (including that of Rolling Stones musician Keith Richards).
Emily J. Followill's The Southern Rustic Cabin (Gibbs Smith Publishers, 2015, 208 pages) is just such a book.
Before I take you inside these pages, let me explain that books on housing and architecture rarely find me thumbing their pages. After selling a bed-and-breakfast in Waynesville 12 years ago, I rented an apartment, moved and rented again, and now live comfortably and happily in an unfinished basement, surrounded by books, shelves, desks, and other items having sentimental meaning for me. I have no desire to own a house again. I want no more upkeep, no more mowing lawns, worrying about frozen pipes, and all the other routine headaches of home ownership.
The Southern Rustic Cabin could almost make me change my mind.
Here photographer Emily Followill, an Atlanta native whose work has appeared in such publications as Garden and Gun, Southern Living, and Better Homes and Gardens, brings all her commendable camera skills to bear on 13 renovated cabins in Tennessee, Georgia, Virginia, and North Carolina. Working with another Atlanta native, Lisa Frederick, editor and writer, Followill also gives us the history of each cabin, the story of their repair and restoration, and their unique features. An example: Famed cabin builder and restorer Baxton Dixon, who handcrafted over 50 such houses through the years, put a sandstone heart on every chimney he's built and embedded a wooden cross somewhere in the house.
Two features in particular increase the charm of The Southern Rustic Cabin. First are the stories of those who did the restoration. In Madison, Georgia, we meet Carolyn and John Malone, who bought a former cow pasture in hopes of turning it into a nursery. They found an 1840s log cabin in Kentucky, removed it to their property, built it, and eventually restored three more nineteenth century cabins.
In Highlands, North Carolina, designer Carole Weaks brought her particular skills to the renovation of a 1928 home, originally built by well-known craftsman Joe Webb. Here Followill and Frederick write of her changes:
"Given the rugged backdrop, some designers might have gone for robust, country-flavored furnishings. Carole took the opposite approach, deftly mixing her clients' collection of elegant antiques with traditional upholstered seating and refined, leggy tables. Modern artwork keeps company with vintage jugs and formal lamps."
But as the saying goes, a picture is worth a thousand words, and the truth of this old chestnut is borne out on every page of The Southern Rustic Cabin. Like the photography in At Home With Books, the pictures here shimmer and glisten with light and color. Unlike At Home With Books, Followill's photos include no human figures, no owners or designers or builders. This absence of human beings provides viewers with a parade of still life shots that produces, at least in my case, a sense of tranquility and peace, which was, after all, a primary reason for the owners to build and renovate such dwellings.
On pages 190-191, for example, Followill takes us to Highlands and inside the living room of another cabin built by Joe Webb and now owned by Tom Hayes and Toby West. Here we see the old stone fireplace and the chinked cabin walls brightened intentionally with red sofas and touches of red in lamps, chairs, and draperies. The room as photographed by Followill glows with light and warmth, bidding visitors to sink down in one of those sofas and enjoy the silence.
A final note on this beauty of a book: despite that word rustic in the title, the decorative touches brought to these cabins by designers and owners are anything but rude or rustic. Here are a 19th-century French grandfather clock, an antique pie safe, beautiful cabinetry and dressers, ancient rugs, hand wrought lamps and hardware, and a host of other lovely pieces.
For anyone interested in discovering some wonderful home decorating ideas, or for readers who simply enjoy peeking inside the homes of strangers via books, The Southern Rustic Cabin is a fine place to spend some time.
(Jeff Minick is a writer and a teacher. This email address is being protected from spambots. You need JavaScript enabled to view it.)