Archived Arts & Entertainment
Cold Mountain Music Festival returns to Lake Logan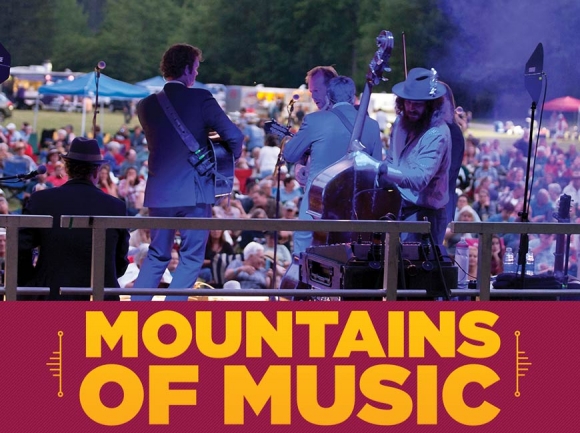 The second annual Cold Mountain Music Festival will return June 8-9 to the Lake Logan Conference Center.
The festival will feature top-notch musical talent. Friday's schedule will be The Kenny George Band (4:30 p.m.), The Broadcast (5:45 p.m.), Jon Stickley Trio (7 p.m.) and Mandolin Orange (8:45 p.m.). Saturday's schedule will be The Broadcast (1 p.m.), Dangermuffin (2:15 p.m.), Tyler Ramsey (3:45 p.m.), The Steel Wheels (5 p.m.), River Whyless (7 p.m.) and Shovels & Rope (9 p.m.). The event will raise funds and awareness for Lake Logan and Camp Henry.
The festival will also include food trucks, craft beer vendors, a kid's area, and more all in one of the most pristine settings imaginable. The centerpiece of the 300-acre property is a mile-long lake surrounded by the Shining Rock Wilderness Area of Pisgah National Forest on N.C. 215 just south of Canton.
SEE ALSO:
• Shovels & Rope to headline Cold Mountain Music Festival
• A conversation with Jon Stickley
There are also lodging options, which includes cabins and camping onsite. For more information and/or to purchase tickets, visit www.coldmountainmusic.org.
Mandolin Orange
Multi-instrumentalist Emily Frantz and Andrew Marlin have steadily picked up speed and fans from long stretches on the road, including appearances at Austin City Limits, Telluride Bluegrass Festival, Newport Folk Festival, and Pickathon. It's been an auspicious journey for a pair who casually met at a bluegrass jam session in 2009.
Lean in to Mandolin Orange's recent album, "Blindfaller," and it's bound to happen. You'll suddenly pick up on the power and devastation lurking in its quietude, the doom hiding beneath its unvarnished beauty. You'll hear the way it magnifies the intimacy at the heart of the North Carolina duo's music, as if they created their own musical language as they recorded it.
Shervin Lainez photo
River Whyless
With three superlative singers and songwriters in Ryan O'Keefe, Halli Anderson and Daniel Shearin, River Whyless consciously worked to blur the designation of a lead singer on "We All The Light," deftly blending the three voices throughout the record. The trio's vocals intertwine and layer together with gorgeous harmonies, rarely working alone. The vocal synergy is in many ways another instrument on "We All The Light," adding additional colors and textures to the sonically adventurous mix.
At its core, "We All The Light" is still very much a folk album. The global music influence is subtle, but significant in that it ties the record together, if not sonically, then spiritually. But, it was music created outside the United States — of Africa and India and Asia — that inspired the band to experiment, to explore, and, most importantly, to have some fun.
Dangermuffin
Easy, breezy melodies and soul-shaking grooves radiate from this genre-bending roots group. Dangermuffin brings thoughtful tunes that are both heartfelt and truthful. Its haunting harmonies and go-with-the-flow vibe invite listeners to kick back, relax, and be consumed by the ethereal rhythmic backbone and inspiring messages Dangermuffin has to offer. Lyrically, they evoke themes of self-discovery and true awareness, all within a unique and casual approach.
The Steel Wheels
Hailing from the Blue Ridge Mountains of Virginia, The Steel Wheels are familiar with the traditions of folk music and how a string band is supposed to sound. In fact, they've been drawing on those steadfast traditions for more than a decade. Yet their name also evokes a sense of forward motion, which is clearly reflected in their latest album, "Wild As We Came Here."
The Broadcast
The Asheville-based act is a soulful blues and roots-rock band bursting at the seams, fronted by explosive vocalist Caitlin Krisko taking her cues from early 1970s classic rock.
Jameykay and Arlie photography
Tyler Ramsey
Praised by NPR, Stereogum, WNYC and The Huffington Post, Asheville-based Tyler Ramsey is a multi-instrumentalist equally at home playing guitar, piano, keyboards, bass, and percussion, but is best known as a talented finger-style guitarist and singer-songwriter.
Phillip Douglas photo
The Kenny George Band
Hailing from Aiken, South Carolina, The Kenny George Band is a rock ensemble that has created an indelible impression with fans. The band's latest album, "Borrowed Trouble," looks at life, longing and relationships through the vast spectrum of constant tours and travel. Like the road itself, it dips and sways, advancing not in a straight line, but rather in a series of circuitous twists and turns that reveal a uniquely personal perspective.