Archived Arts & Entertainment
WCU to get entrance sign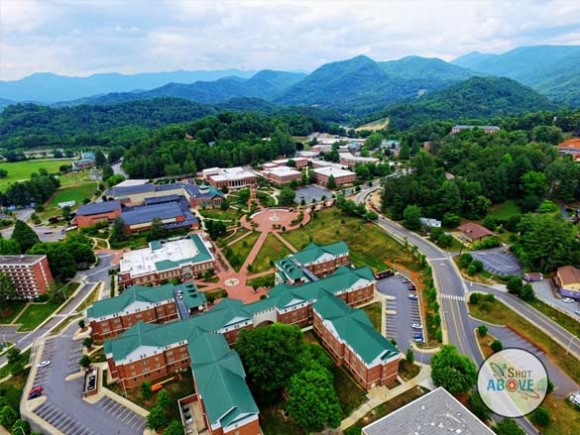 When you enter Western Carolina University from the four-lane, a green-and-white N.C. Department of Transportation sign is the only thing to say that you've officially arrived on the Catamount campus.
"I think we need something a little more than that," Matt Ketchum, WCU's director of facilities planning, design and construction, told university trustees during a May 31 meeting of the board's Finance and Audit Committee.
If all goes as planned, there soon will be.
During its June 1 meeting, the WCU Board of Trustees unanimously approved a design concept for a formal entrance to campus, planned as a tiered wall of natural stone wrapping the north and south sides of the entrance onto Centennial Drive from N.C. 107. Stretched out for about 30 feet of the 4-foot-high-wall would be the words "Western Carolina University" in bronze or powder-coated steel, lit from below with lettering about 18 inches high. The berm would be landscaped with trees and native wildflowers, an earthen security berm and the stonework replacing the existing guardrail.
Western Carolina University trustees approved a concept for a new campus entrance display that will include a tiered rock wall with bottom-lit letters spelling out 'Western Carolina University.' WCU rendering
The design is inspired by the rock walls present all along the Blue Ridge Parkway, Ketchum said. WCU contracted with Knoxville-based Sanders Pace Architecture for the design.
"What we're really trying to do is make a sense of place for Western Carolina so you know you're here," Ketchum said. "We can't compete with Catamount Gap. That's pretty impressive."
The design is still in its conceptual phase, so all details are not final. The height of the letters could change — during the board's Finance and Audit Committee meeting May 31, Board Chair Pat Kaemmerling told Ketchum she'd like to see them a little taller than 18 inches — as could the look of the letters themselves. WCU's chief marketing officer Robin Oliver, who has worked closely with Ketchum on the project, told the committee that there's been no decision yet as to whether to color the letters, though they're leaning toward no.
"What we wanted to achieve was something that was timeless and 50 years from now if we have a different logo, look, or our purple changes to a slightly different color, that we are anchored on Western Carolina University, the thing we know will not change," Oliver said. "It will be a simple and elegant execution that will live on."
The plan is to eventually install similar signage at all of WCU's entrances, with the north side of the N.C. 107 entrance the first target and the south side of that entrance the second target. In the future, the Old Cullowhee Road entrance and Millennial Campus where the Health and Human Sciences Building is located could be candidates to receive an entrance sign upgrade.
"Ideally we'd like to establish a campus stone," said Ketchum, using Virginia Tech's famous Hokie stone as an example of branding embedded with architecture.
It will cost roughly $250,000 to install entrance walls on the north and south sides of the N.C. 107/Centennial Drive entrance, said WCU Vice Chancellor for Administration and Finance Mike Byers. The project is expected to be complete by spring 2019.