Archived Arts & Entertainment
'Sore loser' bill would block ballot access for some candidates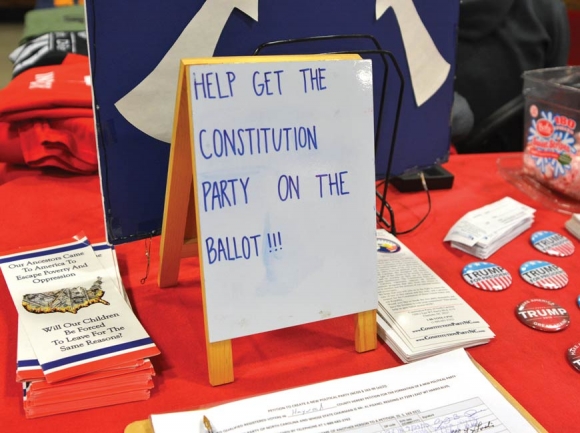 A successful petition drive has the Constitution Party poised to field at least a few candidates this fall. Cory Vaillancourt photo
North Carolina Republicans were quick to congratulate the first minor political party to gain official recognition by the State Board of Elections, but they haven't been quite as welcoming to the latest.
"Certainly, I think it's wrong," said Kevin Hayes, vice chair of the North Carolina Constitution Party, of a measure that would prevent candidates who ran in a Primary Election this past May from appearing on ballots with new parties in November. "People should have the right to associate with who they want to associate with."
More than a year ago, a bill filed by Sen. Andrew Brock, R-Davie, attempted to address a number of minor elections-related issues. Brock resigned his seat in June 2017 to accept an appointment to the state's Board of Review, but his bill was worked around in various committees until stalling that summer.
Last fall, a separate bill was passed dramatically lowering the amount of signatures required for so-called "minor parties" to field candidates and appear on ballots. The North Carolina Green Party set to work, and on March 27 of this year was formally welcomed to join Democrats, Libertarians and Republicans on ballots across the state.
The NCGOP was the first to welcome the Greens with a press release that same day "celebrating expanded ballot access [and] voting opportunities in North Carolina."
The release was widely interpreted as a poke at Democrats, who likely stand to lose more voters to the left-leaning Green Party than Republicans would.
But all the while, the right-leaning Constitution Party of North Carolina was also attempting to gather the 11,925 signatures needed to procure its own spot on the ballot and on May 15 reported having 12,636 signatures.
Two weeks later, Davie's bill resurfaced with what's being called a "sore loser" provision tucked away amidst myriad other issues.
"An individual whose name appeared on the ballot in a primary election preliminary to the general election shall not be eligible to have that individual's name placed on the general election ballot as a candidate for the new political party for the same office in that year," the bill reads.
What that means in plain terms is that candidates who lost in the Primary Election can't switch to one of the new parties and run for office in the Nov. 6 General Election.
Although the Constitution Party hasn't officially qualified for ballot access as of press time, it was expected to some time this week. Assuming it does, one potential Haywood County resident who could be directly affected by the "sore loser" provision is Haywood County resident Terry Ramey.
Ramey finished fourth out of four candidates in the Republican primary for Haywood County Commissioner, losing by only three votes to third-place finisher Phillip Wight.
"If it works, I'm going to run as a Constitution Party candidate," Ramey said, adding that he likes the party's conservative values and feels the Constitution Party is a valid alternative.
"Some people feel the Republican Party isn't abiding by its platform," Ramey said. "And then there's the infighting, even on the local level. They've run a lot of real conservatives off."
Hayes said that the timing of the "sore loser" provision was curious, given that it wasn't in the original bill until two weeks after the Constitution Party reported its progress in gathering signatures.
"It's retaliation," he said.
As an example, Hayes cited Rep. Beverly Boswell, R-Dare, who was defeated by six points in the last Republican Primary Election by Currituck County Chairman Bobby Hanig.
Rumors began to circulate that Boswell would try again as a Constitution Party candidate in the fall.
"They don't want to see Constitution Party candidates who could possibly beat their candidates on the ballot," said Hayes, who added that Boswell has not yet formally reached out to the Constitution Party.
Whether or not the "sore loser" provision directly targets Boswell is speculation at this point, but it does affect others, like Ramey and a Craven County candidate mentioned by Hayes.
"There was a Craven County Republican commission candidate who originally wanted to run as a Constitution Party member, but as filing approached they had to make a choice because it was then unknown if the Constitution Party would have a chance to appear on ballots," Hayes said. "He chose Republican, and he lost."
At the very least, Hayes said, the General Assembly shouldn't be changing the process in the middle of the election cycle; candidates should be "grandfathered" in because they had no idea if they'd have a chance to join the Constitution Party.
In retrospect, he said, his Craven County candidate would have been better off if he had simply waited to run.
And that's exactly what prospective members of the North Carolina Green Party should do, according to Charlotte-based co-chair Tommie James.
"We don't want people to come rushing over to the Green party just because they can," James said with the caveat that she hadn't spoken to the party and was offering her opinion. "My gut feeling is that this year, we're fine with that."
James said the Green Party stresses a strong separation from the major parties, and features an intense vetting process.
On June 4, the bill survived an attempt to amend it by removing the provision, and then passed its second reading.
Western North Carolina representatives Mike Clampitt, R-Bryson City, Kevin Corbin, R-Franklin, and Michele Presnell, R-Burnsville, all opposed the amendment and supported the bill's passage. Boswell was absent for both.
As of press time on the afternoon of June 5, the bill had been presented to the Senate, where it was expected to pass. From there, it will end up on the desk of Gov. Roy Cooper, who could sign it into law, not sign it and watch it become law or reject it and watch his veto be overridden.