Archived Arts & Entertainment
Everybody's scared, everybody's inspired: Shovels & Rope to headline Cold Mountain Music Festival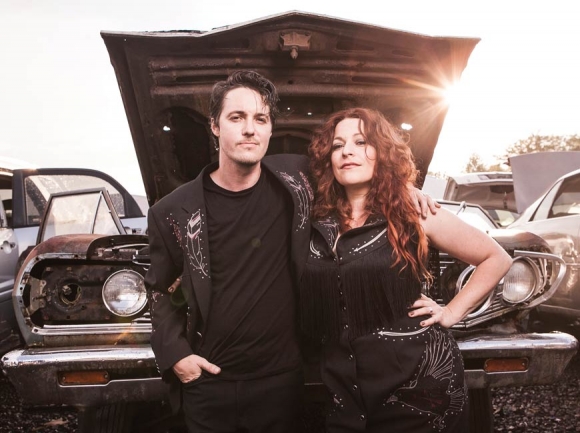 Shovels & Rope. Leslie Ryan McKellar photo
There's a reason Shovels & Rope has evolved into one of the "must see" live acts in the music scene over the last decade. Sure, the Charleston, South Carolina, band is comprised of two incredibly talented songwriters and performers (Cary Ann Hearst and Michael Trent). And yes, the energy they radiate onstage is insanely contagious to anyone within earshot.
But, the main reason at the core of the band's success and rabid fanbase resides within Hearst and Trent themselves — a married couple, onstage and off, of ragged company in pursuit of passion and glory. They're inspiring, and real in every sense of the word. And that's an attitude taken at face value by the 21st century listener, who's constantly in search of something authentic and tangible in a modern age of mass confusion and plastic realities.
It is the sincere love between the duo that is the catalyst for their music, where the honest beauty of the human spirit won't shy away from obstacles — physical or emotional — nor be defeated in the grand scheme of things.
Smoky Mountain News: [This year] marks the 10th anniversary of Shovels & Rope. With the amount of shows and the endless miles since the beginning, what does that number mean to you?
Cary Ann Hearst: It definitely doesn't feel like 10 years has gone by. But, if you look at it like a [time] capsule, our entire adult life together has taken place in the last 10 years. That record (2008 self-titled debut release) kind of marked the beginning of our romantic partnership, our musical and business partnership. Our families are one. We have a daughter. We're traveling [together]. Everything about our production, sound and songwriting has grown in accordance with time and wisdom.
SMN: How has the meaning of the word "love" changed or remained the same since you've gotten older?
CAH: That's a good question. I guess when you're a teenager, love feels like some kind of sickness, some kind of syndrome, which you're physically struck by and you don't know how to manage it. Now, we're old married people, with a toddler, with aging parents. Love is so much more intense and complex, and powerful, as you grow and get wise. I believe in it more than I believe in anything. I believe in love as much as I believe in God, and I don't think those two things are mutually exclusive. It's the power of creation — love.
Michael Trent: It's kind of a process. There's a lot of patience, and just showing up. It's about the long game. You can have really bad days, really bad weeks, but it's about being persistent and being willing to show up every day. We're married people and we go see a marriage counselor every once in awhile. And a lot of times things are going great in our marriage, and we're just showing love by just checking in and making the drive.
SMN: Is the role of songwriter as important now as ever before, maybe like it was in the late 1960s and early 1970s?
MT: There's definitely a lot to talk about. There's so much "everything" right now. Maybe it's different [today] just because everybody is constantly being inundated with everybody's opinion and everybody has got a platform. If music speaks to you, and if you connect with it, then I think it's very important nowadays. People should be writing their most brave and bold songs right now. If you have something to say, especially now, it's time to say it.
SMN: I ask that question because I was thinking about [your] song "Great, America." I would assume you were referring to the Charleston shooter?
MT: We were referring to all the shooters. That song was written when we had just gotten back from a European tour. We flipped on the news and every terrible thing you could imagine was happening. They were just going down the list. And so, we sort of wrote down what we were hearing, in kind of just disbelief, and that's where that song came from. We had been away from the States for maybe like two weeks, and just so much tragedy, climate change craziness, natural disasters.
CAH: Michael and I, we're parents and we're humans. We're part of the brotherhood of man. And it hurts our spirit to see all the suffering in the world. "Great, America" is our overall response to feeling overwhelmed with the state of the world.
SMN: Are you optimistic about the future?
CAH: I feel like we literally choose to remain optimistic because throwing up your hands in abandonment is just not an option. It's just not an option. So, day-to-day, do you feel discouraged? Do you feel you're not getting far enough, fast enough for the will of mankind? But, you have to put out in your own results and in your own efforts what you want to see in other people.
SMN: That lyric [in "Great, America"], "everybody's scared, everybody's inspired," I really think that sums it up, because as much as there's a lot of confusion, there's also a lot of people coming off the sidelines...
MT: It's true. When you put something like that out in the world, you're not sure how everybody is going to respond. But, we felt compelled to write it, compelled to put it out. Maybe it will inspire somebody else to do something greater.
Editor's Note: Shovels & Rope will perform at 9 p.m. Saturday, June 9, at the Cold Mountain Music Festival on the grounds of the Lake Logan Conference Center. To listen to the entire audio interview of this conversation, go to YouTube and search "Shovels & Rope Garret K. Woodward."