Archived Arts & Entertainment
Maybe believe: A conversation with Jon Stickley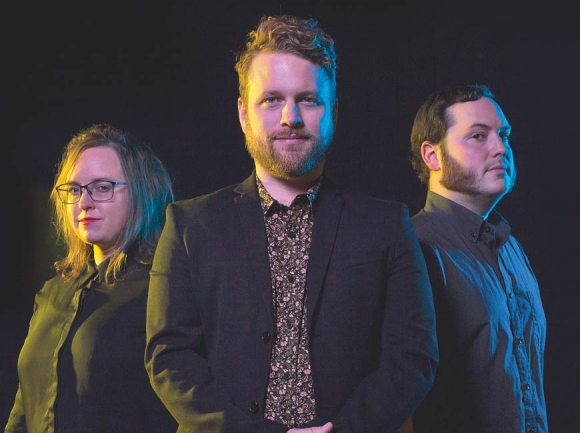 The Jon Stickley Trio.
When you dig into the music of The Jon Stickley Trio, you find yourself meandering farther down the rabbit hole, with seemingly no end in sight. It's a whirlwind of tone, bolting across the musical spectrum in a never-ending game of melodic duck-duck-goose.
The Asheville-based acoustic instrumental triangle of sound is well-known, and beloved, in these parts. But, it's been in recent years, that Stickley & Co. have been making big waves in the bluegrass, Americana and rock-n-roll scenes across the country and around the world.
Smoky Mountain News: What is it about the dynamic of the power trio that appeals to you, creatively and musically?
Jon Stickley: The Trio is a constant challenge. [The late, iconic] John Hartford said something about musicality being defined as "what you can pull off within your limitations." The Trio has a lot of limitations, but that gives us an opportunity to push even harder to create within those limitations. It has led to a lot of new ideas, and an extremely original sounding band — it's rarely boring.
SMN: What is it within that triangle of the power trio realm of possibility that breeds the sonic textures and spaces you're searching for?
JS: It forces us to think outside the box and imagine new ways to do things. We've all created new techniques simply because we had to. There's also plenty of space for improvisation and spontaneous creation.
SMN: With being an acoustic guitar instrumentalist, what about the notes and improvisational aspects of your sound provides you with a platform to say something you might not otherwise be able to say with your voice?
JS: Because I'm not singing words with my voice, I can put 100 percent of my focus into speaking through my instrument. Lyndsay [Pruett] (violin), Hunter [Deacon] (drums) and I have dedicated our lives to the study of our instruments, so we feel confident that we can tell a story with them. I like to sing too, but I can't say that I've dedicated my life to singing — I've dedicated my life to the guitar.
SMN: What's the role of string and acoustic music in the digital age? And why is there such a resurgence in the interest in these ancient sounds and tones?
JS: String music is natural. As our lives become more digitized, I think a lot of people have started craving natural sounds. I mean, The Avett Brothers used to be as death metal band. On the other hand, modern electronic music has had a big impact on the music of the trio — they're doing some very cool things with tempos, beats and energy. We've stolen some of those ideas and incorporated them into an acoustic setting, with occasionally good results.
SMN: Why the acoustic guitar? What about that instrument drew you in and remains the way you communicate with the world?
JS: I fell into the guitar spot in an early bluegrass band after playing mandolin for years. Eventually, I really fell in love with the instrument, especially in the newgrass world. The guitar mimics the human vocal range, and you can feel it vibrate against you while you walk around with it. It's extremely versatile.
SMN: The essence of bluegrass comes from the roots of American music, be it jazz or the blues, mountain music or Scotch-Irish and African influences. Why is it important that bluegrass, and the heritage and history it encompasses, not disappear, but also remain vibrant and alive in the 21st century?
JS: Bluegrass changed my life. A set I watched during a recent trip to DelFest (Cumberland, Maryland) was the closest thing I've had to a religious experience in a long time. There's something insanely powerful about the way bluegrass music brings people together, and these amazing festivals are helping draw people to it more and more. I'll never forget the good feeling I had when I went to my first bluegrass jam and saw how everyone was connecting and loving on each other.
Editor's Note: The Jon Stickley Trio will perform at 7 p.m. Friday, June 8, at the Cold Mountain Music Festival on the grounds of the Lake Logan Conference Center.