Archived News
New state office to focus on outdoor recreation growth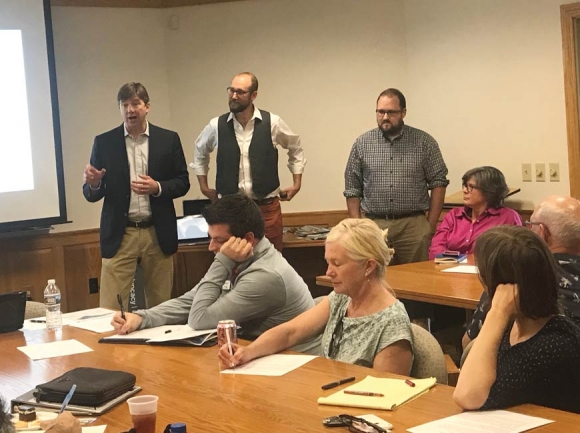 David Knight, director of the newly established North Carolina Outdoor Recreation Industry Office, speaks to a packed room of outdoor recreation leaders in Western North Carolina. Jessi Stone photo
Outdoor recreation leaders in the region recently had the opportunity to weigh in on a newly established North Carolina Outdoor Recreation Industry Office whose aim is to help the industry and recruit more business.
David Knight, director of the new state office, stopped by Southwestern Commission in Jackson County on his statewide listening tour to find out more about the many natural resources Western North Carolina has to offer.
"I'm not an expert, not in the industry — that's why I need feedback from you," Knight said to a packed room of outdoor industry leaders from local government, business and nonprofit organizations. "This movement is not a trend. With the creation of this office — and eight other states have something similar — the industry is driving this effort and raising their voice."
The new state office, under the N.C. Department of Commerce, was created to support the 260,000 outdoor recreation jobs in the state and grow that number to expand the industry. Knight said the outdoor recreation industry makes up 2 percent of the national GDP with $887 billion in spending. Outdoor recreation spending is around $28 billion in North Carolina, placing the state seventh in the nation.
"When you compare that to other sectors, it's twice as big as the pharmaceutical or utilities industries," Knight said. "It's much bigger than I thought it was when I came on the job."
With Noah Wilson acting as moderator, WNC outdoor recreation leaders voiced their opinions on the region's key assets, ideas to better promote the region's outdoor industry and how the state office can help facilitate growth.
The list of the region's assets is extensive with the Great Smoky Mountains National Park, the Blue Ridge Parkway and the national forests being at the epicenter, but within those national parks and forests are thousands of miles of rivers, lakes, waterfalls and hiking and biking trails.
There are also a number of initiatives underway to help improve the outdoor recreation industry, including expansions of greenways, the Fire Mountain Biking Trail System recently completed by the Eastern Band of Cherokee Indians, and Western Carolina University's biking and hiking trails. WCU and Southwestern Community College are also expanding academic programs for outdoor recreation jobs.
The completion of the Fire Mountain Trail System was integral to attracting two outdoor businesses to Cherokee — Outdoor 76 in Franklin opened up a second location in Cherokee as did Motion Makers Bicycle Shop.
When it came time to talk about how the state can help facilitate growth, outdoor folks had some strong opinions.
"The state level hasn't supported Western North Carolina, ever," said Juliet Kastorff, owner of Endless Rivers Adventures in Swain County. "All of the efforts to market (the region) have been by the counties."
From a tourism perspective, Nick Breedlove, director of the Jackson County Tourism Development Authority, added that Visit NC — though funding was gutted and the office privatized — has spent every dollar it has to focus on promoting the mountains of WNC.
Trey Barnett with Wildwater Adventures said more focus should be given to international marketing efforts based on the number of international tourists coming to visit the Great Smoky Mountains National Park.
While each county has marketing campaigns that utilize revenues from an occupancy tax, Ben Wilder with the Haywood County Tourism Development Authority said marketing the county as a whole has been a challenge.
"Our office is now Visit NC Smokies because no one outside here knows what Haywood County is," he said. "We have very distinct towns and getting them to work as one is a big challenge."
Knight was made aware of the confusion associated with the occupancy tax laws that dictate how that revenue can be spent. The funds have to be used for tourism-related marketing and promotion, but there are some gray areas regarding whether the funds can be used for tourism-related infrastructure from sidewalk improvements to building convention centers.
"In Franklin there's confusion among the TDA," said Bill Van Horn with the Nantahala Hiking Club. "They would like to use the tax to do infrastructure improvements like sidewalks, but there's confusion over whether it can be used for that, but other towns seem to understand they have more flexibility."
Some communities are also struggling with a lack of lodging for tourists, including Franklin, while others lack enough workforce housing, including Cashiers.
People also spoke about the low wages associated with working in the outdoor recreation industry and the challenges that presents when trying to grow businesses.
"Recruiting long-term professionals is hard because it's a low-paying industry," Kastorff said, adding that the cost of liability insurance is also a challenge.
Since there is no specific classification for outdoor recreation businesses like rafting companies, she said many outdoor rec operations are lumped into the "amusement park" category when it comes to getting a liability insurance plan.
David Huskins, president of Smoky Mountain Host, agreed there were some insurance policies holding back the industry along with the lack of high-speed internet in the western part of the state.
While broadband progress has been slow moving, there are initiatives underway in many western counties. The Southwestern Commission has been facilitating efforts by conducting a regional broadband study counties can use to see where infrastructure exists in their communities and where it's needed. A lack of cell phone coverage also proposes safety risks for outdoor enthusiasts.
"Infrastructure costs a lot of money and the private sector can't get a return on their investment in a rural area and a law prevents local governments from being providers," said SWC Director Sarah Thompson. "It doesn't prevent them from building infrastructure but it's a gray area. Counties don't have millions to put on the table. We do have access to federal grant money, but because of the state law, governments can't be the applicants. Third world counties have better service than Western North Carolina."
Outdoor leaders also discussed the importance of passing on the love of outdoors to youth if they want to continue to see the sector grow in the future. Kastorff said the Nantahala Kids Club's mission is to develop that next generation of outdoor enthusiasts by offering an affordable way for youth to get into whitewater sports.
"Nantahala Kids Club created a bridge between outdoor individuals and the local community," she said. "If we don't get them involved, they won't protect it."
EBCI also has many programs geared toward getting youth involved in outdoor recreation. Community colleges and universities are also working to educate the next generation by offering a number of outdoor related areas of study.
Knight said he planned to return to WNC in the fall for a second listening session and hopefully will be able to offer solutions to some of the challenges outdoor rec businesses are facing.
North Carolina Outdoor Recreation
• 56 percent of N.C. residents participate in outdoor recreation each year
• $28 billion in consumer spending
• 260,000 direct jobs
• $8.3 billion in wages and salaries
• $1.3 billion in state and local tax revenue
Source: outdoorindustry.org