Archived News
N.C. 107 remake could displace many Sylva businesses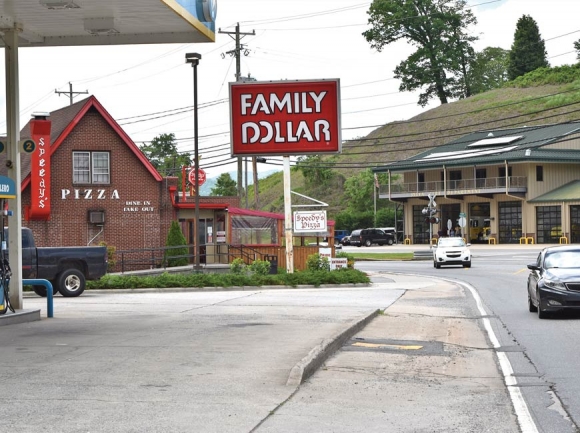 Speedy's Pizza and the Valero Gas Station & Convenience Store are both on the N.C. Department of Transportation's preliminary list of businesses that could be displaced. Holly Kays photo
For more than 30 of its 45 years in business, Speedy's Pizza has served its famous pies out of the same brick building on 285 West Main Street in Sylva, becoming a staple for lifelong residents and out-of-town college students alike.
But Speedy's Pizza, along with 53 other businesses, one non-profit and five residences, is named on a recently completed list of establishments that could be displaced as a result of the N.C. Department of Transportation's upcoming remodel of N.C. 107 and U.S. 23 through Sylva. Right-of-way acquisition is slated to begin next year, with two years of construction starting in 2020.
"We're scared," said Charlie Schmidt, general manager at Speedy's. "We've heard everything from we won't be touched to there could be a road going right through the middle of the building. Or it could be a corner off the deck or 2 feet off the end of the deck. We don't know, and that's the scary part."
The list has caused quite a bit of turmoil in Sylva's business community, much of which is located along the N.C. 107 corridor slated for remodel. According to Town Manager Paige Dowling, the town receives about 330 business registration permits each year — the 54 listed businesses make up 16.4 percent of that number, a full one-sixth.
"I think it's early to tell what the actual impact will be, but it's a big project," Dowling said. "It's going to be painful during construction, but until the plans are further along I don't think we'll know the actual impacts."
The list is based on plans that are about 15 percent complete, with final right-of-way plans not expected until August or September.
"We would expect this to be the most that would be relocated," said Brian Burch, division engineer for DOT. "Our hopes and our expectations are that as we further refine the project and start looking at opportunities to minimize or reduce impacts, that this number would decrease."
A costly endeavor
So far, the cost and disruption of the project are looking to be significantly more than originally anticipated. When DOT released its initial plans in March 2017, the project was estimated to cost $35.5 million total, with $14.6 million for right-of-way and utilities, $18.6 million for construction and $2 million for design.
A cost estimate report released in February, however, says that right-of-way alone will cost $47.6 million — 34 percent more than the original estimated cost of the entire project.
Burch said that it's not a surprise that the revised right-of-way cost estimates are significantly more than the original figures, though it is unusual to see them go up to this extent. During the initial planning phases of projects like this, he said, DOT uses average cost figures from statewide data, but road projects just cost more in the mountains.
"Unfortunately in the mountains we tend to have businesses located very close to the road, just due to the terrain, and it generally costs more to construct projects," Burch said.
The department is moving to a new planning process using actual estimated costs, not statewide averages, so hopefully estimates for future projects will be a little closer to the truth, Burch said.
The planned project would extend from West Main Street at the fire department all the way out past Ingles, plus a one-third-mile section of the Old Asheville Highway from McDonald's to the intersection with N.C. 107. With the exception of the West Main Street portion, which would remain a four-lane road, the result would be a five-lane road with a grassy median in place of the existing "suicide lane." Drivers would be able to turn across the median only at designated locations, and bike lanes and improved sidewalks would encourage non-vehicular transportation.
Burch said that the project is needed to remedy the road's high crash rate, especially in anticipation of future growth in Sylva and at Western Carolina University. Between August 2011 and July 2016, he said, the road saw 233.83 crashes per 100 million vehicle miles traveled— that figure is slightly lower than the 2013-2015 statewide rate of 241.81 crashes per 100 million vehicle miles. The 2011-2016 timeframe saw 254 crashes, of which 67 resulted in non-fatal injuries. Of the 254 crashes, 41 percent were rear-end, 27 percent were angle and 16 percent were left-turn — types of crashes that Burch believes would decrease as a result of the planned roadwork.
Not everyone agrees. In Schmidt's view, there will be four lanes of traffic after the project and four lanes before it — so what's the difference?
"Nothing about it is actually addressing the fact of how many cars are on the road," he said.
That's not quite so, Burch said.
"When you put in this median, you would eliminate those types of angled crashes," Burch said. "People would have to u-turn in designated locations. It would improve the safety overall and it would also improve the efficiency of the roadway. You're eliminating that congestion. People are not having to survey right and left trying to see who's pulling out, who's coming into my lane."
The flow of cars to and from the intersection of N.C. 107 and U.S. 23 in Sylva is constant. Holly Kays photo
Much of the traffic congestion is caused by WCU students trying to get on and off of U.S. 74, Schmidt said, so wouldn't the better solution be to give Cullowhee its own access, independent of Sylva?
When he drives home to Webster for his break everyday, from 3:30 to 5:30 p.m., Schmidt said, traffic is bumper-to-bumper, and "every other car has one person in it and a Western parking tag hanging in it. They're not coming to me to buy pizza. They're not shopping in town. They're people trying to leave town."
The Cullowhee extension idea, called the Southern Loop, has been debated since the mid-1990s. However, the DOT eventually axed the idea — it would have cost more than $150 million to build and churned up many acres of pristine mountain forest. A group of Jackson County residents calling themselves the Smart Roads Alliance fought for a redesign of N.C. 107 in lieu of seeing a new highway cut through the mountains.
A petition that's been circulating at Speedy's since early May doesn't take issue with the project as a whole or push for a renewal of the Southern Loop proposal, however. It simply asks that the DOT leave the West Main Street portion of the project, where Speedy's is located, alone.
"Everything that was discussed was on East Main Street," Schmidt said of crash and congestion issues. "West Main Street, everything's just fine. Leave us out of it."
In its first 10 days, Schimdt said, the petition gathered more than 400 signatures and currently boasts 500.
However, Burch said, the West Main Street portion of the project needs to stay. The goal of the project is to build facilities that will accommodate growth for the next 20 years, and West Main Street — with its lack of pedestrian facilities and aging, substandard bridges — won't cut the mustard for much longer.
"We feel like if we're going to go out here and go through the expense of doing this project, let's do it one time, get it right and ideally not have to come back for many years," Burch said.
A lack of lots
For the owners of businesses that stand to be displaced by the road project, construction could be life-altering — and not in a good way.
"I'm thinking, where am I going to go?" said Shehnaz Adam, owner of Saint's European Skin Care on the Old Asheville Highway. "There's not many nice properties here. I'm just thinking about moving to Waynesville. That's what I'm thinking about doing, but I don't know."
Adam bought her building in 2012 and embarked on a one-year renovation project that concluded in 2013. The thought of losing the fruits of all that hard work, and having to go through the hassle of moving again, is demoralizing.
To be clear, Adam — should her business remain on the relocation list — won't be left empty-handed. The DOT would have to pay her for the property, as well as for the cost of relocating and re-establishing her business elsewhere. Those funds could be used anywhere within a 50-mile radius, meaning that businesses displaced in Sylva could literally move anywhere between Andrews and Asheville.
Many of them might. As the DOT notes on its relocation report, "the impacted businesses will have a difficult time locating available sites suitable for business purposes. Suitable business sites in and around Sylva are very limited."
"There's not going to be any revenue," said Adam. "That's what I think. Because people are not going to stick around Sylva. It's hard to find a location."
Sylva, which has traditionally had a hard time growing its tax base due to topographical constraints, is preparing for its revenues to take a hit surrounding the construction project. In her budget message for 2018-2019, Dowling wrote that construction will likely take a bite out of sales tax revenue by impeding access to businesses and that the town's tax base will take a hit as the DOT acquires right-of-way.
But that's not to say that the town is opposed to the road project. It isn't — the road needs improving, Dowling said, and there's just no way around the fact that it won't be easy.
"We want minimal disruption to businesses, but the road also needs to be improved," she said. "It's just going to be a painful project."
Dowling said she hopes that any businesses displaced by construction will choose to stay in Sylva and emphasized that the town's committed to helping them any way it can. She's currently working to develop an inventory of business properties, including vacant ones, to hopefully make it easier for displaced businesses to find a new home.
"With it being two years from construction, we have a lot of time to finalize how we can assist," she said.