Archived News
Tribe looks to diversify business interests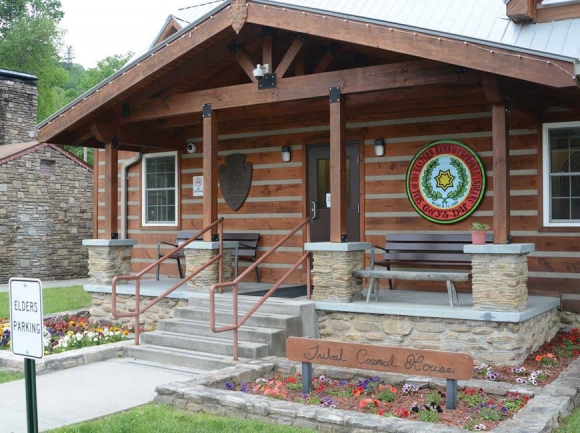 The Eastern Band of Cherokee Indians is hoping to diversify its revenues beyond gaming through creation of a new limited liability company, to be overseen by the yet-to-be-appointed five-member Kituwah Economic Development Board.
"In the case of this LLC and what it would be tasked with, they would have the opportunity to purchase existing businesses. They could fund startups, they could do real estate speculation," Principal Chief Richard Sneed said in an April 22 video broadcast on his official Facebook page. "It's really the sky's the limit as far as what they're able to do, but at the same time the tribe's assets are completely protected because this is a separate corporation."
Tribal Council approved an ordinance creating the LLC in March, but before the entity can get up and running Council must approve initial board appointments and a policy outlining how board members will be paid. Council would also likely be asked to allocate seed money to get the business started.
The Kituwah Economic Development Board would be analogous to the Tribal Casino Gaming Enterprise Board, in that its job would be to make business decisions for the company or companies it oversees, acting independently of tribal government.
"Because of the current format that we have of going to the planning board and through Tribal Council, that process moves so slowly that the pace at which business moves now, those opportunities are gone before we can make our mind up," Sneed said in an interview.
Perhaps the most painful example, he said, is that of the data center that the tribe was hoping to build in Cherokee County a couple years ago. The plan was solid, a reputable company wanted to work with the tribe, and Tribal Council was on board to make it happen. But the slow pace of government kept it from happening, Sneed said.
"That opportunity just passed us by," he said. "We had all the data, all the numbers on it. It was a good project, the return on investment was good. We could just never come to a decision."
Through the LLC, the tribe could enter into any kind of business venture it desired, and it could also compete for U.S. government contracts under the 8A Business Development Program for minority-owned businesses. According to Sneed, Cherokee is behind the eight-ball when it comes to taking advantage of this opportunity — many other tribes have already been making money off of 8A contracts and other non-gaming business ventures for years, to great effect.
"When we were at Cherokee Days, Chief Bill John Baker (of the Cherokee Nation in Oklahoma) said they had just crossed the $1 billion mark in 8A contracting," Sneed said in the April 22 video.
Sneed sees the LLC as more than just a way for the tribe to pad its revenues. He believes that the LLC could be crucial to the tribe's financial stability in the future. Tribal government currently consumes 88 percent of the annual revenues from Harrah's Cherokee Casino, a number that Sneed said in the April 22 video that he'd like to ratchet down incrementally to 80 percent and possibly even as low as 75 percent in the long-term.
Meanwhile, he said, the tribe has to prepare itself for the fact that casino revenues may not always remain as high as they currently are. Much of the casino's clientele comes in from the Atlanta area, and if gaming were legalized in Georgia, Cherokee's numbers could take a hit.
"Council understands the necessity and they understand that we need to get this done in a very timely manner. We don't have the luxury," Sneed said in an interview. "If it were 10 or 15 years ago, they could say, 'It's no big rush,' but something like this should have been done years ago."
Georgia gaming could be coming sooner rather than later, Sneed said. When attending the Southern Gaming Summit earlier this month in Biloxi, Mississippi, he sat through an entire presentation about the ongoing effort to legalize gaming in Georgia. A referendum vote could make it on the ballot for the 2020 election, and the attorneys and lawmakers present to speak on the issue seemed optimistic it would pass. If that were the case, new casinos could be on the ground as early as 2023, Sneed said.
"Even if they don't get it done by the optimistic date that they put forward, I think they will get it done at some point," Sneed said. "We have to move now."
Sneed said he has put some names forward for Tribal Council to consider appointing to the Kituwah Economic Development Board, and Council will likely vote on those appointments during its June 7 meeting.
Board members will serve five-year terms subject to removal for cause by Tribal Council. They're appointed by the principal chief and confirmed by Tribal Council, with no Tribal Council members allowed to serve on the board. The March 1 ordinance creating the board requires all members to have education or experience in administration, accounting, law, finance, Cherokee culture or another field that will "contribute to the Board's ability to manage tribal enterprises to achieve the purposes of the company." All members must be a member of a federally recognized tribe, with the majority from the EBCI. For all board members, the first six months are probationary — appointments can be withdrawn during that timeframe.
Tribal Council has not yet approved the compensation plan for the paid board, but Sneed said his plan would be for performance-based pay. Board members would receive a base salary of $25,000 per year with increases as they meet revenue benchmarks — an extra $5,000 when they hit $5 million in gross revenue, then again when they hit $15 million, and so on.
"Performance is going to be evaluated," Sneed said April 22. "This needs to happen, and I think it's something we need to take a look at with all of our boards."