Archived News
Renovated Lambuth Inn looks to the next 100 years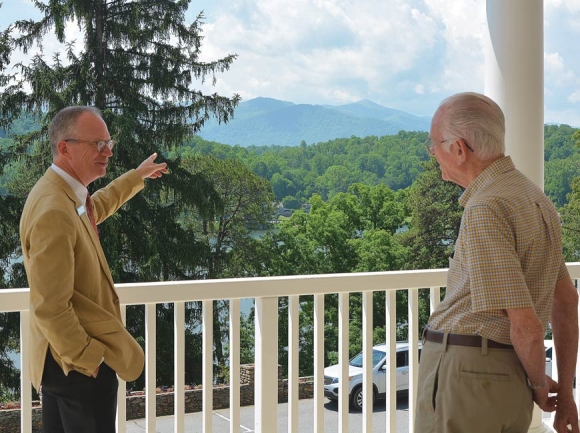 Lake Junaluska Executive Director Ken Howle (left) chats with Lake resident Bill Lowry on the second floor balcony at the Lambuth Inn. Cory Vaillancourt photo
Western North Carolina is a region filled with special places, one of the best known being a century-old religious retreat nestled away snugly in the center of Haywood County.
"Our focus here at Lake Junaluska is that we celebrate our history, and we embrace the traditions. Being a 105-year-old organization we have lots of wonderful traditions, and we do that, though, in a way that's focused on excellence. That means even though our July Fourth parade is an example of a long-standing tradition, each year we work to improve and move that event forward," said Ken Howle, Executive Director of the Lake Junaluska Conference and Retreat Center. "And the Lambuth Inn is no different."
One of the oldest and most historic lodging facilities in the area, the Lambuth Inn is the "crown jewel" of lodging at the Lake, according to Howle.
But seven years ago, it was decided that the Inn needed a makeover — for a variety of reasons.
"What we had to do was find that balance around what makes sense from an economic standpoint, what makes sense from a historic standpoint, and also what makes sense, most importantly, from a guest perspective," he said.
Work didn't begin until last fall, when the Inn was closed so 100 of its 131 guest rooms could be updated to present a more contemporary look; meeting facilities, common areas and dining rooms also benefitted from the work, which was recently completed.
When Howle cut the ribbon at the grand re-opening of the economically important Lambuth Inn on May 22, he in essence welcomed what will be another century's worth of visitors to get busy making the memories that have made the Lambuth Inn so special to so many for so long.
"There's lots of wonderful traditions associated with this building, such as having tea and sitting on the porch," he said. "What this renovation has enabled us to do is to make sure that those traditions continue on and can be done an excellent way as we move into the next 100 years."
Built in 1921, the Lambuth Inn is listed on the National Register of Historic Places. Lake Junaluska photo
From the ashes
The 98-year-old Lambuth Inn is just 10 years older than Lake Junaluska resident Bill Lowry, a retired minister originally from Mississippi. Lowry's lived at the Lake for a quarter-century, but his history with the Lambuth Inn goes back much further.
"My first visit here would've been in the early '60s," he said, recalling the days of chartered buses dropping off entire churches at the Lake for events.
Since its establishment in 1913, Lake Junaluska has been a revered gathering place for generations of Methodists from across the Southeast, and indeed across the globe; its unique setting in a small mountain valley surrounded by hundreds of homes and a small artificial lake make it a visually stimulating place to seek spiritual transformation and renewal — a goal of the Assembly as a whole that is furthered by the classrooms and auditoriums that dot the grounds.
Upon his first "retirement" Lowry set to cataloging boxes upon boxes of the church's records for the United Methodist General Commission on Archives and History, located at the Lake. It took him 10 years.
"If you're going to do that, you sure learn a lot about the history of the Assembly," Lowry laughed.
The focal points of the Assembly were designated early on, when a layout for the grounds was first surveyed.
"The two major locations that were decided," Lowry said, "was the auditorium and what they would consider to be the 'showplace' hotel, and on this very site they built a structure that really got the attention of the whole Southeast."
That structure wasn't the Lambuth Inn, however.
"It was such an elaborate thing, called Junaluska Inn, built on the architectural design of the great inns and lodges of the New England states," he said. "It opened its doors in 1917 then and immediately established for itself a reputation of graciousness and wonderful cuisine."
At that time, the Assembly was only open in the summer months, but the Junaluska was booked solid that first season. When fall came, it closed so workers could apply some finishing touches, but reopened in 1918, whereupon it promptly burned to the ground.
"Now, the remarkable thing about that was that the hotel is filled with people," Lowry said. "It was in the middle of the night, and not a soul was killed and not a person was injured."
The site remained vacant for two years, until it was purchased by the Board of Missions of the Methodist Episcopal Church South (see Historic inn), as it was called.
They built what is today the center portion of Lambuth Inn, which was intended to serve as lodging for missionaries who'd recently returned to the United States from abroad to talk about their work and fundraise before again departing.
But the Centenary Mission Inn, as it was then known, still hosted short-term lodgers as well, despite being renamed for one of Methodism's most prominent missionaries and bishops, Walter Russell Lambuth.
"It goes along that way for good long while," Lowry said. "Later, the need for additional lodging was great, and they built what is now the west wing of the hotel, and that included more lodging rooms and it also included some classrooms, which were needed. Then, a decade after that, they built the east wing, which gave them still more lodging and enabled them to move the dining area, which was in the old center section, into a larger area and form the dining area which we have now."
The list of luminaries who've crossed the threshold of the Lambuth Inn is great, according to Lowery — First Lady Eleanor Roosevelt, astronaut John Glenn, presidents Jimmy Carter and Richard Nixon, Rev. Billy Graham and many more.
"It's just been a constant stream of personalities who have walked through this hotel during its lifetime," Lowry said.
Ken Howle, Lake Junaluska's executive director, cuts the ribbon at a rejuvenated Lambuth Inn May 22. Cory Vaillancourt photo
Renewal and transformation
Lake Junaluska has always touted itself as a place of relaxation and rejuvenation, but that's never been more so the case than it is today.
Almost a decade ago now, the Southeastern Jurisdiction of the Methodist Church decided to slash funding to the Lake. When Jack Ewing took the job as executive director in 2011, he had little choice but to begin making the Lake more fiscally sustainable without compromising its Christian roots.
That meant expensive upgrades to the Lake's attractions and lodging; Ewing stepped down from his post last fall as many of those upgrades began to take place, but Ewing's successor Howle has been at the Lake for almost 15 years now.
"We had at one time looked at a project of probably more than $15 million, which would've included also building a new meeting facility, but what it really came down to — the sweet spot for us — was a renovation that came down to about $3.2 million," Howle said. "It felt like it really gave us the most value for the money we spent and increases the value for guests."
The Lambuth, and its sister hotel the Terrace, both occupy a unique and important position in the Haywood County tourism industry, which by virtue of the room occupancy tax levied by the county's Tourism Development Authority is an intensely scrutinized industry.
"Lake Junaluska has a large number of rooms that are critical to the tourism aspect of Haywood County, and to have one of those shut down for a period of time is going to have an impact on us," said Lynn Collins, executive director of the Haywood County TDA. "We're thrilled that it's back open and renovated."
Data provided by the TDA show that during the months the Lambuth was closed for renovations, collections in the zip code were well down from previous years. Collins said she'd seen the same thing when the Terrace closed briefly for renovations a few years ago.
Strong recent growth in tourism spending at the Lake has been evident since even before the Lambuth's facelift.
"For a number of years, they held steady," she said of the Lake's 4 percent share of the TDA's 1 percent fund. "Now they're fluctuating anywhere from 11 to 14 percent on a monthly basis, so that's a substantial increase."
Changes in how sales tax is collected at the Lake should also result in greater revenues eventually making their way into county coffers.
"If [guests are] coming here for a religious conference as part of a nonprofit organization and they're from North Carolina they can actually apply to receive a refund of the sales tax," said Howle. "We evaluated this a few years ago, and we felt like it was not our role to be determining who should be getting a tax-exempt stay and who should not, but leave that up to the individuals that are staying here to apply to the state if they felt like the refund was necessary."
Coupled with the rebounding economy across the nation and across the state, the Lambuth is becoming easier and easier sell, according to Marketing Manager Mary Bates.
"The Lambuth Inn is an incredible asset to Lake Junaluska and especially now with the new renovations, it's a place that people love to stay and a place that they're excited to stay," said Bates. "It's a place that's going to contribute to the overall marketing of Lake Junaluska because we have a great product to offer."
Renovated rooms at the Lambuth Inn (above) offer the same comfy charm with contemporary looks. Cory Vaillancourt photo
Howle said the renovations have already been met with approval from some of the Lake's larger repeat visitors.
"The comment from them was, this is going to become a new attraction for their participants and make them want to continue to come to Haywood County," he said. "They're looking forward to many more years of being here in Western North Carolina."
When they return, Bates said, they'll be greeted with a delicate balance of progress and preservation.
"The renovations were incredible in how they were able to preserve the historic nature of the Lambuth Inn and also upgrade it to the modern expectations of what guests are wanting in hotels today," she said. "Still the Inn feels very historic in nature. We still have period furniture. When you walk through, you feel like you're an in old inn from the 1920s."
And for people like Bill Lowry, who still remember the Lambuth Inn as it once was but now see what it's become today, it hasn't lost the essence of what's made it special in the first place.
"We're still making memories," he said. "We're still making history here."