Archived Arts & Entertainment
All-American bluegrass girl: A conversation with Rhonda Vincent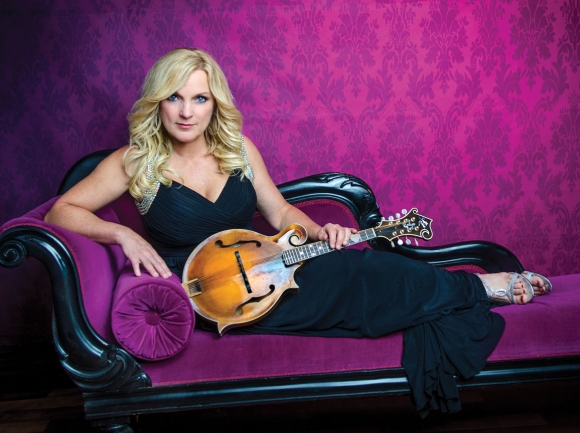 Hot off the heels of winning the Grammy for "Best Bluegrass Album" this past winter, Rhonda Vincent & The Rage stand atop the genre as a marquee act, one whose determination is deeply rooted in keeping the traditions of the "high, lonesome sound" alive and flourishing.
At the center of this whirlwind of string instruments is Vincent, an eight-time International Bluegrass Music Association (IBMA) "Female Vocalist of the Year." The singer/mandolinist remains a vital, vibrant bridge between the originators and pioneers of the music created by Bill Monroe and where we stand today in the modern era — a crossroads of the neo-traditional and progressive bluegrass camps, come hell or high water.
Smoky Mountain News: When you look out on the landscape of bluegrass these days, what do you see?
Rhonda Vincent: Sadly, I think it's kind of lost right now. I think there's been an attempt to merge different styles, and I don't think that's been successful. It's just like country music. There's classic [country] and there's traditional country music. Classic is Patsy Cline and Marty Robbins. Then, you have traditional with [acts like] Gene Watson. And now we have different transitions, The Band Perry, who just went pop, and Taylor Swift. Before, [bluegrass] was very well-defined — Bill Monroe, Flatt & Scruggs, Jimmy Martin, Osborne Brothers, Jim & Jesse, Mac Wiseman. I was listening to the Osborne Brothers, they are the greatest influence in our music, but I was also listening to New Grass Revival.
Unfortunately, the International Bluegrass Music Association (IBMA) made a mission statement and said, "we want to blur the lines," and I'm not sure that's a good thing. We don't blur the lines, we know exactly who we are. They were saying, "What is bluegrass?" If you have to ask, I'm not sure that you know what it is. You may want to open the doors and move into a different direction, but are you going to forsake who established [bluegrass], the tradition of [bluegrass]?
We know where [bluegrass] started, there's no doubt — Bill Monroe. However, if I go and play a Bill Monroe [album] to this generation, they're probably not going to be as receptive to it. I think it's whatever you perceive it to be, whatever you were taught — it's wherever you were raised. [Bluegrass] is very much alive, [and] I think there's room for everyone.
SMN: Even if you weren't raised [with bluegrass], [if you love music] there comes a point where you do search out for something real...
RV: Authenticity. There is a realness. I can sing to you here and it's going to sound the same as when I get onstage. The music I was raised in — what you see is what you get. And that's what I love.
SMN: How do you describe bluegrass?
RV: To me, it's the voice. What defines bluegrass is the instrumentation. In bluegrass, it has a banjo, upright bass, mandolin, [fiddle and guitar]. That's a template, and you can go beyond it. The banjo "drives the bus," that's what my husband always says. And it does. You want to have that up in the mix.
SMN: You've spent most of your life in this industry. What does bluegrass and being a performer mean to you these days?
RV: Oh, it's my life. I grew up doing that. It continues to be my life. It's my livelihood. It's what pays the bills. You need to love what you do. You have to work and you have to make a living in life, that's just a given. So, whatever you do, make sure you love it. If you're going to do this, you first of all have to love the music and the passion for the music. And that's something every person I travel with, they would play music no matter what, no matter where we are in life.
Editor's Note: To listen to the entire conversation, you can stream the audio for free by going to YouTube and searching: "Rhonda Vincent Garret K. Woodward." To message Woodward, email: This email address is being protected from spambots. You need JavaScript enabled to view it..
Want to go?
The Cherokee Bluegrass Festival will return June 7-9 at the Holiday RV Village and Campground in Cherokee.
The three-day event begins at noon Thursday, June 7, and goes until 10:30 p.m. daily. Open stage will be 11 a.m. to noon.
• Thursday: The Crowe Brothers, Lorraine Jordan & Carolina Road, The Little Roy & Lizzy Show, The Inspirations, Carl Jackson and Larry Cordle & Jerry Salley. There will also be a 90-minute show by Grand Ole Opry members Dailey & Vincent at 8:30 p.m.
• Friday: Carolina Blue, Mountain Faith, Joe Mullins & The Radio Ramblers, Paul Williams & The Victory Trio and The Gibson Brothers. The "Queen of Bluegrass" eight-time International Bluegrass Music Association "Female Vocalist of the Year" Rhonda Vincent & The Rage will close out the evening.
• Saturday: The Malpass Brothers, Kenny & Amanda Smith, The U.S Navy Band Country Current, The Gibson Brothers and Balsam Range. Seven-time IBMA "Gospel Recorded Performance" winner Doyle Lawson & Quicksilver will culminate the stage shows.
Happy Holiday RV Village and Campground has over 400 hookups, including water, electric, and bathhouses. This is in the heart of The Cherokee Indian Reservation. Please bring lawn chairs with no high back chairs or rockers allowed. No pets or alcoholic beverages allowed in concert area. Security will be on duty. This is a family show.
Shows go on rain or shine under a large tent, with tickets available at the gate. Daily ticket prices are $40 for adults in advance until May 30, then $45 at the gate. A three-day adult ticket is $90 in advance and $95 at the gate. Children ages 7-15 are $15 per day or $45 for three days in advance and $50 at the gate. Children under age 7 are free when accompanied by parents.
Tickets may be ordered online at www.adamsbluegrass.com. Sound by Blue Ridge Sound, Sherry Boyd, M.C.