Archived News
Over opposition, Waynesville passes controversial text amendment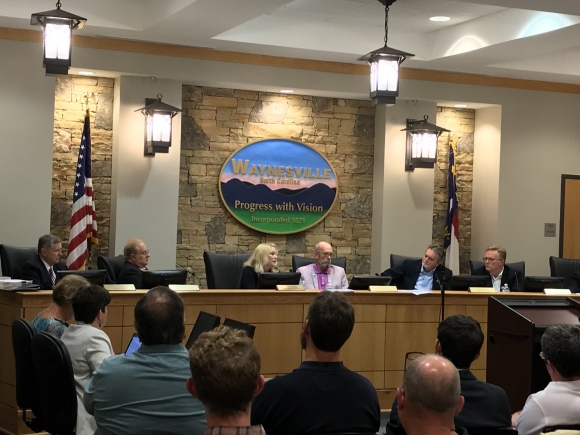 Waynesville's Board of Aldermen deliberate a proposed text amendment May 22.
Cory Vaillancourt photo
A Gastonia-based developer's request to change a small part of the Town of Waynesville's zoning rules to allow for multi-family housing in a semi-rural community generated big waves last week.
That request was granted, against the wishes of dozens of area residents who turned up in force to not one but two public hearings — the Waynesville Planning Board on May 21, and the Waynesville Board of Aldermen May 22.
At issue was a 41-acre parcel off Plott Creek Road; an inconsistency in the town's table of permitted uses allows up to 10 three-story dwellings per acre on that parcel, but only for townhomes, not apartments.
Southwood Realty has an option to purchase the property, and wants to build a 200-unit apartment complex at the site, which residents said would strain schools and streets, spoil views and sink property values.
The proposed text amendment, which affects the entire Plott Creek Neighborhood Residential Zoning District, was first heard by the planning board before a capacity crowd that spilled out into the lobby. Also heard by the planning board were negative comments from more than a dozen area residents.
The planning board voted 5-2 to recommend the proposed text amendment to the Board of Aldermen, who then heard the request and the recommendation in a regularly scheduled meeting the next day.
That meeting drew even more people, with audio speakers stationed in the lobby for another overflow crowd that heard Mayor Gavin Brown compare the issue to the recently passed Bruch Bill, which allowed restaurants to serve alcohol earlier on Sundays than had been allowed in the past.
"We weren't telling people you had to, we were telling restaurant owners you could if you wanted to," Brown said of the text amendment, adding that it wouldn't require anyone to do anything specific with their land, it would merely permit it.
Many of the same area residents opposed to the measure at the planningb hearing presented the same arguments as the night before, but in the end, they saw the same result.
After a protracted public comment period that was extended beyond the customary 30 minutes until it spanned nearly an hour, aldermen explained one by one how they'd vote.
"The area considered is adjacent to and according to the maps pretty much surrounded by what we had considered as a high density area," said Alderman LeRoy Roberson. "The driving factor here for me is the fact that Waynesville is lacking not minorly, but severely in housing."
Roberson also addressed derogatory comments directed at the type of people who live in apartments as opposed to those who can afford mortgages; Roberson said he checked with Waynesville's Chief of Police about similar apartment complexes and found little to draw concern.
"I think branding apartments as being some kind of incubator for unsavory people, I don't think it's fair," he said.
Alderman Gary Caldwell boiled it down to one simple point.
"My biggest concern is housing right now," Caldwell said. "We just don't have it."
Alderman Julia Boyd-Freeman said it was the most difficult decision she had to make in her seven years and two terms on the board, but agreed with Roberson and Caldwell, drawing upon her expertise on the issue as the executive director of a non-profit that provides services to victims of domestic abuse.
"We represent the town of Waynesville," Boyd-Freeman said. "We've got to look forward for our residents — 11,000 residents we have in the town of Waynesville, and housing is an extremely pressing issue with our citizens. So what do we do? If not your community, what community? Where do we move forward?"
Freeman also sat for over a year on Haywood County's Affordable Housing Task Force.
"We desperately need housing in this community," she said. "It's something we have agonized over."
Brown, in his customary role as resident board historian, framed the issue a bit differently.
"Let's go back to 1986," the lifelong Waynesville resident said, noting that none of the homes that many of the opponents lived in were there at that time. "I wonder what [existing residents in Plott Creek in 1986] would have said having known how Waynesville was going to grow… I find some of the logic here tonight is typical, it's like, 'I'm here, now let's close the gate.' I just find it interesting."
The board voted 4 to 1 to find the proposed text amendment consistent with the town's comprehensive plan, and then voted to accept the text amendment. Alderman Jon Feichter was the only dissenting vote.
"I woke up thinking about this at 3 a.m. and haven't been back to bed since," Feichter told the crowd. He said he had spent six or seven years on the planning board himself, and that he relied on three criteria to make decisions there; the first two are land development standards and precedent.
"Finally and perhaps most importantly is the wishes of the residents," he said.
In this case, Feichter opined, land development standards were constructed with citizen input and therefore should be deliberately construed as being unfavorable to multi-family housing. The precedent, he said, is there too.
Should the need for housing override the wishes of the residents in that district?
"I can't imagine going against their wishes, so I stand opposed to this," he said. "I am completely supportive of the drive to find housing for residents, but I'm just not sure Plott Creek is the place to do that."
Southwood's fight in Plott Creek may not yet be over — the proposed text amendment was not an endorsement of Southwood's development, as Brown said and every other board member reiterated.
Any development plan by Southwood would be subject to a site review by the town and then have to go through the town's usual permitting process before any work would be allowed to begin.