Archived Opinion
If you have opinions on growth, it's time to speak up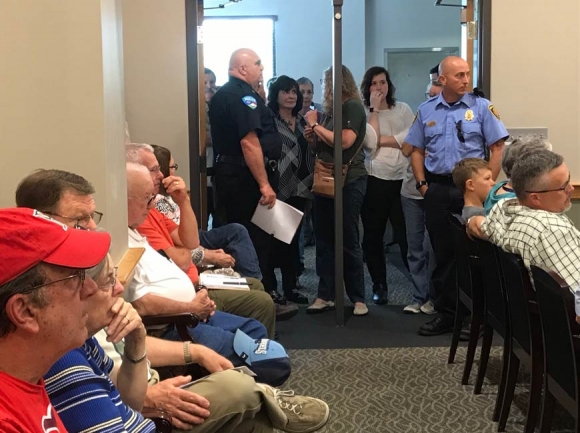 Fifteen or so years ago, meetings like those Monday and Tuesday night in Waynesville were all too common: private citizens who usually keep to themselves flooding a public meeting because they are worried how a particular development project will affect their lives and their communities, and they wanted to make sure their voices were heard. Large, high-end residential developments were being planned across the mountains in the early 2000s, and steep slopes, water quality, traffic, viewsheds and a concern for preserving that highly subjective "sense of place" and "quality of life" were on many minds.
It happened in counties throughout our coverage area, and often it pitted neighbor against neighbor. That era of rapid development ended with the recession, but it's beginning to ramp up again. And so the huge 200-unit apartment complex a developer wants to build along Plott Creek Road in Waynesville drew many of those same worries.
No doubt these three-story buildings on a 40-acre tract next door to Hazelwood Elementary will change that community. Engineers say traffic will increase by 50 percent on Plott Creek Road, for some homeowners views won't ever be the same, and if this project succeeds it's all-too-likely developers will take notice and choose similar sites in Waynesville for more of the same.
Waynesville, Haywood County, and the entire region west of Buncombe are in dire need of quality rental housing. The options right now are few and fewer, with most of what's available being either old, rundown apartments or the occasional single-family homes. Young professionals and retirees face this shortage whenever they move to the mountains.
Is the lack of such housing a detriment to attracting new businesses and retirees who don't want to take on the expensive repairs that come with owning a home or who prefer to forego yard work?
The Monday meeting of the Waynesville Planning Board highlighted all these issues as speaker after speaker came to the podium opposed to the apartment project. However, the actual question before the board was whether it would amend the language of its development standards to allow multi-family dwellings in the Plott Creek Neighborhood Residential District.
Seven of the nine similar districts in Waynesville allow these kinds of apartment complexes. Two of them — Plott Creek and Sulphur Springs — don't. Elizabeth Teague, Waynesville's Development Services Director, said the staff's recommendation was to approve the change.
"… the text is consistent with our land-use map and the goals of our land-use plan," she told Planning Board members.
Teague also pointed out that a recent study by the county's Affordable Housing Task Force recommended the need for "more rental housing, not just affordable rental housing."
Despite the overwhelming opposition, the Planning Board recommended that the town board pass the amended ordinance. As its Chairman Patrick McDowell made clear several times throughout the meeting, the issue before the board was not an up or down vote on the proposed apartment complex. The Planning Board's role is give its recommendation to the town board on the wording of the town's land use ordinances, and town staff said what's important is to be consistent. So, the board's vote was a validation of the staff's recommendation on that wording.
As I write this Tuesday morning, the Waynesville Town Board is preparing for its meeting tonight where it will hold another public hearing and consider adopting the Planning Board's recommendation. No doubt a similar crowd will be there, and I'm told a few lawyers representing nearby property owners may also attend and speak. I have no idea if the town will pass the proposal.
If anything, this land-use skirmish should be a call to action. The town is in the early phases of updating the 2002 Land Development Plan that was groundbreaking and which is still in use (it was updated in 2009). The standards that apply to Plott Creek are from this 2002 plan. The new plan will be developed over the next several months, will be finalized in early 2019, and will guide the town for 20 years.
Business cycles are a fact of life, and it seems we are headed into a new era of development and growth. A quick look east to Buncombe County provides all the evidence one needs. This new plan needs input from concerned citizens, business interests and anyone who has opinions about how the greater Waynesville community should grow. Check the town's website or this newspaper for information on hearings coming up this summer.
(Scott McLeod can be reached at This email address is being protected from spambots. You need JavaScript enabled to view it.)