Archived Arts & Entertainment
Cry sweet tears of joy, touch the sky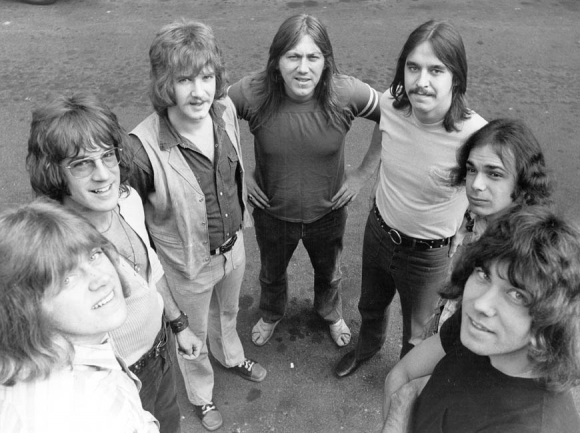 Chicago, with Terry Kath center.
Right around the point of the song "Beginnings" when Chicago singer/keyboardist Robert Lamm belted out the lyrics, "Time passes much too quickly/When we're together laughing/I wish I could sing it to you," I could see and feel the goosebumps rising on my arms.
Sitting in the depths of the Thomas Wolfe Auditorium in downtown Asheville last Sunday evening, I let the power of rock-fusion act Chicago wash over me. Some of the greatest music ever created, they're a rock band with a horn section, celebrating 51 years as a living, breathing and, most importantly, relevant act in the music industry.
Being 33, I was probably the youngest person in the audience by at least 25 years or so. The band remains at the core of the Baby Boomer generation, where a multitude of its melodies remain on the "soundtrack of your life" for millions of folks my parent's age. And yet, the tunes are timeless. You can sit there and watch the well-earned wrinkles and grey hair disappear in the crowd, where all is left are bodies reclaiming their youth in a flood of joyful and life-altering memories, all of which are tied to the sounds of Chicago.
My love for Chicago comes directly from my mother. A flower child who came of age, and went through college, in the mid/late-1960s, she was always a freak for bands who had horn sections. I think a lot of that came from her love of playing the French horn in her high school band in a Catholic school a stone's throw from the Canadian border in Upstate New York. She was all about Chicago, and other incredible groups with horn sections — I'm talking about Blood Sweat & Tears, Sly & The Family Stone, and later on The Blues Brothers, to name a few.
And there I was, a kid in the single digits of age in the late 1980s and early 1990s, riding around with my mother and little sister, in her old Toyota Camry, with Chicago blasting from the tape deck, streaming out the open windows into the wide-open fields and back roads of my native North Country. As a child, I liked the catchiness of the melodies. They were so easy to gyrate to, let alone sing-along to and feel part of.
When I went I started my senior year of college in the fall of 2006, finally off campus in my own abode, I took my mother's extensive vinyl collection and record player with me. I wanted to hear these songs the way they were meant to be heard, from analog recording methods — snap, crackle, pop, and all.
Putting the needle down to the vinyl of the seminal 1970 album "Chicago II," I would immediately think of home, faces and places I missed, and now was so far removed from — physically and emotionally. The more I played that record, the more I began to hear my own trials and tribulations, and ever-emerging freedom, in the words and tones. Now as a full-fledged adult, I finally understood the power of the lyrics, the life experiences behind the melodies, experiences we've all had and shared, all connected in the sounds of one of the all-time great bands — of any genre, at any time.
That college house just outside of New Haven, Connecticut, filled with a handful of my closest cronies, was, in essence, a dump. Garbage cans filled with empty beer bottles and nothing in the refrigerator expect cold pizza and a half-full jar of mustard. But, I lived in the attic room, the only renovated space in the entire three-story turn-of-the-20th-century home.
I remember that attic vividly, the windows and door to the back-deck entrance opened, a slight breeze floating in. I remember "Chicago II" being played nonstop, at all hours of the day and night. And the sounds of the immortal song "Make Me Smile" streaming out of the record player, the undeniable and completely underrated guitar playing and vocal stylings of the late Terry Kath, who tragically passed away at the peak of the band's success at age 31 in 1978. Heck, Jimi Hendrix once said of Kath to the members of Chicago, "your guitar player is better than me."
Every single time I hear "Make Me Smile" or "25 of 6 to 4" from "Chicago II," or "Beginnings" or "Does Anybody Really Know What Time It Is?" from the self-titled debut album (when they were called Chicago Transit Authority), I'm immediately taken back to that college bedroom, where I would listen to those melodies and wonder what was to come following graduation, daydreaming of an unknown future I was trying to paint on an empty canvas of hopes and dreams.
I'm also immediately taken back to those days of my youth, when my mother would take us for a ride around town or in the rural countryside, and time itself didn't seem to exist, or even matter at all, when you're a kid and all that lies ahead of you is full day of nothing to do, and nowhere to be, with the sounds of Chicago playing in the background — a melodic vibration of the human condition, where love always outweighs hate, and compassion will always overtake division.
Life is beautiful, grasp for it, y'all.
Hot picks
1 There will be a one-year anniversary celebration for Elevated Mountain Distilling Company starting at noon Saturday, May 26, at the distillery in Maggie Valley.
2 Isis Music Hall (West Asheville) will host the "Bluegrass Sessions" with Australian sensation Kristy Cox at 7:30 p.m. Tuesday, May 29.
3 The "Rockin' Block Party" will kickoff summer from 7 to 10 p.m. Saturday, May 26, on Main Street in downtown Waynesville.
4 The Cherokee Bluegrass Festival will return June 7-9 at the Holiday RV Village and Campground in Cherokee.
5 Lazy Hiker Brewing (Franklin) will host Heidi Holton (folk/blues) at 8 p.m. Friday, May 25.