Archived Arts & Entertainment
This must be the place: Never take those mountains for granted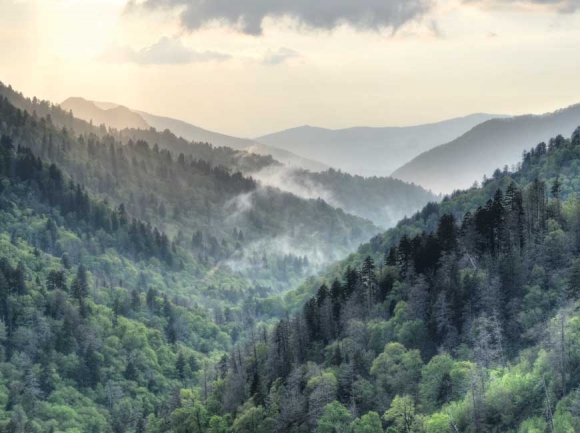 Great Smoky Mountains National Park. Courtesy Jackson County TDA
Standing in the midst of the Great Smoky Mountains National Park, one can't help but feel refreshed, a return to the core of your inner being amid the cosmos. And that sentiment is something felt in any of the innumerable national parks dotting our nation.
As a kid, I first found myself in deep woods of the Adirondack Mountains of my native Upstate New York. My parents would pack up the minivan every weekend and we'd head into the Adirondack Park to go camping, hiking, swimming and so on. Campfires. Sing-alongs. Marshmallows. Even as a child, I realized how special those moments were — the sounds and images of waking up in a tent along the shores of a lake to the sounds of a loon still vibrant in my memory.
Each time I find myself home for either the holidays or by happenstance, I immediately head for the Adirondacks, disappearing down a beloved hiking trail and jumping into the cool waters of a nearby river. Throw some firewood into the back of my truck, grab my hammock, and take off down a dirt road within no real plan in mind except to be alone with my thoughts in the ongoing conversation between myself and Mother Nature. And it is in these instances where you realize time doesn't exist, how anything and everything is all one moment, one we're lucky enough to be part of, and ever-present in.
Though the Adirondacks are a state park, it hovers around 6.1 million acres in size, with private land holdings and towns within the boundaries, too. To put that in perspective, the GSMNP is roughly 522,000 acres, which makes it one of the largest protected areas anywhere in the United States. Add in 11 million visitors a year, and the GSMNP remains the most visited national park in the country.
Probably the biggest reason I moved to Western North Carolina was the GSMNP. And I think a vast majority of folks who live here, who weren't raised here, can also say the same. These mountains are magnets for those in search of themselves in the grand scheme of things. The high peaks and low valleys bring calm to our nerves, where we re-center ourselves within the chaos of daily life in modern civilization.
This past Monday evening, I had the pleasure of doing a sit-down interview with folks from the Great Smoky Mountains Association. As part of the ongoing "Smoky Mountain Voices" live interview series at Nantahala Brewing in Bryson City, I talked with GSMA Chief Executive Officer Laurel Rematore, Membership & Marketing Director Lisa Duff and Business Outreach Coordinator Ginger Alfrey.
Did you know that the GSMA raises millions of dollars through the visitor center stores they run in the park? Did you know that a big chunk of those profits are given back to the park, to aid in projects and fill in gaps that government funding may not be able to cover? Did you know that the GSMNP has an annual economic impact of $923 million to our region? Think about all the thousands of jobs and businesses in our communities that are directly impacted by the park. Did you also know there are over 10,000 species that have been identified in the park, and over 1,000 of those species are new to science?
It's crazy that those hills outside your window attracted not only you and your family, but also the whole world, all eager to wander into our backyard to see and be part of the unmatched natural beauty of the Great Smokies.
It's also crazy to think how lucky we are to have this park, and have it remain open and free to the public. A lot of national parks have gates and charge a fee for entry. Not the GSMNP. A big part of the park's creation was the notion (and agreement) that if land was to be set aside for public use, then there was to be no entry fee. Free, to be you and me. Pretty great, eh?
So, with Memorial Day weekend around the corner — the official kickoff to summer — take off into the Great Smokies. Find a new trail to hike. Camp out. Stay in a shelter on the Appalachian Trail and meet people from all over the world also seeking the same unique experience that you are. Dive into an adventure in your own backyard. Never take that park for granted. Always support it, always do your part to be a steward of the land.
You can watch the full interview of the GSMA at Nantahala Brewing by going to www.facebook.com/nantahalabrewing and clicking on the "Videos" tab. Want to be a member of the GSMA? Want to be a business sponsor? Heck, do you just need some ideas on what to and where to go in the park? For more information on the Great Smoky Mountains Association, click on www.smokiesinformation.org.
Hot picks
1 Iconic bluegrass act Michael Cleveland & Flamekeeper will perform at 7 p.m. Saturday, May 19, at the Historic Cowee School Arts & Heritage Center in Franklin.
2 The annual WNC QuickDraw art fundraiser will be from 4:30 to 9:30 p.m. Saturday, May 19, at Laurel Ridge Country Club in Waynesville.
3 Rock/blues outfit Sanctum Sully will host an album release party and performance at 9 p.m. Friday, May 18, at Isis Music Hall in West Asheville.
4 Christian comedian and singer-songwriter Tim Hawkins will hit the stage at 7:30 p.m. Friday, May 18, at the Smoky Mountain Center for the Performing Arts in Franklin.
5 The Japanese sumi-e painting workshop will be held at 10:30 a.m. Saturday, May 19, in the Atrium of the Jackson County Public Library in Sylva.