Archived News
Future of farming: Agritourism activities key to fruitful business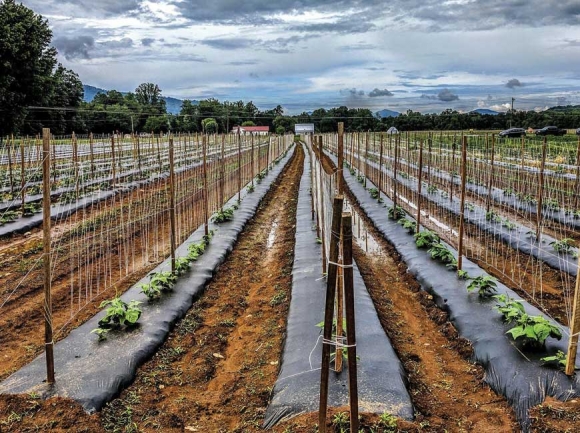 Ten Acre Garden is a small portion of a farm in Canton that has been in Danny Barrett's family for over a century. Garth Kuver photo
Many farmers today understand they can't put all their eggs in one basket.
It's no longer enough to pour your blood, sweat and tears into planting, cultivating and harvesting the crop. Now farmers are finding ways to turn their age-old industry into a destination. While integrating agritourism components — corn mazes, pumpkin patches, farm to table dinners and seasonal harvest festivals — can be time-consuming and costly, some farmers have welcomed the change with open arms.
Embracing change
Danny Barrett, owner of Ten Acre Garden in Canton, said rural farming has changed significantly since he was growing up watching his parents do it. It's no longer the days of farmers specializing in a couple of crops and sending them off to the packing house — farmers today try to grow a little bit of everything and sell directly to the consumer.
"We gradually switched over to the retail side of things. Now we're growing a little bit of everything and selling directly to the public and restaurants," Barrett said.
Barrett said he's embraced the new layer of his profession and his passion.
"I have a farm stand on the property, so I enjoy meeting the customers and making news friends," he said. "It's a little more satisfying than growing and taking it to the packing house and never seeing where it goes."
Afton Roberts, operations manager at Darnell Farms in Bryson City, represents a younger generation of farmers taking over the business from their parents. Her father, Jeff Darnell, has operated the farm along the Tuckasegee River since 1981 and while he is very much still involved in the business, Roberts and her brother Nathaniel Darnell have been at the forefront of the agritourism movement. The siblings never miss an opportunity to put on an event at the farm or show off their products and process through social media.
Darnell Farms is getting ready to host its annual Strawberry Jam this Saturday — a festival Jeff started back in 1999 when festivals in the region were few and far between. Deemed as good ole fashion family fun, the Strawberry Jam welcomes visitors to the farm to pick their own fresh strawberries, enjoy local music, food and craft vendors and hayrides around the farm.
"We like the simple festival style — we don't do anything too organized," Roberts laughed, referring to how busy this time of year is for everyone at Darnell Farms.
Educating the young'uns
Though putting on special events and always going above and beyond to offer visitors an experience on the farm, Roberts said her family loves opening up their farm to the public and doing their part to educate future generations about the science of growing food.
"People can come down and see the actual operation and kids get to experience the idea of seeing agriculture in real life," she said. "Some kids really think these strawberries start at the grocery store."
Barrett echoed those same sentiments. He likes to see the genuine excitement on the children's faces when they make the connection between the farm and their dinner table.
"So many kids are raised in an environment where they don't know where their food comes from, but luckily the parents are responsible enough and they're trying to expose their kids to these kind of things," he said. "And the kids are really excited about it — it's a big deal for them to come out and pick strawberries."
Roberts hopes instilling this knowledge upon a younger generation will inspire more people to go into farming for the sake of our future food production. According to the 2012 U.S. Census data, the average age of farmers in North Carolina is 59. Roberts worries about a produce shortage in the next 10 years.
"Agritourism is so important because we can be those educators," she said. "We can get kids to understand the science behind growing food."
Easing challenges
Life on the farm isn't all hayrides and strawberry shortcakes — it's expensive and risky business. Sometimes it comes with a high reward at harvest time but it's not a guarantee.
"It takes hundreds of thousands of dollars to get a crop in the ground," Roberts said. "It can take $10,000 to $15,000 to plant an acre of tomatoes by the time you factor in all your labor, fertilizer and everything else. Last year it was higher because we had so much rain."
When the crop comes up short so does a farm's revenue, which is why those agritourism dollars are so important to operations like Darnell Farms by giving them a little more stability throughout the year.
"It makes a big difference," Roberts said. "Agritourism itself brings in the retail cash flow a farm needs to keep its head above water. With our huge tomato loss last year, without that cash we would have had a hard time growing this year."
Roberts said local farmers also deal with the challenge of correcting misinformation surrounding their farming methods. Darnell Farms and many others don't qualify for organic certification because they still fumigate their crops, leaving some people to assume the produce isn't safe to eat.
"We have to deal with lot of fake news issues," Roberts said. "We don't use any harmful chemicals and for pest control we use biological methods like predatory mites, which kill bad mites."
As a consumer herself, she understands the concern people have with eating food that may contain harmful chemicals, but she wants people educate themselves using reliable sources. Having visitors to the farm helps alleviate some people's fears and gives the Darnells a chance to explain the science behind their practices.
It's a good thing for people to be informed. I care what I consume too and I don't want it to harm me or my family," Roberts said.
Educating the public on his farming practices is also important for Barrett at Ten Acre Garden. The farm's goal is to minimize environmental impact while providing organically grown produce to the region. Their methods are clearly explained on their website.
"By practicing integrated pest management, crop rotation, and maximizing crop diversity, we create a sustainable, biodiverse system that decreases the need for chemical pest control. When chemical treatment is needed, we use only environmentally friendly sprays targeted at the crop that needs it."