Archived News
Support needed for Darnell Farms expansion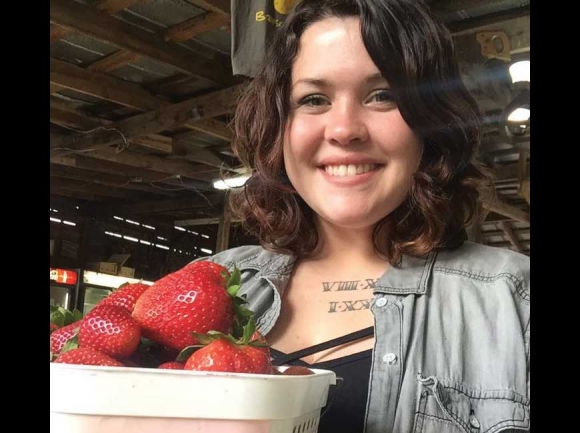 Afton Roberts, operations manager at Darnell Farms, gets ready for strawberry season. Donated photo
Darnell Farms would like to expand to offer more for families when they visit, but it needs support from the community to make it happen.
The Darnell Family started a funding capital funding campaign on Indigogo.com with the goal of raising $30,000 for an agritourism expansion.
Afton Roberts, operations manager at the Bryson City farm, said the funding would allow them to plant a u-pick apple orchard, offer a Farm2FrontDoor program where people can sign up to get a fresh box of produce delivered to their home, install an expanded riverfront walkway with river access, create an overnight Barn Inn offering a cozy room for visitors and start an educational field trip cost share program for local schools.
Roberts is excited about the idea of the u-pick apple orchard since there aren't many apple-picking opportunities west of Waynesville. While traditional apple orchards can be dangerous because of the height of the trees, Roberts said the farm plans to plant shorter trees with trellises to make it easier for visitors.
These are big goals, but the Darnell family plans to chip away at them as funding is available.
"The goal is to continue expanding our agritourism and expand activities for kids and families," she said. "We'd love to add a trampoline bouncy house for kids and more swings on the playground to make it where people can come hang out. Even if they don't come spend money, we want to make Darnell Farms feel like home."
Using a crowd-sourcing campaign like Indigogo.com allows people to invest in the project and receive perks for their level of investment. Roberts said an online campaign was the best chance for them to raise funds since it's so difficult for farms to get conventional financing through a bank.
"It's hard to get financing because it's such an unpredictable market," she said. "But the buy local movement is working to change that. People are more supportive of local farms."
Roberts said that's a good trend to see since farmers have a huge impact on a local economy by creating jobs, buying fuel and supplies locally and offering fresh food to the community.
To find out more about Darnell Farms' expansion plans or to make a contribution, visit www.indiegogo.com/projects/darnell-farms-agritourism-expansion.
Darnell Farms
presents the annual Strawberry Jam

• All day — Saturday, May 19

• 2300 Governors Island Rd., Bryson City

• Live music, craft vendors, local food, children's play area, hayrides, and u-pick strawberries.

Darnell Farms grew seven acres of strawberries this season with plans to expand next season. So what makes a delicious strawberry? Afton Roberts with Darnell Farms should know.

"Photosynthesis has a huge impact on the fruit. There's a chemical in a strawberry to give it sweetness and color. The sunnier we are at the farm the riper the berry gets and the sweeter it gets," she said. "The deeper in color — some strawberries even reach an almost purple hue — sometimes is an indicator of someone not having enough nutrients in the soil, so it's really sweet but lacks the strawberry taste. But ours are known for being really red strawberries and we don't use any ripening agents, that's really important."