Archived News
Pedestrian path proposed for portion of US 19/23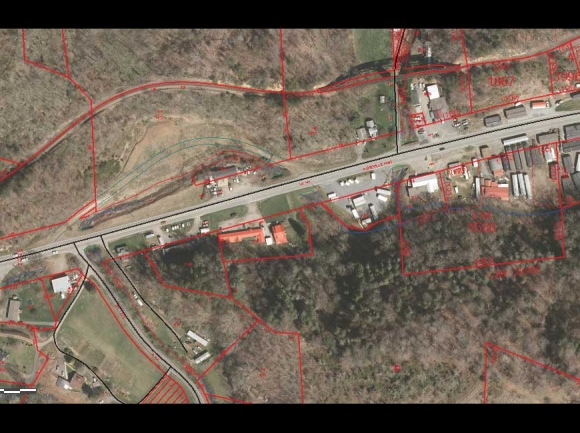 The eastern terminus of a proposed walkway along Old Asheville Highway, east of Canton, lies at Chestnut Mountain Road (lower left). Haywood GIS photo
A treacherous and heavily travelled portion of U.S. 19/23 east of Canton could soon see major pedestrian improvements if an N.C. Department of Transportation project comes to fruition.
"That has been a very dangerous road since I've been on this earth," said Canton Mayor Zeb Smathers after a May 10 meeting hosted by NCDOT at the Colonial Theater.
The proposed project would create a bike, pedestrian or multi-use trail on the south side of U.S. 19/23, known in Haywood County as Old Asheville Road.
Beginning at Chestnut Mountain Road, the path would progress eastward for 4 miles and terminate at Wiggins Road, also known as Interstate 40's East Canton exit, in Buncombe County. There, U.S. 19/23 is known as Smoky Park Highway.
Traffic flow is not expected to change much; while vehicular lanes would be expanded slightly with the addition of a third lane along the entire route — right now it intermittently appears in places, for passing — the pedestrian path also lies entirely within the right-of-way already claimed by DOT, even though maps show some structures encroaching on that right-of-way.
Although 19/23 serves as an important alternate to the interstate in that area, the entire project is one of safety, not one of expanding infrastructure; Smathers said that a recent pedestrian death on that stretch of highway illustrates just how dangerous it really is.
Information from the DOT suggests that construction could begin as soon as next summer if all goes well. The project would be overwhelmingly funded by DOT, and require a very minimal match from Haywood County.
Even though it does abut the town of Canton's border, no part of the project lies within the town.
But that won't stop the town from potentially benefitting; even though Haywood's sprawling countywide greenway project is still in its infancy, the connection between Canton, at the eastern end of Haywood County, and Buncombe County, would provide an important incentive to get Haywood's pedestrian paths in order.
As it stands, the project is still in the public comment phase, meaning the NCDOT would like to hear from residents and commuters about the possible changes. Until May 25, interested parties can email NCDOT Division 14 Construction Engineer Scott Miller at This email address is being protected from spambots. You need JavaScript enabled to view it., call him at 828.586.2141, or drop in to 253 Webster Road in Sylva to leave comments about the project.