Archived News
Confederate flag debate could resurface in Canton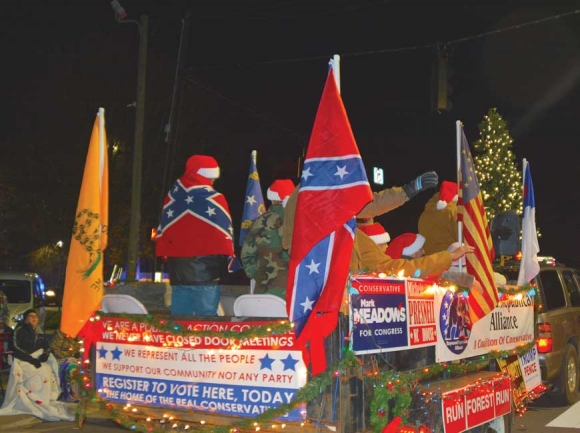 Participants display the Confederate flag during last year's Canton Christmas parade. Cory Vaillancourt photo
It's been a hot topic for almost a year now, but the role of Confederate imagery in contemporary society is no more settled than it was last summer, when riots in Charlottesville, Virginia, brought the issue to small towns across the country.
But with Labor Day fast approaching, that issue will likely be settled in Canton — one way or the other.
Last fall, Canton Alderman Dr. Ralph Hamlett introduced a controversial parade entry policy that would prohibit the display of "any image or content that includes nudity, profanity, lewdness, illegal drugs, violence, obscenity, hate, [or] racism" in response to complaints received about Confederate flags being flown in the town's Labor Day parade. The town board, at that time under Mayor Mike Ray, tabled the policy, which was penned with the support of Alderwoman Gail Mull.
"I haven't forgotten about that," Hamlett, an associate professor of political communications at Brevard College said during a May 10 town board meeting.
Hamlett then asked Town Attorney William Morgan to re-examine his proposed policy and come back to the board with his thoughts.
The current Board of Aldermen/women is a very different board than the one that saw its boardroom packed with residents offering unanimous opposition to the proposed policy last fall; gone are Ray and Alderwoman Carole Edwards. Then-alderman Zeb Smathers is now mayor, joined by newly elected Alderman James Markey and Alderwoman Kristina Smith.
"We want to make sure anything we do ensures that town events will always be open and welcoming events for all citizens and visitors to Canton, while also ensuring safety for participants, town staff and law enforcement," Smith told The Smoky Mountain News Dec. 13, 2016.
At that same time, Markey said he'd support "a policy that prevents people from using speech that is generally seen as an affront to decency, and I will say that with the caveat that I will not support any policy contrary to what we consider the tenets of free speech now."
Today, their positions remain little changed.
"As I said last fall, I'm not against the idea of exploring a town policy that promotes greater safety and enjoyment for all in attendance," said Markey. "I am not in favor of, nor do I think any government institution has the authority to limit freedom of speech."
But they do — courts have consistently ruled that governments can regulate speech based on the time, place and manner of its use, a critical nuance of Hamlett's proposed policy.
Markey, however, remains consistent in his position.
"As it stands," he said, "I would not vote for any ordinance or policy that could potentially violate First Amendment protections."
Smith, like Markey, wants to wait to hear what Morgan has to say.
"I am always open to conversation, especially when it comes to a policy that provides direction to our parade officials, law enforcement and participants along with providing clear operational guidelines that focus on safety and organization of a town event," she said. "When it comes to the section that limits content in a town sanctioned event based on pre-set guidelines, this requires the board to do our due diligence for review and interpretation through civil discussion, research and consultation with our legal representation."
For now, the policy still hasn't been put on any agenda since its introduction last year, but per Hamlett's May 10 request, it could see some action soon. Still, members of the board, including Smathers and Smith, have appealed for perspective as the town deals with the potentially devisive issue.
"As with anything that concerns Canton, there will be conversation, discussion, and discernment. Canton is a community that welcomed me and my family, and will be welcoming more families in the centuries to come," Smith said. "This community is bigger and better than this one policy."