Archived News
State dismisses candidate challenge against Swain sheriff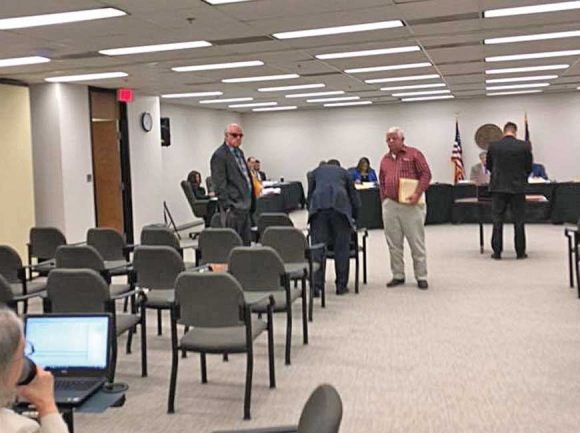 Jerry Lowery (center) goes before the State Board of Elections & Ethics Enforcement to appeal his candidate challenge against Swain County Sheriff Curtis Cochran. Donated photo
Swain County Sheriff Curtis Cochran will remain a candidate on the November ballot after the State Board of Elections & Ethics Enforcement upheld the decision of the Swain County Board of Elections panel in regard to a candidate challenge filed against him.
Swain County resident Jerry Lowery originally filed the candidate challenge against Cochran back in late February after Cochran signed up to run for a fourth term. Lowery alleged Cochran was dishonorably discharged from the military in 1975 and as such is guilty of a felony, which would mean he is not eligible to run for sheriff in Swain County.
According to North Carolina law, the burden of proof in a candidate challenge falls on the candidate who must show "by a preponderance of evidence" that he or she is qualified to run for election. The challenge asked Cochran to present his DD-214 military release form in order to prove whether or not he was dishonorably discharged from the military.
The Swain County Board of Elections dismissed Lowery's challenge following an April 9 hearing, but Lowery appealed the challenge to the state because he said the local board didn't place the burden of proof on the candidate. Instead, he said the board placed the burden on him to produce proof that Cochran was a felon.
The state board heard the appeal on May 3 in Raleigh.
Lowery filed a motion to continue the hearing stating that he didn't have enough time to secure a lawyer to represent him at the hearing. He secured Raleigh lawyer Jake Epstein to represent him the afternoon before the hearing.
Cochran's lawyer David Sawyer and the Swain County Board of Elections' lawyer Don Wright — who served as General Counsel for the N.C. State Board of Elections before retiring — both argued that Lowery had plenty of time to secure representation since this challenge was filed in February. The state board dismissed Lowery's motion for a continuance.
Epstein argued that the county board of elections did not place the burden of proof on Cochran and did not force him to release his DD-214 form that would show whether Cochran had been dishonorably discharged or court martialed. Even though Cochran and his attorney claim Cochran was never issued a DD-214 because he served less than 90 days active duty, Epstein argued that the military surely has documentation of why Cochran was discharged and whether he was court martialed.
"But only Cochran can access such a document," he said.
State board members still questioned the relevance of a dishonorable discharge stating that a dishonorable discharge didn't necessarily mean he was guilty of a felony and not eligible to run for office.
"There's a lot of people who are dishonorably discharged because they make stupid decisions while in the military," said one board member. "It doesn't mean they're not capable of being the sheriff of whatever county we're talking about today."
Epstein reminded the board that many of the reasons for dishonorable discharge do result in a felony, which would prevent someone from carrying a gun. Carrying a gun is a requirement to be sheriff.
Even though Cochran's administrative assistant testified to the Swain County board that a criminal background check on Cochran showed no felony charges or convictions, she could not answer how far back those background checks go. Also, as Epstein pointed out, military court charges would show up in a civilian database.
In the end, Epstein couldn't convince the state board to overrule the local decision. The vote to affirm the local decision was unanimous.
"This is the second board that has ruled on this matter and found that there is no findings that support the ridiculous, slanderous and libelous claims that have been lodged against me," he said. "I have said it before and I will say it again today that I will not stoop this low to try to gain an edge in my re-election campaign, any candidate that would support or condone this type of activity would not have the leadership qualities to lead this office, no matter how many classes or training they may have."