Archived News
Supporters rally around Scott Knibbs family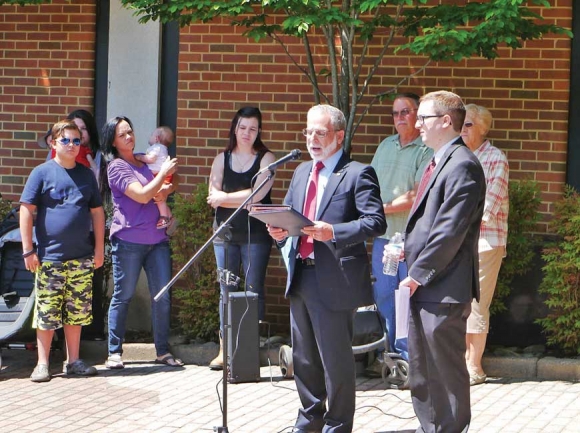 More than 100 people attend a support rally for the family and friends of Scott Knibbs. Macon Media photo
More than 100 people gathered at the Macon County Courthouse on May 8 to rally in support of Scott Knibbs' family, who are still grieving his unexpected and tragic death.
Knibbs was shot six times by Macon County Sheriff's Deputy Anthony Momphard just after midnight on April 30. The incident is under investigation by the N.C. State Bureau of Investigations and Momphard is currently on paid administrative leave.
Waynesville father and son attorneys Mark and Adam Melrose are representing the Knibbs family to seek justice for Scott. Mark Melrose and a few of Scott's close friends described him at the rally as a good man who would do anything for anyone in need. He worked in construction, he volunteered at his church and in the community and he had the utmost respect for law enforcement.
Melrose said Knibbs went through basic law enforcement training in the 1990s, had a concealed carry permit and even completed additional church safety training with the Franklin Police Department so he could head up security at his church.
"He was one of the good guys with a gun," Melrose said. "Scott believed in the Second Amendment, which allowed him to bear arms in his own home to protect him family and he believed in the Fourth Amendment which allowed him to feel secure in his own home."
Melrose claims Knibbs' constitutional rights were violated on the night of his death when a rookie deputy shot Knibbs in his own home through the window. According to Melrose, Knibbs had been dealing with noisy new neighbors up the road for a few months prior to his death. The neighbors held loud parties and the traffic and speeding on their dirt road had gotten out of hand. In an attempt to slow down drivers and look out for the safety of children playing outside, Knibbs had placed wooden boards on the road to act as speed bumps.
Earlier in the evening on April 29, a car had pulled into the Knibbs' driveway looking for the neighbor's party. Scott told the driver to leave and not come back. The neighbors called the sheriff's office later that night to make a complaint about the wooden boards in the road, claiming the boards had nails sticking out of them — a claim Melrose adamantly denies.
Worried about the neighbors causing more problems, Melrose said the family — which included his wife, his 13-year-old son, his 22-year-old daughter, and his 5-month-old grandson — for once locked their doors before going to bed.
"Around midnight Missy (Knibb's wife) heard a male voice outside their bedroom window and thought the neighbors were back bringing trouble with them," Melrose said.
According to Missy, she did hear sheriff's department uttered one time from outside but couldn't be sure her husband had heard it before he had already left the bedroom with his shotgun in hand. Melrose said there was no way for Knibbs to know it was law enforcement — there were no sirens, no blue lights, no patrol car in the driveway and no courtesy phone call beforehand.
"I would suspect in the hills and valleys of Macon County most homeowners would carry their weapon through their own home to their own front door under these circumstances," Melrose said. "Instead, this rookie cop must have been watching Scott through a front window as Scott was walking in his own house."
The deputy allegedly yelled at Knibbs to drop his weapon just before he fired four shots into the home.
"Then the deputy broke open the door and shot at him two more times," Melrose continued. "Scott never fired his shotgun."
According to Missy's account of the event, the deputy then stood over Knibbs with his gun still pointing at him and yelled at Missy and Scott's daughter to stand back.
Melrose said he sent a letter to District Attorney Ashley Welch asking her to recuse herself from the case and for another prosecutor in anther district to review the SBI findings when the investigation is complete.
Melrose said Welch couldn't be impartial since Sheriff Robbie Holland has been a supporter of Welch's political campaigns and because her former husband used to serve as the attorney for the sheriff's office. Welch has not responded to the letter.
A memorial fund has been set up at United Community Bank in Franklin for those who wish to help Knibbs family during this difficult time.
This report was made possible by a Macon Media video of the rally. See the complete video at maconmedia.com.