Archived Arts & Entertainment
This must be the place: Never forget what you made, what made you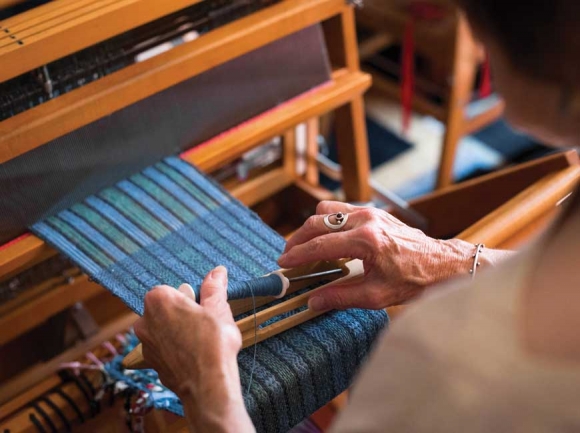 Weaver Susan Morgan Leveille.
It seems like a race against time.
As a longtime arts and entertainment editor, I find myself in the backwoods and along the backroads of Western North Carolina, always in search of a story. Sometimes the subjects are folks I come across over a cold beer at a local watering hole. Sometimes they're a random name and address with a short description of what they do sent to me via physical or electronic mail. On many occasions, I'll be simply driving and something or someone catches my eye in the distance.
And amid the thousands of people, places and things I've interviewed, photographed and written about in over a decade in this business, the stories that meant the most to me were (and remain) those folks who use their hands and make something of worth and value with them. I'm talking about blacksmiths, weavers, woodworkers, boat builders, potters, glass blowers, luthiers (build/fix instruments), and so forth.
One of the core values and traits of culture in our region lies deeply in those heritage crafts and trades listed above. In my years working for this publication, I've had the sincere pleasure of crossing paths and interacting with individuals of great skill and personality. I don't think you can be an expert in a creative field and not have some kind of unique flare to your presence and persona.
I remember all those names and faces around these parts. Folks like Timm Muth of the Jackson County Green Energy Park in Dillsboro, who I interviewed several years back about the increasing popular blacksmithing classes at the park: A technique thousands of years old, casting metal is at the very foundation of what has led to the achievements of a 21st century society. Though the process has remained largely unchanged for centuries, its importance and relevance to the innovation of mankind can never be understated. "If there's no metal work, there's no modern technology," Muth said.
And then there was that sit-down interview at a loom with weaver Amy Tromiczak in Waynesville: "It's amazing how easily things can be lost, where a family technique can die out in a generation," Tromiczak said. "There's something incredible about working with your hands, and that everything you put into a piece really does matter."
Or metalsmith William Rogers of Cullowhee, who goes into local elementary classrooms and teaches students how to work with metal in hands on seminars: Rogers' creativity is about constantly learning something new, always striving to discover something else about you as an individual and as an artist.
"If you're not learning, you're not doing much. If you're not trying something new, you're not doing anything," Rogers said. "If you're doing the same thing over and over again, well, we have robots for that now."
Those sentiments voiced by heritage craft artisans are something I've been told my entire career as a journalist, even way back in 2007-2008 when I was a rookie reporter for a small newspaper in Eastern Idaho, interviewing a blacksmith: Walking around Jim Stevens' workshop, one notices an array of tools and machinery, anvils here and there, sounds of hammering and the constant hiss of the 2600-degree inferno emitted from the forge Stevens uses to create his work. "Blacksmithing is a lost art," Stevens said. "It's easier that horseshoeing but it's a hard job. Most people wouldn't want hot steel melting onto and sticking to your hands. But over the years, I guess I've built up a tolerance."
So, when I found myself in front of Karen Collis' intricate corn shuck dolls for my feature story this week, all of those past experiences rang true in my mind, thinking about how incredible all of these works of art and tools of the trade are, and how these skill sets and traditions will vanish if they aren't preserved and perpetuated for future generations to harness and create — for pleasure or for profit.
I think of the John C. Campbell Folk School in Brasstown (Clay County) and the Penland School of Crafts in Spruce Pine (Mitchell County). These prestigious institutions are the front lines for instruction and cultivation of heritage crafts and their survival in the 21st century, a digital age where hands are typing and scrolling on a screen, not learning and creating something that doesn't involve being charged or plugged into a wall with good WiFi nearby.
Put down the smartphone, put down the tablet and laptop, and pick up a heritage craft. You may even surprise yourself at something you either enjoy in your free time or a newfound talent that could unlock unlimited doors of possibility in your creative self. If anything, support those who make a living in the heritage crafts, support their stores and purchase their products. Heck, take a class if they offer one. Keep the spirit of creativity and Southern Appalachian culture alive and thriving.
Life is beautiful, grasp for it, y'all.
Hot picks
1 The annual WNC QuickDraw will be from 4:30 to 9:30 p.m. Saturday, May 19, at Laurel Ridge Country Club in Waynesville
2 Rock/blues group Andrew Scotchie & The River Rats will host an album release party for their latest record at 7 p.m. Wednesday, May 16, at Ambrose West in Asheville.
3 The DuPont Brothers (Americana/folk) will perform at 8 p.m. Saturday, May 12, at Nantahala Brewing in Bryson City.
4 The Haywood Arts Regional Theatre in Waynesville will present the Jane Austen classic "Sense and Sensibility" at 7:30 p.m. May 10-12 and at 2 p.m. May 13.
5 The Whole Bloomin' Thing festival will take place from 9 a.m. to 4 p.m. Saturday, May 12, in the Historic Frog Level District of Waynesville.