Archived Reading Room
Discovering a writer who sings to my heart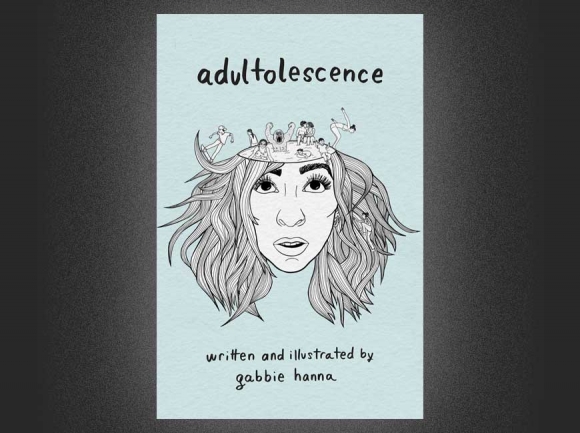 Time to have some fun.
And Adultolescence (Keywords Press, 2017, 248 pages) is just the place to go for that fun.
Before picking up this collection of poetry, random thoughts, and drawings, I had never heard of Gabbie Hanna, author, comedian, singer-songwriter, and YouTube star, where she has well over five million subscribers. No — I bumbled into Ms. Hanna in the public library, where I have met so many other women, all of them, of course, winking at me from the bookshelves. I picked up Gabbie Hanna — by that, I mean her book of course, and not her — because of the unusual title, opened the book, and found myself smiling at her goofy sense of humor, revealed in both her words and her drawings. Here was a young woman with an edge who could make me laugh.
When I first began turning the pages of Adultolescence, Hanna's style and format brought to mind Shel Silverstein's Where The Sidewalk Ends. After taking the book home, I was delighted to find in her "Author Note" credit given for the inspiration of Silverstein.
To give you the flavor of Adultolescence, let's serve up a few of Hanna's poems and observations.
Yum
if the world ended tomorrow, what would you do today?
I'd hurriedly make my way
to an all-you-can-eat buffet.
Breakfast
did you ever wake up in the morning
and really want a bowl of cereal
but instead you were out of milk
so instead of milk you used orange juice
and instead of cereal you used vodka?
Burn
I smashed my smoke detector
because I'd rather die a fiery painful death
than listen to it judge me
every time I cook bacon.
Some of the more amusing pieces occur when Hanna draws two people in profile looking at each other and speaking. In "Perspective," for example, we have this dialogue:
Man: I had a nightmare we drove off a highway. A truck was coming straight for us and we were headed for certain death.
Woman: That's not a nightmare, that's a dream
Man: In our final moments, I told you that I loved you.
Woman: Ok, that's a nightmare.
Much truth is spoken in jest, the old saying goes, and behind the humor of Gabbie Hanna is an examination of her insecurities, fears, and desires, and in some sense, those of her generation, particularly those of other 20-something women. Hanna's tart observations, especially about love and sex, her casual use of what were once called obscenities, her concerns about appearance, friendships, success, death, and the meaning of existence: all are here, if not readily apparent, lurking just beneath the surface of the words. She pokes fun at some of the obsessions of her generation, but always with sympathy and understanding, often because those same obsessions belong to her as well.
An example: young people under 30 these days are often accused of being self-focused, lovers of mirrors, victims, in a way, of the self-esteem movement of the last 30 years. In "Self-Help," Hanna addresses this infatuation with the ego:
they say focus on me, be the best I can be.
I think I've had enough time to myself;
I'm ready to share it with someone else.
if I'm honest, I've had enough of me.
In "Abuse," Hanna addresses the "snowflakes" of her generation:
i'm so sorry
you were in
the blast radius
when some
delicate flower
had his ego
shattered.
We also find here the skittishness and uncertainty of adultolescents, young people, again mostly female, with one foot in adolescence and the other in adulthood. Here are the missed connections of the heart, the "two steps forward, one step back" that often make up the time for people between 18 and 30, the awkward, stumbling walk toward maturity. In "Anxiety," she gives that dread emotion a human persona:
there isn't a cause that you could explain,
but i'll claw my way in like a cat in the rain.
i don't pretend to make much sense,
but i'll twist up your nerves like a barbed-wire fence.
if you find yourself without a qualm,
i'll send chills up your spine with my icy palm
although your whole to-do list is ticked,
i'll set fire to your cheeks like a match to a wick.
no matter the time or the month or the season,
i'll ruin your day without rhyme or reason.
So cheers to Gabbie Hanna! And cheers to the public library, where I find authors like her who sing in my heart.
(Jeff Minick is a writer and a teacher. This email address is being protected from spambots. You need JavaScript enabled to view it.)