Archived News
Franklin man shot and killed by Macon deputy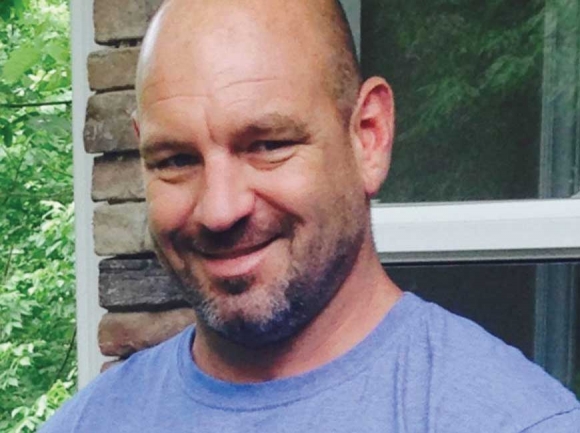 Scott Knibbs of Franklin died following an officer-involved shooting at his residence. Donated photo
The lawyer for a Franklin resident killed by a Macon County deputy claims the shooting was not justified and that the victim was just trying to protect his family.
Franklin resident Scott Knibbs is dead after being shot inside his residence by a Macon County Sheriff's deputy around midnight April 30.
"We will be seeking an independent prosecutor to review this investigation, and demanding that the homicide case against the officer be submitted to a Macon County Grand Jury," said Mark Melrose, a Waynesville attorney hired by the Knibbs family.
The Melrose Firm has wasted no time rallying community support for Knibbs' constitutional rights and against the Macon County Sheriff's deputy who shot him.
Friends, family and supporters of Knibbs were invited to gather outside the Macon County Courthouse at noon Tuesday, May 8, to rally for justice in Knibbs' death. Melrose claims Knibbs' Second Amendment right to bear arms and his Fourth Amendment right to be secure in his home and free from unreasonable searches without a warrant were violated.
It's standard procedure for the North Carolina State Bureau of Investigations to step in to conduct an investigation when law enforcement is involved in a shooting, but the sheriff's office and the Knibbs family are telling two very different stories.
A press release from Macon County Sheriff Robbie Holland states that Deputy Anthony Momphard fired his weapon because Knibbs wouldn't drop his gun and exhibited aggressive behavior toward the deputy.
"While conducting the investigation, a Macon County deputy was confronted by an armed suspect. The deputy gave repeated commands to drop the weapon. The suspect took aggressive action toward the deputy, prompting the deputy to discharge his weapon in self-defense, which struck and killed the suspect," Holland wrote in a press release.
However, a press release from Mark Melrose and Adam Melrose with Melrose Law, a Waynesville firm retained by Knibbs' family, claims Knibbs and his family were caught off guard by the unmarked car and the deputy approaching their home late at night, which is why he had his shotgun in hand.
"The man yelled demands from outside on the porch. Seconds later the Deputy fired multiple shots from outside the Knibbs house, through a front window, striking Scott," Melrose stated in the press release. "Scott never had a chance to open the front door, or speak to the officer."
According to the sheriff's office, the deputy was dispatched to a home on Pheasant Drive at 11:41 p.m. April 29 after a neighbor called to report that Knibbs had placed boards with nails on a driveway, which was blocking a neighbor's exit. Upon arrival around 11:55 p.m., Momphard began interviewing the neighbor who placed the call and involved parties. That's when Knibbs allegedly confronted the deputy with his shotgun in hand — prompting Momphard to shoot.
According to Melrose, Knibbs was home with his wife, his 13-year-old son, his 22-year-old daughter, and his 5-month-old grandson at the time of the incident. Earlier that evening, Scott allegedly told a man who had pulled into the Knibbs' driveway looking for a house party next door to leave and not return. Around midnight, a man's voice was heard yelling from the front of their home.
"There was no patrol car parked outside the Knibbs home, no blue lights, and no advance warning that a rookie police officer was approaching their home," Melrose stated in the press release. "Scott was concerned for the safety of his family. Scott retrieved the shotgun he kept in the bedroom for self-defense. Scott then walked towards the front door to see who was yelling at his family's front door."
According to Knibbs' family, the man yelled demands from outside on the porch seconds before he fired multiple shots through a front window hitting Knibbs.
"Scott bled to death just a few steps away from the front door in his own dining room. The Deputy did not administer first-aid while he awaited backup from other officers and EMS," Melrose's press release stated.
Melrose said the entire event stemmed from a complaint made by the neighbors who were renting a house next door. Apparently there had been a high volume of traffic going up to the neighbor's house at all hours. As for the spiked boards blocking exits, Melrose said the boards were actually speed bumps placed in the roadway to slow visitors down as they passed the Knibbs home due to the children who frequently played in the front yard.
"We want to understand why the officer had his weapon out. We want to learn what urgency existed for a solo Deputy to 'investigate' a neighbor's complaint in the middle of the night. We want to learn why this happened when the deputy did not have a search warrant, arrest warrant, or probable cause to enter the home or arrest anyone within the home," Melrose stated. "We have promised the Knibbs family to learn the truth of why Scott was killed in his own home from shots fired from outside his residence by a rookie officer."
Despite the conflicting reports, Holland said he stands by his original statement of what occurred that night. Once the investigation is complete, he can share more details.
He did confirm that Momphard is on paid administrative leave "until the outcome of the investigation or when we choose to do otherwise." Holland also confirmed that Momphard is a new sheriff's office employee with a military background. As a U.S. Marine, he served two tours in Afghanistan.
Knibbs worked in construction and was married to his wife, Missy, for 25 years. According to Melrose, he had no criminal record and graduated from Basic Law Enforcement Training at Southwestern Community College in the 1990s.
Because the case is under investigation by the SBI, the sheriff's office is not in a position to disclose any other information until the conclusion of the SBI investigation and subsequent review by the District Attorney's Office.