Archived News
Student suicide pact, hit list rocks Macon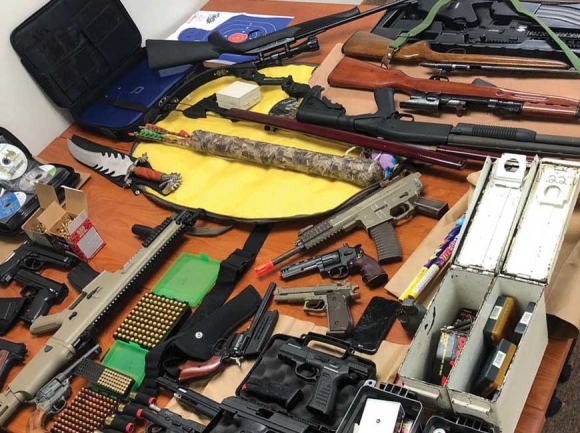 Weapons and ammunition seized from a 16-year-old's home after he created a 'hit list' with names of fellow students, school administration and law enforcement officers. Donated photo
It's been a difficult couple of weeks for Macon County as school administration and law enforcement try to get to the bottom of a student-led suicide pact and a student-made hit list.
On April 25, Macon County Schools Superintendent Dr. Chris Baldwin sent out an email to parents alerting them that administration and counselors of Mountain View Intermediate and the staff of Meridian Behavioral Health Services had been monitoring a group of students on social media for the past few weeks. Students within that social media group — known as the "Edgy" group or "Edgy Fan Page 101" — were suspected to have made some kind of suicide pact.
"A school nurse learned second hand information from one of our local health care providers that some of the students involved in this group may have some sort of suicide pact or had otherwise indicated suicidal ideations," Baldwin said. "Upon learning of this information, the families of any student known to be involved with the 'Edgy' group were contacted. A Parent-Link message also went out to encourage all MVI parents to monitor their child's social media accounts and to begin a conversation with their child about dangers associated of this group."
Meridian Behavioral Health Services, which provides social workers inside school system, is working with students, families and counselors at Macon Middle School and Mountain View Intermediate to learn more about the social media group and provide threat assessments for those students involved.
"We will continue to look for ways to monitor our students activities on social media, educate them and parents about the pitfalls of social media and to protect students from self-harm," Baldwin said.
Another alarming story out of Macon County just days later made national news headlines. On May 1, school administration were made aware of a student-created "hit list" that included the names of 11 students, Franklin High School Principal Barry Woody and law enforcement officers the creator intended to harm.
"My understanding is there was a vendetta. I believe — what was reported to me — was one of them may have been a victim of a crime and the outcome wasn't what they expected," said Sheriff Robbie Holland.
The Franklin High School student who wrote the list — a 16-year-old male — and his girlfriend, also 16, were detained and individuals named on the list, and their parents, were notified.
Macon County Sheriff's deputies, detectives and school resource officers were on campus and at the student's house to investigate. Deputies obtained a warrant to search the home and seized an arsenal of weapons to which the student had access.
Weapons seized included a Winchester .22-caliber rifle, a Mossberg 702 .22-caliber rifle, a Mossberg 12- gauge shotgun, a SKS 7.62 X 39 rifle, a .22-caliber revolver, a .45-caliber pistol, a .22-caliber handgun and a 9mm handgun.
Holland said only two of the firearms and the knives and swords collected were taken from the student's bedroom — the others were located in a linen closet secured with a combination lock.
"We collected everything because the firearms were readily accessible to him — they were not in a safe," Holland said. "There were a lot of high powered rifles and pistols and ammo — all of which he had complete access to and had every intention to utilize whatever he needed to carry out his act."
Due to HIPAA laws that protect someone's medical information, Holland could only say, "Charges are pending while they're currently being detained in a location where services are being provided to them for evaluation."
Parents invited to forum
To further explain the dangers of social media, Macon County Schools will host a Social Media and Technology Awareness Night from 6 to 7:30 p.m. Tuesday, May 15, at the Smoky Mountain Center for the Performing Arts Center.
Baldwin said the event is meant to create a stronger partnership between the schools and parents to protect Macon County students from the dangers associated with social media.
"In these modern times, children have access to the world — that access is at their fingertips — and this access to information can be valuable in education but it can also be dangerous," Baldwin said. "As a parent myself, I understand that sometimes children are often ahead of adults in terms of their understanding of technology, social media, the internet and that can be an uncomfortable feeling for parents and educators."
Jason Smith, pastor of Cowee Baptist Church in Franklin, said the event would feature experts discussing what kids are faced with in today's world of technology. As a father, he said he understands the many questions parents are faced with — when should my kid be allowed to carry a cell phone? What's an appropriate age to allow your children to have social media accounts and how can you properly monitor and restrict their internet access?
School resource officers will talk about what students today are facing at school and with technology while representatives with Meridian will be talking about children's brain development and at what age they might be ready to have social media accounts.
"We're really just going to come together as a community, as a family, to learn more about how we can impact and protect our most valuable resource — our children," Smith said.
Many parents and community members have taken to social media to express their shock for what's been happening in their small town. Many say it's the result of not allowing God in the public schools more, some blamed the prevalence of bullying in the schools and online while others blamed the parents for not keeping a closer eye on their children.
"This is getting too close to home. Idk (I don't know) this child or why they had a hit list, but I'm betting on them being a victim of bullying & school administrators didn't do their job," Amanda Christine wrote on the Macon County Schools Facebook page following the hit list being found. "This opinion is based on personal experience with Macon County schools in general & what I've witnessed first hand. Instead of talking about your 'zero tolerance policy,' actually enforce it & quit bullying the kids yourselves."
"It's sad and startling. But before any parents go asking for huge punishments (which there should be) those same parents need to ask did my kid hurt this other kid so badly that he/she is that angry?" Justyne Reese wrote.