Archived News
Impeachment attorney banned from practicing law in Cherokee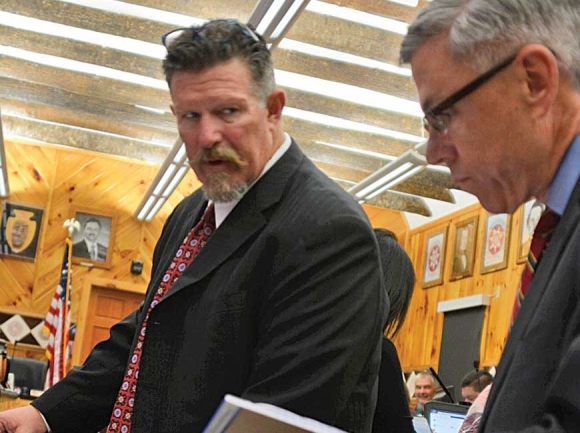 Robert Saunooke (left) talks with Patrick Lambert's attorney Scott Jones during the May 2017 impeachment hearing. Holly Kays photo
Cherokee attorney Robert Saunooke will no longer be allowed to practice law on the Qualla Boundary following a recent ruling from the Cherokee Tribal Court.
Temporary Associate Judge Sharon Tracey Barrett issued her ruling May 1 following a March 29 hearing on a November 2017 order, in which the court required Saunooke to show the court why allegations against him shouldn't result in disciplinary action.
The allegations had come from former Eastern Band of Cherokee Indians Attorney General Danny Davis, who on his last day at the job wrote a letter to Chief Judge Thomas Cochran alleging that Saunooke had committed ethical and criminal violations by appearing as legal representation for Tribal Council during the impeachment of former Principal Chief Patrick Lambert and for Councilmember Albert Rose during an October 2017 Board of Elections hearing.
Saunooke, a tribal member, is not licensed through the North Carolina Bar but is a member of the Florida Bar. Tribal law requires that attorneys who want to practice in Cherokee have a valid N.C. law license. However, Saunooke had received permission to appear in the courts pro hac vice — the term means "for this occasion only" — to represent Tribal Council members in a lawsuit Lambert filed alleging the impeachment had violated his due process rights.
When Saunooke addressed the court in March, he acknowledged that he had appeared in hearings before the Tribal Council and Board of Elections but said that the requirement that lawyers be licensed in North Carolina to practice in Cherokee applies only to court proceedings, and that the court does not have the authority to regulate the out-of-court activities in question, especially in the absence of a filed complaint.
"When the Tribal Council gives me permission to appear in front of them and appear in the impeachment as an attorney in front of them or the election board does the same thing, that's not within the purview of this local rule," he told Barrett March 29.
In her May 1 ruling, Barrett disagreed.
"This court has jurisdiction over Mr. Saunooke's practice of law here," Barrett wrote. "Mr. Saunooke requested and obtained permission to appear as counsel in this civil action pro hac vice, under the supervision of a member of the Bar of this jurisdiction … Even if Mr. Saunooke was not appearing in court pro hac vice, the Court has the inherent authority to regulate and govern the practice of law in this jurisdiction."
Barrett wrote that Saunooke's representing Rose at the election hearing "clearly constituted practice of law," and that while "less specific information is available in court records defining the precise contours of Mr. Saunooke's legal work as a prosecutor during the impeachment," "a single incident of unauthorized practice suffices to support this Order."
Barrett ruled that Saunooke should not face any criminal charges for unauthorized practice of law, because the court "does not find Mr. Saunooke's conduct here was blatant and indicates that Mr. Saunooke genuinely, though incorrectly, believed himself to be entitled to practice law here on a limited basis, so long as he does not open a law office or appear continually in court."
However, Barrett did revoke the pro hac vice order allowing Saunooke to represent the defense in Lambert's case and ruled that he "cannot undertake representation of clients on the basis that he reasonably expects to be authorized to appear pro hac vice in this jurisdiction."
In addition, Barrett ruled, Saunooke is prohibited from practicing law on the Qualla Boundary, clarifying that "the practice of law" applies to both in-court and out-of-court legal services.
In an email exchange with The Smoky Mountain News, Saunooke expressed his disappointment with the ruling and said he will be appealing it.
"Judge Barrett seems to think that she has the authority to police the reservation, infringe on administrative hearings and Tribal Council actions even though there is no case or controversy before her," Saunooke wrote. "All her ruling has done is cause further disappointment and distrust on the Tribal court and its competency."
Saunooke took exception to "non-Indian and non-Indian law-trained attorneys and judges" making rulings on tribal matters and said that it's "a fiction" that holding an N.C. Bar license indicates any kind of familiarity and competency with Cherokee law.
Saunooke applied to take the N.C. Bar exam in 1998, 2000 and 2001. Outcomes of bar exam applications are not public record, but Saunooke told SMN in November that he opted not to take the exam in 2000 due to the birth of his son and that in 2001 his test was not initially graded because then-Principal Chief Joyce Dugan challenged his admission. He has been a member of the Florida Bar since 1993, with nothing listed on his 10-year disciplinary history, and is admitted to various federal courts.
Due to his level of experience, Saunooke said, he could waive into the N.C. Bar without taking an exam, but he does not plan to do so due to the arduousness of the process. According to Saunooke, gaining admission requires filling out a 25-page form and listing every residence since age 18, every job since age 21, every court case argued and a host of other information.
"I have no desire to practice full-time in North Carolina. To spend the time digging through the past 50 years of my life to make sure I list every one of those items is simply not worth the end result," he wrote. "I continue to maintain that membership in the N.C. Bar has no bearing or credibility on one's competency to practice Cherokee Tribal law. The fact that I have never lost a case in the Cherokee Court against any N.C.-licensed attorney would be a good indicator."
In a Facebook post to his public page, Lambert celebrated the ruling and said that it gives further indication that the process used to remove him from office was illegal.
"The nine broke the law by hiring him to start with!" Lambert wrote. "And I was accused of so much less all the while they broke every law they could along the way and denied me any semblance of due process or a fair hearing."
Saunooke, meanwhile, contends that Barrett's ruling has nothing to do with the legality of the impeachment, which Saunooke believes was just and within the bounds of law.
"Judge Barrett's ruling is confined solely to my ability to practice going forward," Saunooke wrote. "It does not impact, affect or otherwise call into question the law already decided, and Judge Barrett's order clearly states that I did nothing wrong in any of the proceedings, including appearing before the Tribal Council. It has no relation to the rulings to date."