Archived Outdoors
Backyard trails: Local mountain bike trails surge in popularity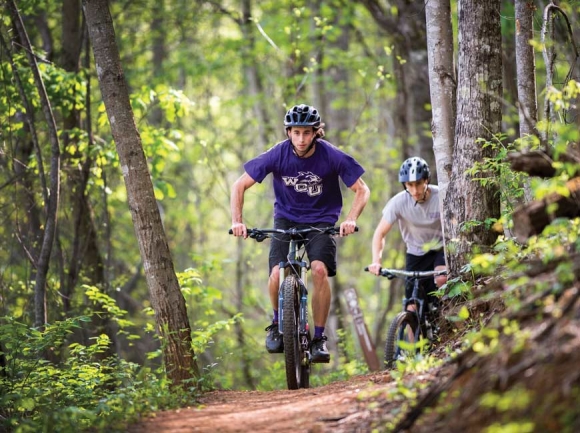 Though they're hidden from plain view, the trails at WCU are well used by hikers and bikers alike. WCU photo
In 2013, Western Carolina University cut the ribbon on 7-mile trail system zig-zagging an otherwise unbuildable piece of university property. Over the five years since, the trails have become an indispensible resource for mountain bikers — as well as trail runners and hikers — in the Cullowhee area, and last fall a trio of WCU employees set out to back up those observations with hard numbers.
"One of the things we're more actively trying to do is bring to the forefront how beneficial these trails and trail systems are to the community," said J.P. Gannon, president of the Nantahala Area Southern Off Road Bicycle Association and an assistant professor of geology at WCU. "It can be easy for folks not to realize how much they're used and the benefits that they do have because they're hidden in the woods by their very nature."
When Gannon heard that wildlife professor Aimee Rockhill — who, like Gannon, is a mountain biker — was planning a trail camera survey to find out how wildlife was using the trails, he saw an opportunity to also learn more about human trail use. So Rockhill, Gannon and Jeremiah Haas, associate director of outdoor programs at WCU's Base Camp Cullowhee, worked together to take advantage of that opportunity.
Counting traffic
Rockhill and her students Hannah Day and Kristi Edwards placed motion-sensitive cameras at various spots along the trails, aimed low so as to avoid capturing users' faces. Over a one-month period, they monitored how many times someone passed by on each loop, and whether that person was traveling on foot or by bike.
By the end of October 2017, the team had counted 2,639 passes on the trail system — 1,100 from bikers and 1,529 from hikers and runners.
"I wasn't surprised at how much usage there was, because I'm out here multiple times a week and I see a lot of people out there," said Gannon. "When we're out doing trail work or we say we're doing trail work, I have a lot of people tell me how much their life has changed having these trails in their backyard."
The data aren't a count of how many individual people used the trail in a month, or a count of the number of visits made in a month. They're broken down into individual counts for each loop in the trail system — some users likely complete more than one loop per visit. However, for trails that are not loops, trail counts were cut in half because a person riding that trail would likely pass by the camera twice — once going out and once coming back.
"We have no idea what counts are part of one ride," Gannon said. "But it does give us an idea for the amount of traffic on the trail."
A trail camera survey counted the number of passes on four trails in the WCU Trail System A trail camera survey counted the number of passes on four trails in the WCU Trail System during the month of October 2017. The count measured the number of passes, not the number of unique individuals or the number of visits overall. For trails that are not loop trails, the numbers reported are half of the observed count to account for people returning to the trailhead the same way they came. JP Gannon graphic.
With 31 days in October and four different trails in the WCU system, the 2,639 number divides out to an average of 21 uses per trail, per day. Because some trails are more popular than others and some days of the week are busier than others, peak use is likely substantially higher than that. The most popular trail, the 1.4-mile Gribble Gap Loop, had 409 bike passes and 265 hiker/runner passes, with the least popular trail, the 1.7-mile Cullowhee Connecter, logging 118 bike passes and 73 hiker/runner passes.
"WCU having a trail system is one of the main reasons I applied for this job," said Gannon, who arrived in Cullowhee after the trails were built. "Granted, there were a lot of other professional reasons, but it made it a much more attractive place to come and live knowing that there were going to be trails available."
The start of something bigger
Before the WCU trails, mountain bikers in Cullowhee had to drive nearly an hour to Tsali Recreation Area or up and over the mountain into the Brevard area to find a good trail system. For weekday riding, they'd improvise by chasing down gravel U.S. Forest Service roads. It was a sport that required dedication and frequent gas tank fill-ups.
That picture is changing. One year ago, the Fire Mountain Trails in Cherokee — just over the line in Swain County — joined the WCU Trails as a backyard option for Western North Carolina bikers, and by all accounts trail use there already rivals that at WCU.
"The popularity has carried even further than I could have imagined," said Jeremy Hyatt, Secretary of Operations for the Eastern Band of Cherokee Indians and manager of the Fire Mountain trails.
The trails officially opened in June 2017, and since then Hyatt's been interviewed by media outlets from across the region and the country. There are "constantly" 10 to 12 cars parked by the trailhead, located at the Oconaluftee Indian Village, with mountain bikers driving hours and hours just to come ride the trails. While Hyatt doesn't have any hard data on usage or economic impact, he expects the results of such a survey would be significant and hopes to conduct some kind of study this summer.
"Very qualitatively, it seems like a similar amount," said Gannon, comparing his observations of trail use at WCU and Cherokee. "And then on weekends I've seen as many as maybe 30 cars in the parking lot (at Fire Mountain), maybe even more."
It's hard to compare traffic at the two systems based solely off of observations, because the WCU system has several trailheads whereas Cherokee has just one. In addition, some of the Cherokee trails are one-way, reducing the number of people a user might see on the trail. However, those who ride both trails regularly say use at Cherokee is basically going gangbusters.
"It seems like there are more people coming to ride the Cherokee trails than what has been coming as a destination to WCU," said Kent Cranford, owner of Motion Makers Bicycles. "We are definitely getting more questions about Fire Mountain than we are about WCU."
That's a comparison Cranford would pay attention to, because later this month Motion Makers, which has stores in Sylva and Asheville, will be opening a third location — in Cherokee's Saunooke Village. Franklin's Outdoor 76 will be joining Motion Makers in the venture, sharing a commercial space to expand their offerings to Cherokee.
"I'd like to sit here and say that I think Fire Mountain had a lot to do with Motion Makers coming here," Hyatt said.
It definitely did, Cranford said. Ever since the trails opened, he'd kept an eye on Cherokee, thinking that somebody should put a bike shop there. At the same time, he was looking for a way to expand Motion Makers' reach, getting into a community where people don't currently have access to good bicycle retail but where there might be demand for it.
"As always on the reservation, they would love for it to be an Indian-owned business," Cranford said. "I have friends over there, so we kept our finger on the pulse. Is anyone doing this? Is anyone doing this?"
After a while, he said, "it become clear that it wasn't moving forward." And then he got a call from mountain biker and tribal member Annette Clapsaddle, whose father Charles Saunooke owns Saunooke Village.
"He made it very appealing rent-wise — try it for a year and if it works, great. If not, OK," Cranford said.
Cranford then reached out to Outdoor 76, whose owners Cory McCall and Rob Gasbarro jumped at the chance to open a location in Cherokee, so close to the Great Smoky Mountains National Park and the Blue Ridge Parkway.
"I think between the two of us, it's going to make what will be the beginning of a nice little outdoor hub there for Cherokee," said Cranford. "The time is right for Cherokee to be discovered for what's there."
Hyatt agrees, and he's hopeful that the Fire Mountain trails could be the start of a greater revolution in Cherokee's economic diversity, making the community attractive to tourists who want more than a few nights of gambling or a tank of gas before venturing into the Smokies.
"I really hope it is a starting point for something bigger in Cherokee," he said.
Impact for good
Cranford has lived in Sylva for 25 years, and owned Motion Makers — a 32-year-old business — for 11 of those years. He's seen all the ways the biking scene has changed over the recent decades, and the impact that a trail can have on a community's economy.
In the past, he said, Motion Makers sold mostly road bikes and its customers — especially those from Cullowhee — were mostly WCU employees, not students. Now, with the construction of the WCU trails and some larger shifts in nationwide trends, that equation has changed. Roughly 80 percent of bikes sold are mountain bikes, and students are buying an increasing share of them.
"We actually are getting more and more students now who end up being customers," Cranford said. "It all parlays for us in the bike community. Even though we're in an amazing area here in Jackson County, we were kind of isolated from really exceptional mountain biking, and now we have two trail systems that are both great, and we have thousands of miles around us, too."
Whether it's Cullowhee, Sylva or Cherokee, that can only bode well for the local economy.
"We know from years and years of demographic studies that cyclists in general, especially traveling cyclists that are going places to ride, are generally a higher income, and they're always looking for a good quality of life to visit," Cranford said. "They love good restaurants. They love good places to stay, whether that's decent campgrounds or bed and breakfasts. For the community, having a draw for outside cyclists to come is always going to be a good economic impact."
Race Fire Mountain
A weekend of mountain biking racing will come to the Fire Mountain Trails in Cherokee June 16-17 with the Fire Mountain Inferno XC & Enduro Weekend.
Open to all levels of racers, the event will feature an enduro race beginning at 9:30 a.m. Saturday, June 16, and a cross-country race starting between 10 a.m. and 12:35 p.m. Sunday, June 17, depending on race category.
Space is limited. Online registration open through 9 p.m. Thursday, June 14, at www.gloryhoundevents.com. Pre-registration is $60 for the enduro race and $30 for the cross-country race, or $85 for both.