Archived Reading Room
A few books aimed at new graduates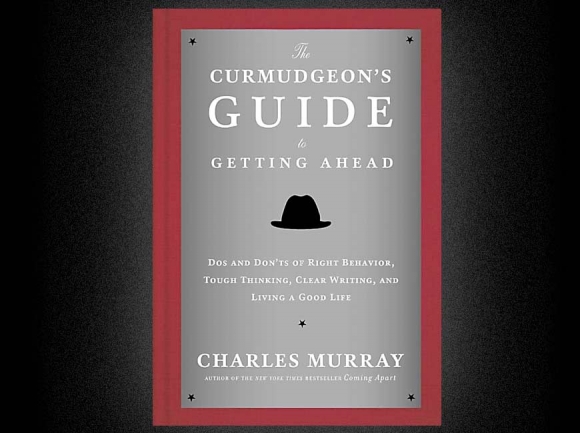 Dr. Seuss's Oh, The Places You'll Go! has become as much a fixture of graduations as a bride's white dress at a wedding. Commencement speakers quote from it; relatives give the book as a gift; parents read the book aloud to their high school and college graduates.
Oh, The Places You'll Go! is a fine piece of poetry, packed with the rollicking rhythms and rhymes of The Great Seuss, and designed to inspire readers of all ages.
Here, in no particular order, are some other books, old and new, you might want to consider giving to young people graduating this spring.
First up on the list is Charles Murray's The Curmudgeon's Guide To Getting Ahead: Dos and Don'ts of Right Behavior, Tough Thinking, Clear Writing, and Living A Good Life (Crown Publishers, 142 pages). In addition to sharing advice such as "Excise the word 'like' from your spoken English," "Confront your inner hothouse flower," and "Show Up," this small book contains a short but excellent primer on writing well. (I am also pushing it here because Murray advises his readers to "watch 'Groundhog Day' repeatedly." "Groundhog Day" is a film about success and becoming a better person, and Murray is correct: it should be watched repeatedly.)
A Man, A Can, A Plan: 50 Great Guy Meals Even You Can Make (Rodale Press, 44 pages) is short because authors David Joachim and the editors of Men's Health Magazine wisely made it a board book, built to take grease and spaghetti sauce. The book is designed to be used by the most ignorant of cooks (I own a copy), with pictures of which cans to use, how the dish will look when served, simple recipes, and a breakdown of calories, fat, fiber, and sodium. If you know any young man who regards pots, pans, and recipes with the bewilderment of a man snatched up by space invaders, this is the perfect book.
Another practical guide for living, especially for young people who will be moving out of the house into their own place, is Marie Kondo's classic The Life-Changing Magic of Tidying Up: The Japanese Art of Decluttering and Organizing (Ten Speed Press, 210 pages). Kondo has a long list of clients who, by following her ideas for decluttering and simplifying their home organization, find their lives changed in other ways. The act of getting rid of stuff and organizing what they keep spills over into their work and their relationships with people.
I have only skimmed Martin Yate's The Ultimate Job Search Guide (Adams Media, 399 pages), but am highly impressed. Not only does Yate show job-seekers how to create the best resume and how to negotiate salary and benefits packages, but he instructs his readers in the minutiae that can make or break finding a good job. (Don't order salad if you are doing an interview over lunch; it's too messy.) Completely updated just last year, The Ultimate Job Search Guide covers everything from using Tweets and Google+ to the accessories men and women should wear for an interview.
With Love And Prayers: A Headmaster Speaks To The Next Generation (David R. Godine, Publisher, 344 pages) is a collection of talks made to his students by F. Washington Jarvis, former headmaster of Boston's Roxbury Latin School, the oldest school in continuous existence in North America. For six years, I used this book of inspirational yet practical essays in my high school literature and composition classes. Each essay has a main point, which Jarvis then argues using examples taken from literature and history, and anecdotes from his personal life as an Episcopalian priest and teacher. High marks on this one.
There are, of course, many other books designed to help ease young people out of high school or college, and into the world.
(Jeff Minick is a writer and teacher. This email address is being protected from spambots. You need JavaScript enabled to view it.)