Archived Arts & Entertainment
Got to keep on travelin', movin' on down the line: A conversation with Ronnie McCoury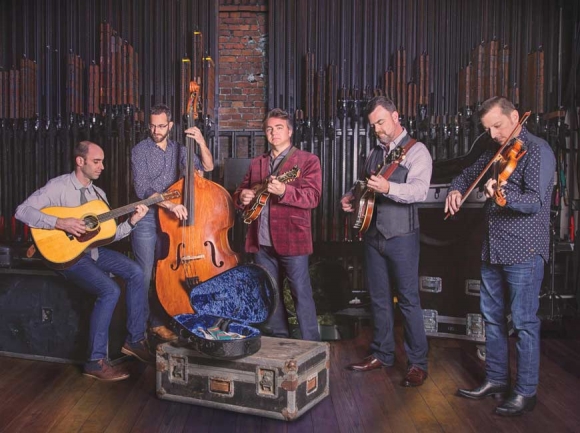 The Travelin' McCourys.
The charm and allure of bluegrass music resides in its seamless ability to have one foot in the sacred, traditional "high, lonesome sound" and the other in whatever progressive endeavors its musicians find themselves in — by chance or on purpose.
Groups like New Grass Revival, Nitty Gritty Dirt Band, Bela Fleck & The Flecktones and The Steep Canyon Rangers are traditional bluegrass at the core, all paying homage to the pioneering legends that came before them. But, what they have in common in their origins is also counterbalanced by a sincere urge to explore even further — into the music itself, but also, most importantly, into the depths of their curious hearts and minds.
And Ronnie McCoury is one of those explorers. Son of bluegrass great Del McCoury (who got his start as one of Bill Monroe's Blue Grass Boys in 1963), Ronnie joined his father's solo band in 1981 at age 14, just six months after first picking up the mandolin. A touring and recording juggernaut, The Del McCoury Band (founded in 1967) remains a pillar of the genre, with Ronnie front-and-center alongside his father and brother, banjoist Rob McCoury.
Though Del, now age 79, hasn't lost a step — in presence and in performance — even the road warrior bluegrass icon himself needs a rest. Thus, when he steps off the bus, Ronnie and Rob load it up with their side project, The Travelin' McCourys. And what initially started as a creative outlet for the siblings has taken on a life of its own, now regarded as one of the premier acts in not only bluegrass, but also American music in general.
Smoky Mountain News: What does the landscape of bluegrass look like to you?
Ronnie McCoury: It's got a few hills, it's going to level off, and then it's just going to keep rising up. Well, I know one thing, I think we're going to work pretty hard this year. We did last year, I think it was the hardest that we worked in awhile. About 70-something shows with The Travelin' McCourys, at least 60 or 70 with my father (The Del McCoury Band), and in-between with playing the Grand Ole Opry, and we've been in the studio here lately. We work pretty hard at it.
SMN: Y'all are one of the hardest working groups out there. What throws the logs on the fire to keep it going?
RM: [Laughs]. I've got two things here, I guess. My father in his golden age, who is still very powerful at singing and playing, and wanting to keep capitalizing on that as much as we can, because as long as he loves to do it, we're going to keep doing it. And side two of that is watching The Travelin' McCourys keep growing, and we really seem to be growing well. We're eight years old, and it takes awhile. Luckily for us, it's just been good.
SMN: I interviewed [bluegrass legend] Sam Bush last year and we were talking about Del. Sam said, "Nobody has done more for Bill Monroe's music in the last 30 years than Del McCoury." I wonder not only your thoughts on that, but also what's going to happen with the torch being passed, with keeping that legacy up?
RM: I'd have to agree with Sam. I would agree that he really has kept what they call the "high, lonesome sound" alive. There are very few bluegrass singers that have the kind of voice for that. I don't have it like that, that's for sure. I may sound like my dad, but I don't have what he's got. He's been a guy that's sung the lead, then has to jump up and sing tenor in the band. Mainly, because he's so great at it. But, the guys in his band through the years weren't tenor singers, so he did both. And when I came along, he made me the lead singer. He's a natural tenor singer, and Bill Monroe was a natural tenor singer — the drive in the music. I often say that the lead singers that run a band, that are [also] rhythm guitar players, they're the ones that really control the sounds of the band — the dynamics. [My dad] is a master at it.
SMN: When someone mentions "what is and what is not [bluegrass]," do you look at it more as having the correct instruments onstage or more of an attitude and feel, or both?
DM: That's a tough question. You know, the way I grew up, and what I liked, I like the Original Bluegrass Band that created it, [which was led by Bill Monroe]. And that's where I started, we had that stuff at home and I'd listen to that. Besides Bill Monroe, my dad loved Lester Flatt & Earl Scruggs, and Jimmy Martin. The Osborne Brothers. I was fortunate enough to see all these guys when I was growing. You know, The Osborne Brothers really stretched it back then, they plugged in their instruments and added a drummer. They stretched the bluegrass element out there, but it put them in a different light — more mainstream. It really brought [The Osborne Brothers] a lot of recognition. But, on the other side of that coin, they could play traditional bluegrass right down the line. And that's what I like — that fact that you can do both.
Want to go?
Tucked alongside the Appalachian Trail, the French Broad River Festival will take place May 4-6 in Hot Springs.
A benefit for American Whitewater, The Verner Center for Early Learning, and the Hot Springs Community Learning center, this year's lineup includes The Travelin' McCourys, Jeff Austin Band, Billy Strings, Jon Stickley Trio, Dangermuffin, The Grateful Ball (Travelin' McCourys & Jeff Austin Band tribute to The Grateful Dead), Sol Driven Train, HipGnostic, and more.
Camping is offered, with several food and craft beer vendors also onsite. For more information and/or to purchase tickets, click on www.frenchbroadriverfestival.com.
(Editor's Note: If you would like to listen to the entire audio of this interview, go to YouTube and search "Ronnie McCoury Garret K. Woodward." To contact Woodward, email: This email address is being protected from spambots. You need JavaScript enabled to view it..)