Archived Arts & Entertainment
This must be the place: Head for the whirling sands of your soul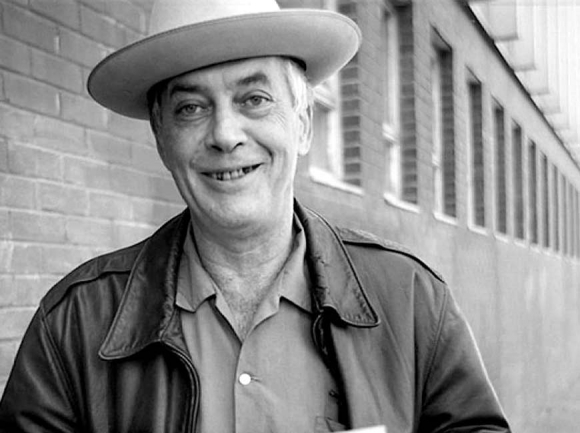 Larry Harvey (1948-2018).
Standing atop an Outer Banks fishing trawler, I gazed across the high desert of northwestern Nevada.
It wasn't a dream. This actually happened. Burning Man 2009. And that was the first image that popped into my head last Sunday morning when I heard the news that Burning Man founder Larry Harvey had passed away at age 70.
To explain Burning Man to someone who has never been is like, as they say, explaining colors to someone who is blind. It's pretty impossible to describe being literally in the middle-of-nowhere in the Black Rock Desert, some 100 miles or so into no man's land straight north of the bright lights and sounds of downtown Reno.
Take tens of thousands of wild, wondrous and eccentric folks from seemingly every corner of the world and drop them in the desert. No cell service or Internet. No money is exchanged for goods and services (barter system). Nobody goes by their real names (mine: "Wild Turkey"). Nobody says what they do and who they are "back in the real world." Everyone is accepted at face value. If you act like a good person and treat others the way you want to be treated, then good times and good vibes will be reciprocated tenfold — just carefree living for upwards of two weeks.
And, in the midst of an economic recession, I found myself out there in 2008 and 2009, another lost soul in search of physical and emotional footing in my early 20s.
Like many of you readers probably right now, I was skeptical (at first) about actually venturing out there and seeing the world's greatest circus for myself. In August 2008, I was a reporter for the Teton Valley News in Driggs, Idaho. Twenty-three years old. First journalism gig out of college. Over that summer out there, I had befriended a 40-year-old photographer in nearby Jackson, Wyoming, who was a former Southern Baptist preacher from Virginia. Andrew and I were kindred spirits and started covering music festivals together.
And right as Andrew was readying himself for his annual trek out to Burning Man, I had just quit my job and was planning on meeting up with some friends in Lake Tahoe for some shenanigans in San Francisco and beyond, maybe even Mexico if the mood was right.
"Hey, how 'bout I drop you off in Tahoe on my way to Reno?" Andrew asked. "I can split the gas money with you while I link up there with my Burning Man friends heading out to the gathering."
About 670 miles later, Andrew and I rolled into Reno. In that drive, he had told me numerous stories of his rollicking times attending Burning Man. By the time he had put his Jeep in park in downtown on North Virginia Street, he had convinced me to drop all my plans, buy a ticket and head for the desert with him. By that first night camping with my friends in Lake Tahoe, Andrew had convinced the other two to also drop everything and go with us.
Once inside Burning Man, I set up my tent amid Camp Gallavant' the rum-drenched pirate brigade from Reno, spending the first night catching up with new friends like Hot Donna' Wrangler Tom and Navigator Rick' taking shots of 100 proof rum under the crisp' western sky. At midnight, I laced up and did a skate around the Black Rock Roller Disco. I raised my arms in utter ecstasy, the horizon before my eyes filled with glowing' sparkling and blinking faraway dots (some more than two miles away, resulting in a distant bar)' as if they were a lighthouse directing me home.
During that week out there on "The Playa," I took cover during another dust storm and was invited to join the American Steel camp for dinner' which was a three-course chicken curry meal with pineapple cake for dessert; and sat out under the "Man," the 40-foot wooden structure that is the centerpiece of the gathering' as well as the final send off for the year as it is blown up later in the week amid 50'000 howling patrons of all that is pure and just in this universe.
I stood in awe at the "Thunderdome," the Mad Max replica' where participants battle in an all-out frenzy of dust' sweat and lukewarm booze; heard shouts' cheers' and was stunned by explosions from flamethrowers and just plain ole pyrotechnics being launched in every direction as fire dancers' jugglers' sword swallowers and avant-garde performers milled about; and slept on a trampoline under a canopy of stars so clear' so bright' I never knew such splendor existed from the heavens above.
I ate Kansas City barbeque and Alaskan smoked salmon — fresh from their native lands — as I sat in the crow's peak on a motorized fishing trawler (hauled from the east coast) while the sun set over the jagged peaks to the west; rode on art cars (mutant vehicles) which held dozens of people and resembled a rubber ducky' Chinese junk and Mississippi River paddleboat; and was poured a fresh cup of French roast coffee during a majestic sunrise' the rays of light cascading down ancient rock and ultimately upon my joyous aura.
And I awoke' after 10 days in the desert' to a rebirth of my soul, and a justification of my mission to someday become a writer of merit and truth. I packed up my gear and started the engine for destinations unknown. I discovered inner peace and my long lost inner child. I headed back to Reno' back to reality — a whole new trajectory that I currently remain on a decade later.
So, thank you, Larry. You were dearly loved and will be greatly missed. But, we'll always remember you so long as we keep our heads up and eyes aimed at the stars above that illuminate with a twinkle that resembled yours.
Hot picks
1 Women of Waynesville will present the Kentucky Derby Gala from 4 to 7 p.m. Saturday, May 5, at The Maggie Valley Club.
2 Tanya Tucker will perform at 7:30 p.m. Friday, May 4, at the Smoky Mountain Center for the Performing Arts in Franklin.
3 The 88th annual Ramp Convention will be held at noon May 5-6 at the American Legion Post #47 in Waynesville.
4 Films created by Western Carolina University students will be screened at the Controlled Chaos Film Festival at 7:30 p.m. Friday, May 4, at the John W. Bardo Fine and Performing Arts Center in Cullowhee.
5 The Art After Dark 2018 season will kickoff from 6 to 9 p.m. Friday, May 4, in downtown Waynesville.